furniturevillage.co.uk
Furniture Village believe that the choice of furniture you make for your house can turn it into a home. Their passion and drive for helping you picking the right furniture for you - whether it's a cosy sofa for the living room, an elegant table for the dining room or a soft bed for the bedroom - means that they'll do their very best to make sure you've got the furniture that suits your home and lifestyle perfectly.
What's more, if you find the same item for sale at a lower price elsewhere, whether you've already bought or you're planning to, Furniture Village will match the difference. Keeping your eyes open is a great way to save - and we're here to do our very best to help you ease those pricetags down even further.
We love helping you save money wherever we can, so we've assembled a list of the best deals and discounts Furniture Village are offering, like their excellent 5 year free guarantees or the free premier delivery on orders over £250.
It's simple to save money with our Furniture Village Voucher Codes. All you need to do when you're over at furniturevillage.co.uk is use our free Furniture Village Discount Codes and you're well on the way to great deals for May 2013.
---
How to use a Furniture Village code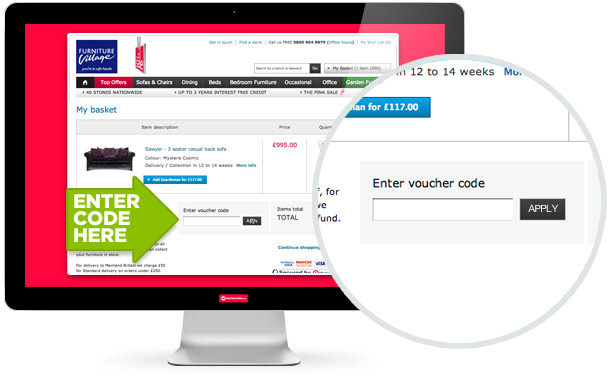 To use your Furniture Village net voucher code, copy the code into the box at the checkout to redeem your discount. Need more help? Read our full voucher code help guide.
---