31 Dover Promo Codes 2021
Active 31 Dover Voucher Codes, Deals & Sales for October 2021
website will open in new tab
Up to

20% off

selected Wine at 31 Dover

Free Delivery

on orders over £59 at 31 Dover

Community

Up to

20% off

Gifts in the 31 Dover Sale

Up to

15% off

in the 31 Dover Sale

Up to

15% off

Party Bundles at 31 Dover

Free Gifts with selected orders at 31 Dover

Bundles from £16.95 at 31 Dover

Special Offers with Newsletter Sign-ups at 31 Dover
Where do I use my 31 Dover promo code?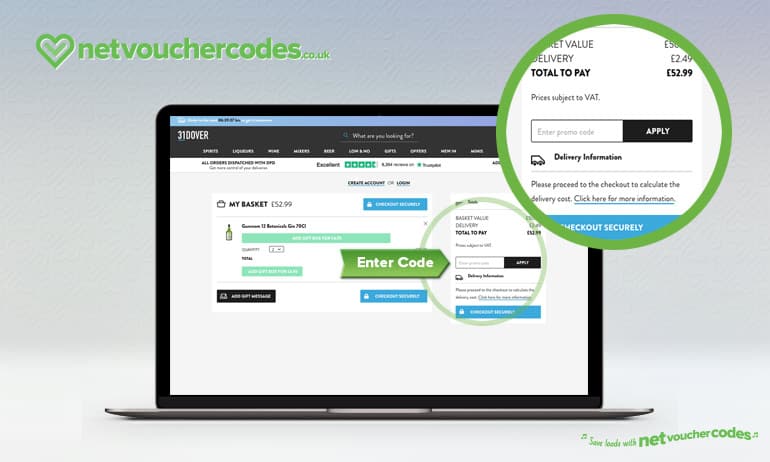 Copy a code from us and head to the 31 Dover website.
Here you can click 'add to basket' on the products that you want.
Once you finish shopping click on the shopping cart icon.
Here you will see a 'Apply promo code' link.
Click this and paste your code into the box provided.
You can then click 'Apply' to redeem your savings.
31 Dover Money-Saving Hints & Tips
"Save up to 50% off in the offers section."

"Sign up to the newsletter for the latest offers and deals."

"10% off with 31 Dover student discount."
More about 31 Dover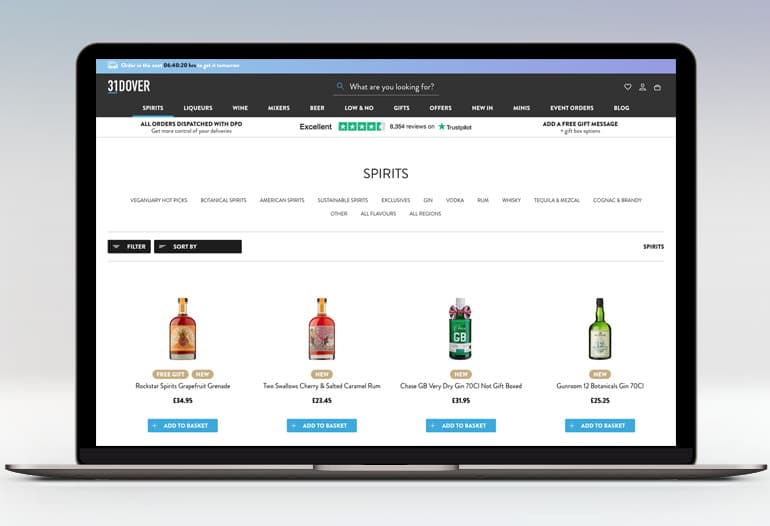 Shop for spirits at 31 Dover and discover a great selection of gin, vodka, rum, whisky, tequila, mezcal, cognac and brandy from huge brands like Highland Park and Discarded. You can also discover gin, vodka, rum, tequila and whisky liqueurs in fruity, creamy, sweet, nutty and herbal flavours. If it's a wine you're after you can also find a huge selection of this. Discover red, white, rose, sparkling and fortified wine as well as champagne, sweet wine and sake, all from leading brands like Moet & Chandon and Dom Perignon. As well as alcohol, 31 Dover also supplies mixers, allowing you to get all your beverage shopping done in one place. Shop for tonic, bitters, syrups, pre-mixed cocktails and cherries and berries. You'll also find a huge supply of canned drinks from names like Coca Cola, Longflint, Fever-Tree and The Bitter Truth.
As well as all this you can also find beer, low and no alcohol drinks, gifts, mini bottles and beverages available for event orders. You can even shop for the latest products and flavours in the new-in section as well as discounted alcohol and mixers in the offers category.
Did you know?
If you're throwing a party or require alcohol for a wedding, a corporate event or for wholesale purposes you can find all you need at 31 Dover. Simply contact 31 Dover about making an event order and they'll arrange everything. They'll then deliver all your required beverages to your chosen venue for an affordable price. Whether it's a 21st, wedding celebration or even an office meeting, you can get high-quality alcohol delivered to you for a cheap price without the hassle of trekking back and forth to the supermarket. And, it'll prove more affordable too.
Instant savings at 31 Dover
For instant savings on your alcohol make sure you use a 31 Dover promo code from us at the checkout. Or, alternatively, you can check out the variety of offers and deals on our retailer page, all of which can help you save money on everything from spirits to wine and beer. You can also find loads of ways to save money on the 31 Dover website. Check out their offers section for loads of great deals or sign up to the newsletter to receive exclusive offers.
31 Dover Shopping Tips
Shop for affordable flavoured gin at 31 Dover
If you're a big gin lover, get stocked up with the selection of refreshing, big branded gin at 31 Dover. Shop by region, whether that be the UK, Europe, North America, South America, Asia Pacific, the Caribbean or Central America and find a bottle of gin that's right for you. You can also shop by flavour to discover fruity, floral, herbal, spicy, sweet and classic gin that'll suit your taste buds perfectly. Discover the latest flavours of gin from big brands like Chase, Hendricks, Tarquin and Sipsmith and stock your alcohol cupboard with the best of the best. Whether you want to try the fruity and floral mermaid gin, sweet rhubarb and raspberry gin, Tarte grape and pink grapefruit gin or a simple dry gin, you can find it all at 31 Dover.
Stock up on beer and cider from 31 Dover
Beer and cider are great for big events, garden parties and huge celebrations, at 31 Dover you can find all the best beer at the most affordable prices for any of these occasions, or just for personal use. Discover beer, cider and mead as well as cans of raspberry rose and white citrus. Whether you like cans or bottles, bitter and dry beer, lager or ale you can find it all. Shop for your bottles and cans by the case for a big discount or add individual products to your basket if you're looking for something for everyone. Whether you're after Wignac rose cider, Freedom pale ale, Sadler's Peaky Blinder black beer or any other kind, you can find it for a great price at 31 Dover.
31 Dover FAQs
How can I contact 31 Dover?
Please call: 0333 900 31 31 to speak to someone from 31 Dover.
What is the 31 Dover returns policy?
If you no longer want your order when 31 Dover please return it to them within 31 days for a refund.
Are any items from 31 Dover non-returnable?
Soft drinks, non-alcoholic beverages and beverages with less than 9% alcohol cannot be returned.
Does 31 Dover have any working voucher codes right now?
Yes, we have 1 verified working code available for 31 Dover, meaning you can save up to 20% off your online purchase.
How to find the best 31 Dover Promo Codes?
You can find working 31 Dover codes in a number of ways. We currently have 1 official or community code right here on NetVoucherCodes offering up to 20% off at the checkout. Sign up to our newsletter and follow 31 Dover to hear about new code alerts first. Or, you could also sign up to the 31 Dover newsletter as they periodically email them out.
How much can I save at 31 Dover?
In the last 30 days we have saved our community an average of null at 31 Dover. The latest 31 Dover offers were added on 21 Oct 2021 and give savings of up to 20%.
Disclosure: All offers on this page are affiliated links. If you click through them, it can sometimes result in us earning a small commission.
Stock up on alcohol for your home with 31 Dover. The UK's fastest-growing online drinks retailer, 31 Dover can supply you with everything from spirits and wine to beer, liqueur and even alcohol-free beverages. Order online for personal use or for an event and enjoy affordable prices and great customer service. Pair your order with a 31 Dover promo code from us and you can get an even better price on your purchases. Whether you're looking for gin, vodka or mixers from big brands like Fever-Tree you can find it all at 31 Dover for a great price.
Get Social with 31 Dover