Top 15 Garden Essentials
Ellie Macsymons · May 7, 2019
We have officially embarked on the summer 2019 season and there is no better time than now to stop neglecting our garden's and give them the TLC they deserve! Here at NetVoucherCodes, we're extremely fond of a well groomed backyard and we want to help you spruce up your outdoor space and create a garden you can be proud of.
Whether it's a lazy afternoon relaxing on your freshly trimmed lawn, or legs up on your lounger admiring your neatly arranged plants – however you wish to revel in your garden of dreams, we here at NetVoucherCodes have got everything you need to get there!
We proudly work alongside an array of popular online retailers including the likes of Wilko.com, Wayfair, Amazon and so many more and source you the best online deals & voucher codes to help you make great savings online. What's more, we've done all the searching for you! From Gardening Gadgets and Outdoor Furniture, Accessories and more, we've found everything you need to turn your garden into a showstopper and keep it blooming all summer long.
This handy Wall-mounted hose reel with self-layering design automatically rewinds the hose without any kinks making all those garden duties that little bit easier! Whether you're watering your summer bedding plants and grass or hosing the dog off – no job too big is a hassle for the Hozelock garden hose.
WOW! This Garden Igloo Dome not only looks incredible, you don't even need a tool to put it together. The easy connector system makes it super simple to put together – it's both waterproof and windproof and can easily be moved once assembled. This is a guaranteed showstopper and is sure to impress your house guests. Perfect for either a candle lit dinner on a summer night or a lazy afternoon with your head buried in a book, it's the perfect relaxation point for your garden.
Always forgetting to water your plants or hanging basket? With this Automatic Watering Kit by Hozelock, you won't need to worry. Featuring an electronic water timer with dial programing, you can choose watering durations from once per week up to four times per day. Saving both Water & Time as well as effort, this handy device places water at the root, exactly where it's needed.
If your strap for growing space in your garden, this Tilting Raised Bed is perfect for adding some colour to your garden with flowering plants, root vegetables and so much more! You can angle the unit to face towards the sun making it ideal for areas that have limited natural light. Create stunning displays with floral plants in the main unit and larger produce form the bag in the base.
This Garden Grow Tunnel is ideal for protecting your crops from wind & rain as well as enhancing growth & prolonging the growing season. Featuring built in ventilation to help regulate temperature, the tunnel also easily attaches to different frames to offer ideal protection and growing conditions.
The Woburn Double Lounge is a sofa bed designed for 2 people which you can set into 5 different reclining positions. Featuring retractable tables on each side, you can rest a drink or book in easy reach. This is certain to add a touch of style to any garden, it's both practical and modern! Guaranteed to make a real statement in your garden.
Dining Al Fresco doesn't have to cost a fortune. This bargain 6 piece round patio set is the perfect table for family BBQ's, intimate parties or a touch of lunch in the garden. Featuring 4 chairs, table and parasol, this sleek Black & Silver Patio Set is now reduced to just £55.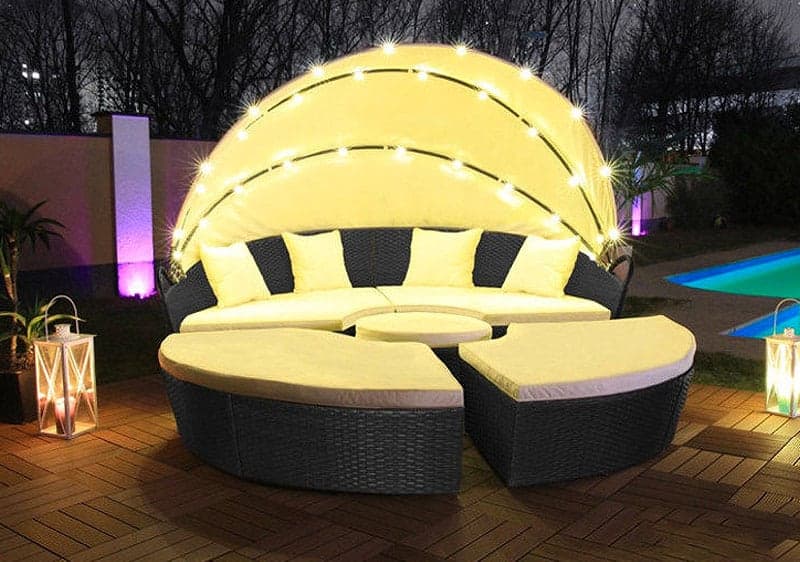 Make your garden gorgeous with this circular LED garden rattan day bed! Made using UV and weather resistant polyrattan, this stunning sofa is the perfect place to put your feet up on a summer night or sit around with family & friends. This will make any home, restaurant or even club look glamorous!
The Grow Oya Watering Vessel is an innovative gardening gadget designed to save water, save time and help your plants grow better! The clay vessel is planted in the ground and naturally waters your garden dramatically reducing water waste and watering effort. Simply fill your Hydro Max with water every few days and the rest is taken care of. Perfect for those who want to take the stress out of keeping thei garden maintained.
This stunning Allegra Hanging Chair by VonHaus is the perfect place to spend a lazy summer afternoon in the comfort of your own garden. Simply hang it form a tree branch or anchor to a sturdy frame – the weight bar evenly distributes weight for a comfortable seat. Team some LED lights for the perfect backdrop and your good to go.
One word, WOW! This is a complete game changer. Turn any outdoor space into a movie theatre with this outdoor inflatable Movie Screen. It self inflates and can be set up within minutes. Imagine movie nights with the family or chilled movie nights with friends from the comfort of your own garden.
Whilst sunny days are great, sometimes you just need a little shade and this LED Solar Powered Parasol is perfect for ensuring you're covered. Built to protect you from UK rays and using superior material and a heavy duty metal pole – it's reliable and can withstand any weather conditions. Light up the night with it's 24 solar powered LED Lights and make your patio and backyard more comfortable and inviting even when night falls.
Kids love their own space, especially when they start to become more independent. How great would your little ones look relaxing on their very own outdoor lounger with built in cup holders. Perfect for chilling in the garden – this Double Lounger by Kidkraft comes shading to keep your them protected in the sun!
This double hammock with added stand and pillows looks like the perfect garden retreat for relaxing this summer! If you truly want to feel like you're on your holidays from your garden, this is certain to do the trick. Kick your feet up, wind down and soak up the sun for less than £100!
This 2 in 1 Fire Pit & Built in BBQ is the perfect accessory for entertaining family & friends and adds a touch of style to any garden! The fire pit is conveniently-sized to fit in your garden and leave room for the party to go on. The mesh safety lid is specially made to stop embers blowing over. It's easy to assemble and built to last with solid and durable steel construction.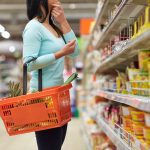 If you're fed up with spending over the odds on your food shop each and every week, it's time to wise up! Supermarkets know exactly how to make you spend your cash and their clever marketing tactics could be having the wool over your eyes. If you've ever bought 3 of the same item because […]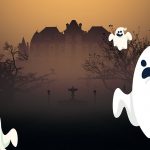 It is nearing oooky spooky season, so we thought we would tell you about some of the UK's most prolific hotspots for sinister ghost sightings ahead of all Hollow's Eve. We have looked into sightings across the UK, to help the ghost hunters amongst us to plan a trip, but also highlight some the eeriest […]
Here at NetVoucherCodes.co.uk, we were curious to see if living in the UK if good value for money. As chat always seems to surround how expensive things are, we wanted to delve deeper into what bargains Brits can pick up. Our research experts looked at the price of essential goods in the US and Asia […]
Every so often, you'll notice that your utility bills have crept up compared with last year's prices. In recent months, the UK's wholesale electricity market has soared to record highs, meaning households could see an increase of up to £139 in energy bills – the highest since 1990. This has subsequently forced many smaller energy […]
The new queens will be sissying that walk and serving major looks on our screens in a matter of days. To push their drag prowess and impress the judging panel, the twelve new contestants will be facing comedy, singing, sewing, and dancing challenges. Here at NetVoucherCodes.co.uk, we wanted to know their potential online earnings. As […]
Whether we like it or not, mobile phones have seamlessly become part of our everyday lives. From texting the group chat to updating our socials, hosting meetings on the go or face-timing loved ones – most of us rely on our mobiles in one way or another. And like everything in life, our mobile phones […]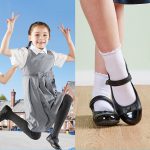 Where to head for Back to School Bargains Another lap around the sun means another school year is soon to commence, and one thing on every parent's mind this summer is school uniform – and more precisely, where's the cheapest place for it? With growing kids comes the cost of renewing their school uniform more […]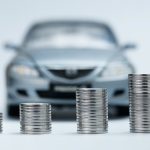 If you've ever been involved in an accident or your vehicle has broken down unexpectedly, you're probably all the more grateful for having your car insurance policy in place. However, there is no question that Car Insurance adds to the expense of driving, and as much as we may begrudge paying our premiums at times, […]
If you're a self-proclaimed football fanatic, the team here at NetVoucherCodes.co.uk has decided to delve into some serious Premier League Era football data and you don't want to miss it. Whether you're an eagle-eyed fan or prefer to sit on the sidelines, you've probably never considered which kit manufacturer has produced the most league titles […]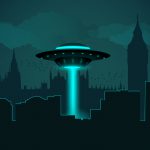 The mystery around UFO's and sightings of unusual objects have captivated and divided the world for decades. The very first sighting of a UFO was first reported way back in 1947. Since then, sightings of peculiar-looking 'spaceships' illuminating the sky have been reported in all corners of the globe. Even now, these extraterrestrial creatures continue […]