Bluebell Discount Codes 2022
Active Bluebell Voucher Codes, Deals & Sales for January 2022
website will open in new tab
20% off

Baby Monitors at Bluebell

15% off

when you Pre-Order Baby Monitor, Vision 8-in-1for February Delivery at Bluebell

15% off

when you Pre-Order Baby Monitor, Vision 7-in-1 for February Delivery at Bluebell

Free Delivery

on orders at Bluebell

Subscribe to the Newsletter for Exclusive Offers at Bluebell

Free 45 Day Trial at Bluebell

Get a Free 36 Page Pregnancy Booklet at Bluebell
Where do I use my Bluebell Discount Code?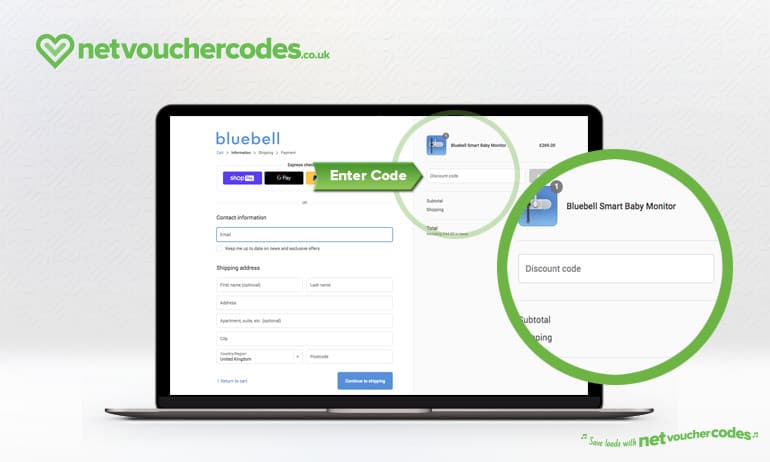 Click on the offer of your choice on our Bluebell deals page and copy the code provided.
Follow our link to the Bluebell deals website.
Browse for products you wish to purchase and add them to your Shopping Cart.
Once you have finished shopping click 'Shopping cart' to view your order.
In the cart, click "Checkout".
Paste your code into the 'Discount code' box and click 'Apply'.
Click 'Continue to Shipping' to secure your discount.
Bluebell Money-Saving Hints & Tips
"Get free delivery to most UK addresses"

"Return your monitor free of charge"

"Get a free 45-day trial"

"Get exclusive offers when you subscribe to the newsletter"
More about Bluebell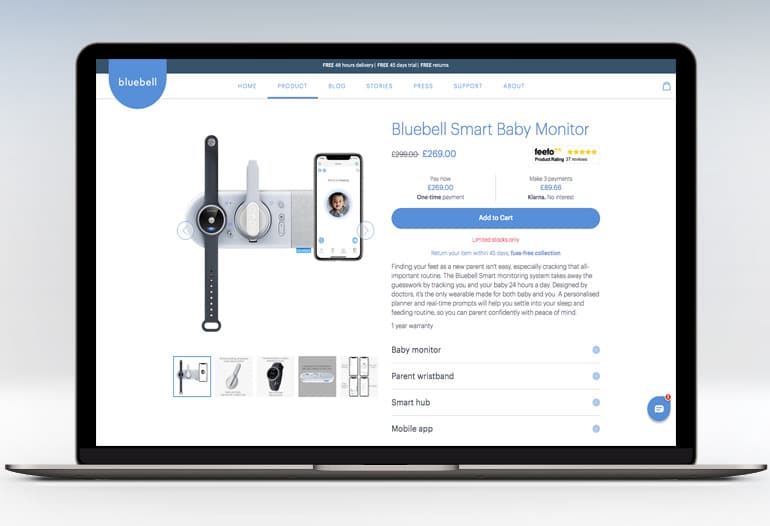 Bluebell was founded in 2016 after new father Romi realised how the day to day stress of parenting was impacting his wellbeing. There was no baby monitor on the market that offered complete 360 monitoring or included any support for the parents. So Romi joined forces with other medical professionals and a design agency to produce the functional yet elegantly designed Bluebell, a smart baby monitor designed to make parenting simpler and more stress-free. Since its launch in 2019, the Bluebell baby monitor has won several awards including the Best Baby Monitor 2020 in the Dadsnet awards and the Best Baby Monitor 2021 in the Mother & Baby awards.
The Bluebell baby monitor gives you 24/7 monitoring both at home and on the go to provide you with peace of mind. It consists of four elements, the Smart Hub, the Baby Monitor, the Parent Wristband and the Mobile App. It provides you with a personalised planner and real-time prompts that will help you to settle into a sleep and feeding routine to give you confidence in your parenting and peace of mind. It's so much more than a baby monitor, measuring your baby's breathing, temperature, position, crying and sleep plus it looks after parents too by monitoring sleep, steps and mood. So, it might cost a little more but it gives you a lot more and you could cut the cost of your Bluebell when you shop using one of our Bluebell discount codes.
Baby Monitor at Bluebell
The Bluebell baby monitor is a wearable device that has a choke-proof design and is safe for babies from birth. It monitors the baby's breathing and will alert you of any fluctuations or if breathing suddenly stops. It also measures the baby's skin temperature and will alert you when the baby is too hot or too cold. The Baby's sleep position is also monitored and it will let you know if the baby is on its tummy and also if the baby starts crying, so you will know when your baby needs you wherever you are in the house. As well as monitoring the baby's sleeping it also allows you to plan and monitor nap times. The connectivity doesn't depend on WiFi so it will work equally well when you are outside the house. This monitor really does give you peace of mind so head over to Bluebell and order yours now!
Parent Wristband at Bluebell
Bluebell doesn't just look after the baby. It takes care of the parent too! The parent wristband will track your sleep and will measure your steps and track your activity levels as well as giving you alerts and notifications when your baby needs you. The relevant icons will be displayed, depending on your baby's needs. You can easily track your baby's routine including things like feeds, naps, nappy changes and bathtime and get reminders so you can lock down that routine. It works around the home and when you are on the go, so it will help you to care for your baby wherever you are. The wristband is comfortable to wear, is water-resistant and is certified as low radiation and safe to wear. Check out the Bluebell baby monitor now and see how it can help you with your parenting.
Bluebell Shopping Tips
How to save money at Bluebell
The Bluebell baby monitor is an award-winning monitor that helps to take care of you as well as your baby. This amazing monitor doesn't come cheap but you can cut the cost of your purchase with our helpful money-saving tips!
Get your monitor delivered free
The Bluebell monitor is delivered to most UK addresses completely free of charge, which is well worth considering when comparing prices with other retailers, who sometimes add costly delivery charges.
Return your item for free
If for any reason, you are not happy with your new monitor, you can return it hassle-free and free of charge. So you won't have to worry about postage costs.
Get a free 45-day trial
Bluebell is well aware that you will buy your monitor before your new baby arrives, so the 45 day trial won't start until the first time you use your monitor. You can return the monitor within 45 days of the first use if for any reason you are not happy with it. This means you will save spending money on unwanted items and costly return charges.
Save when you subscribe
Sign-up for the Bluebell newsletter and you'll receive exclusive offers as well as a detailed pregnancy booklet.
Save when you keep yourself updated
Make sure that you check our Bluebell deals page on a regular basis to make sure that you never miss out on any money-saving deals or discount codes.
Bluebell FAQs
How do I get a Bluebell discount?
You'll find all of the latest discount codes, sales and special offers on our Bluebell deals page so make sure that you check it on a regular basis or sign up for the NetVoucherCodes newsletter so that you never miss out on the chance to save money on your online purchase.
Does Bluebell do NHS discount?
Although Bluebell does not offer a discount specifically for NHS staff you can still save money by taking advantage of the regular money-saving deals and discount codes on offer. Keep up to date with the latest offers and discount codes by checking our Bluebell deals page on a regular basis.
Does Bluebell do student discount?
Currently, Bluebell does not offer a student discount but you can still save money with the special offers and discount codes that you'll find on our Bluebell deals page, so be sure to check it regularly.
Does Bluebell do free delivery?
Yes, Bluebell delivers free of charge to most UK addresses. For addresses in Northern Ireland and some areas of the Scottish Highlands and Islands, there might be a small delivery charge. This will be shown at the checkout stage but won't be more than £5.
How to find the best Bluebell Voucher Codes?
You can find working Bluebell codes in a number of ways. Sign up to our newsletter and follow Bluebell to hear about new code alerts first. Or, you could also sign up to the Bluebell newsletter as they periodically email them out.
Disclosure: All offers on this page are affiliated links. If you click through them, it can sometimes result in us earning a small commission.
Are you a new parent or do you know someone who is? Then you should take a look at the Bluebell baby monitor. This award-winning smart monitor helps to take some of the stress out of parenting. Designed by doctors, who are also fathers themselves, it's the only wearable monitor designed for you and your baby. It might cost a little more than some other baby monitors on the market today but it does so much more. So save yourself the trouble of creeping up the stairs every few minutes to check on your baby, pick up one of our Bluebell discount codes to get your smart monitor and give yourself peace of mind for less!
Get Social with Bluebell