G Adventures Promo Codes 2017
gadventures.co.uk website
Founded in 1990 on the philosophy of providing adventurous travellers with authentic and sustainable travel experiences, with real local accommodation, amenities and transportation, G Adventures has grown hugely to offer life-changing adventures in locales all over the globe, on every continent. Over 700 wildlife encounters, cultural experiences and active adventures could be yours to enjoy. Before you book make sure you check out our voucher codes and deals and grab a bargain on your G adventure.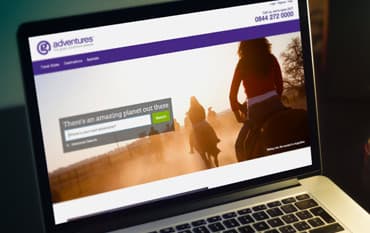 Valid G Adventures Voucher Codes, Late Deals & Sales for May 2017
Community
12 hours, 9 minutes left!

Verified
Hot
2 days left!

Verified
Hot
3 days left!

Community
12 hours, 9 minutes left!

Community
12 hours, 9 minutes left!
Similar Online Promo Codes
G Adventures website shopping guide

G Adventures
Looking for a holiday that's different to the usual beach resorts, cruises and coach trips? Longing for a little excitement, and wanting to see a little of the real world in a way that's environmentally and ecologically friendly? Take a look at our deals page for latest in G Adventures promo codes, and see what one of the world's largest adventure travel companies has to offer you. Discover destinations like Australia, New Zealand, Central America, The Caribbean, Haiti, Cuba, India and much more where you can discover amazing natural wonders, attractions and culture.
G Adventures Watering Hole
The Watering Hole at G Adventures is intended for travellers who wish to meet, greet and help each other before, during and after their travels. This special forum has been created for travellers to interact in, it offers the chance to view posts about destinations and other travellers experiences. When you join this forum you also gain access to the lastest G Adventures news and updates, giving you the latest on upcoming trips and the hottest destinations. Chat and discuss your travels, past, present and future, with other users at the G Adventures Watering Hole, and sign up for the newsletter to receive all the greatest deals sent straight to your inbox, so you'll never miss an exciting opportunity for travel.
G Adventures Inca Trail
Embark on the Inca Trail with G adventures and travel to Peru-the cradle to the vast Incan Empire. Peru is peppered with Incan sites, including the notorious "lost city" of Machu Picchu, whose breathtaking image seems to appear on travel brochure and book. Peru has been blessed with many natural gifts; a huge chunk of Amazon rainforest falls within its bounds. Visitors can hike through jungle, trek in the Andes, and surf the northern beaches all in the same week. On your trail you can even visit Lake Titicaca, one of the highest lakes in the world, and that's just the beginning. Discover colonial gems and a hybrid culture as well as authentic beauty and luscious foliage as you venture on your Inca Trail with G Adventures.
G Adventures Destinations
G adventures offer a selection of destinations to choose from including Australia and New Zealand! These two coastlines are boundless and legendary but what's located on their inland is what makes them even more special and desired by travellers from near and afar. Other destinations from G Adventures are Central America and the Caribbean, two of the most exotic and striking group islands on the planet. They're home to enveloping rainforests, all manner of wildlife, cloud shrouded volcanoes, charming colonial towns, mysterious mayan ruins and mile upon mile of white sand beaches.
Another place to visit is Haiti, where true traveller's find their bliss. It's off the beaten track, secluded and seductive, full of mountains, blue waterfalls, caves and an alluring personality rich in music, art, vodou and rum. G adventures also offer tours to polar regions, where you can prepare to be completely awestruck aboard the G polar Expedition ship. Onboard not only are you steered towards some amazing sites but you're also offered a keen and unique insight from highly skilled professionals, giving you a deeper knowledge into these remarkable, practically uninhabited places.
G Adventures India
Discover India with G Adventures with a number of different rail travel options available in exciting locations across India. Choose the Ganges River Experience, the Delhi to Kathmandu adventure, mysteries of India, the Golden Triangle, Kerala Beaches and Blackwater, Southern India, trecking in Ladakh and much, much more. With each experience you get to enjoy a different side to India, but no matter where you go, one thing will always remain constant- the adventure and out of the world experiences this glorious country has to offer. Save money on your journey to India with our voucher codes and deals all available on the deals page above.
G Adventures Cuba
G Adventures offer a select few trips to Cuba. You can choose from Cuba Libre, sailing in Cuba, biking in Cuba, Cuba colonial, the Central Cuba adventure, the Cuban rhythms experience and Cuba explorer. All these trips offer you a great insight into Cuba and the culture it has to offer. Travel to renowned destinations like Havana, Santa Clara and Trinidad where you can experience island life at it's finest. Before you book your unique trip with G Adventures remember to grab a discount code from us and save money on your travel.
Previous promo codes from G Adventures
G Adventures have historically had a range of codes & sales, ranging from 10 off up to 30 off. Below are some of our most popular archived special offers.
30% discount on selected North America Tours
Save 10% on 2017 Peru Tours
2016 & 2017 Amazon Riverboat discounted by up to 20%
Save a Huge 20% off Selected North America Adventure Bookings at g adventures
G Adventures FAQs
Am I able to get a list of all the hotels for my trip before I travel?
When you book your holiday at G Adventures you will receive confirmation of the hotels that you will stay in at the start of your trip and the end of your trip. Many different hotels are used en route so you won't receive a full list until day 1 of your trip. You will be given an emergency contact number on your booking documents and this can be passed on to your family should they need to contact you while you are away.
How many people will their be on my tour?
For you to get the best from your tour, group sizes are kept low. You can expect up to 15 people on your tour, with the average being 10. Maximum group sizes are shown on each individual tour page on the website.
What's the best type of luggage to bring on my trip?
It is strongly recommended that you take a backpack or duffel bag on your trip. Suitcases can often be too bulky to store on buses and in lockers. You are also asked to bear in mind that you will need to carry your own luggage off buses and trains and up and down hotel staircases.
For more G Adventures internet Promo Code FAQs visit: http://www.gadventures.com/faqs/
G Adventures Promo Code 2017 Archive
| Issued | Code Description | Code |
| --- | --- | --- |
| May 2017 | Save 10% on selected Cuba Avdentures | 17DI010CUB03 |
| May 2017 | Get a saving of 20% on European Sailing Tours | 17DI020SAI01EUR |
| April 2017 | 10% off per person on Guaranteed Departures of select Small-Group Tours | 17DI010CAM02 |
| April 2017 | 15% Discount per person on Guaranteed Departures of Select Small-Group Tours | 17DI015EUR07 |
| April 2017 | 20% off per person on Guaranteed Departures of Select Small-Group Tours | 17DI020NAM01 |
Disclosure: Any offer labled as "Deal, "Sale", or "Code" means that it is an affiliated link and helps us stay free to use. If you click through it, it can sometimes result in us earning a commission.