G Adventures Discount Codes 2022 / 2023
Valid G Adventures Voucher Codes 2022 & Early Deals on Travel for 2023
website will open in new tab
25% off

selected Thailand Tour Bookings at G Adventures

Community

25% off

selected China Tour Bookings at G Adventures

Tested & working

25% off

selected Japan Tour Bookings at G Adventures

Community

25% off

selected Cambodia Tour Bookings at G Adventures

Community

25% off

selected Indonesia Tour Bookings at G Adventures

Community

25% off

selected South America Tour Bookings at G Adventures

Community

25% off

selected European Tour Bookings at G Adventures

Community

15% off

selected European Tour Bookings at G Adventures

Community

15% off

selected New Zealand Tour Bookings at G Adventures

Community

15% off

selected Australia Tour Bookings at G Adventures

Community

15% off

selected United States Tour Bookings at G Adventures

Community

15% off

selected Canada Tour Bookings at G Adventures

Community

15% off

selected North Africa & Middle East Tour Bookings at G Adventures

Community

25% off

selected Africa Tour Bookings at G Adventures

Community

15% off

Morocco Tours at G Adventures

Community

25% off

Paris to Rome Bookings at G Adventures

Community

25% off

Golden Triangle Tours at G Adventures

Community

15% off

Sydney to Brisbane Tours at G Adventures

Community

15% off

selected Sri Lanka Tour Bookings at G Adventures

Community

Up to

25% off

Last Minute Tours at G Adventures

Up to

25% off

Adventure Tours in the G Adventures Sale

Cancel and Rebook your Tour up to 14 days before departure at G Adventures

2022 South America Tours from £139 at G Adventures

Get the latest Promotions with Newsletter Sign-Up at G Adventures
Where do I use my G Adventures Discount Code?
Click on the voucher code or deal you would like to use and follow our link to the G Adventures website.
Choose your destination & travel package then click 'buy now'.
Select your preferred dates.
Enter your details, including your name, address and passport details.
Click 'continue' to review and confirm your order.
You can now enter your code, which will automatically apply your discount.
Enter your payment information to complete your holiday order.
G Adventures Money-Saving Hints & Tips
"Save up to 15% off in the travel deals section."

"Sign-up to the newsletter for the latest offers and deals."
More about G Adventures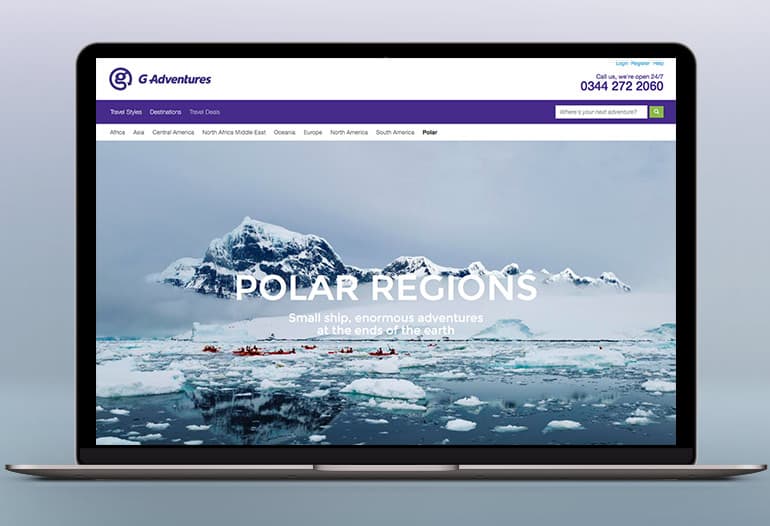 G Adventures help bring solo travellers together to create fun and venturesome memories on tours around the world. Browse online and discover classic tours, National Geographic journeys, 18-thirtysomething tours, active tours, marine tours, polar tours and rail tours all of which are affordable and available in destinations far and wide. If you want to travel with your family you can also discover family tours, or if you've met a group of people who you want to stay with while you explore you can choose a private tour. Discover adventures across all seven continents in locations like India, Vietnam, Peru, Iceland, Croatia, Mexico and America and head out on a journey you'll never forget.
G Adventures now also offers a Travel with Confidence policy that ensures that tour groups are physically distancing and staying on top of cleaning measures. With this policy, you can travel in the confidence that you are safe and supported in your journey with new health and safety precautions to keep you protected from COVID-19 and other illnesses.
Instant savings at G Adventures
You can save on your next adventure by visiting the travel deals section. Here, you'll find tours with up to 15% off in Europe, the Caribbean, New Zealand, North Africa and many other popular destinations. For more discounts and updates on new ways to save you can also sign-up for the newsletter or check out our website. We keep all of the latest offers and deals for G Adventures on one simple retailer page making it easier for you to find some savings when booking a tour online.
G Adventures Shopping Tips
How to save money at G Adventures
Learn about new cultures, discover world-famous sites, enjoy sports in some of the world's most picturesque locations and make memories with friends and family all through G Adventures. With so many tours available to destinations all over the world including Indonesia, South Africa, Italy, Australia and even Antarctica you have so much variety to choose from. Book your tour online today at G Adventures and make sure that you use one of our money-saving tips to secure the best price on your getaway.
Sign-up for the newsletter
If you're looking to receive regular, personalised emails filled with news, promotions and other good stuff then make sure you sign-up for the G Adventures newsletter. As a member, you'll receive your travel fix with a range of stories, useful information and photography tips and tricks while also gaining access to the latest travel offers and deals. Begin exploring the planet today by signing up for the newsletter and join a community of travellers who love affordable adventures as much as you do.
Travel deals section
If you're looking for a discount on your next tour then take a look at the travel deals category. Here, you'll find classic tours and My Own Room tours with up to 15% off. Save on Northern Lights tours to Iceland, two-week-long tours of the Italian coast, tours around the Golden Triangle and tours along the Hai Van pass as well as loads more popular adventures. Pair your 15% discount with a code from us and you could enjoy even bigger savings on your next getaway.
G Adventures FAQs
How do I get a G Adventures discount?
You can find a G Adventures discount by visiting their retailer page on our website. Previously, we've helped customers save up to 15% off tours around the world. We keep all of the latest offers in one place making it easier for you to grab discounts on your travel bookings.
Does G Adventures do NHS discounts?
Currently, G Adventures do not offer NHS discounts however, they do provide up to 15% off classic tours for all customers. For updates on future NHS, discounts make sure you sign-up for the newsletter.
Does G Adventures do student discounts?
Currently, G Adventures do not offer student discounts however, they have provided up to 20% off for students in the past. For future discounts make sure you sign-up to the newsletter or visit the 18-thirtysomething section on their website for student tours.
Does G Adventures have any working voucher codes right now?
Yes, we have 19 verified working Promo Codes available for G Adventures, meaning you can save up to 25% off your online purchase.
How to find the best G Adventures Voucher Codes?
You can find working G Adventures codes in a number of ways. We currently have 19 official and community codes right here on NetVoucherCodes offering up to 25% off at the checkout. Sign up to our newsletter and follow G Adventures to hear about new code alerts first. Or, you could also sign up to the G Adventures newsletter as they periodically email them out.
How much can I save at G Adventures?
In the last 30 days we have saved our community an average of £113.00 at G Adventures. The latest G Adventures offers were added on 21 Jan 2022 and give savings of up to 25%.
Disclosure: All offers on this page are affiliated links. If you click through them, it can sometimes result in us earning a small commission.
G Adventures have been the leaders in small group adventure travel for over 30 years. On their website, you can browse through their range of tours and choose from wellness retreats, student tours, local living tours and more to destinations all over the world. Join a small group of like-minded travellers who may just become friends for life and head out on a G Adventure safely and confidently. Book online using a G Adventures discount code from us and you could save money on your next tour too.
We are constantly on the hunt for Discount Codes for G Adventures to help you with your money saving. Our experts check dozens of sites for secret codes including NHS discounts, student sites & social media channels saving you time & money!
Travel Safe
Although getting cheaper travel is great, you need to travel safe & secure. When booking with G Adventures you can be confident about your financial protection. G Adventures is registered with:
ABTA No: Y6125
ATOL No: 10808
Be sure also to check how safe your destination is & follow government advice on the Travel Aware website.
Get Social with G Adventures