Gtech Voucher Codes 2017
gtech.co.uk
Gtech online specialises in innovative, high-performance cordless floor care, garden & car products, along with e-bikes - all boasting industry leading design & quality. You can save money on Gtech's vacuums, lawnmowers & e-bikes using a Gtech Voucher Codes at gtech.co.uk. Gtech has pioneered a wide range of products including cordless vacuum cleaners such as the air Ram mk2 & G tech multi. They sell a wide range of garden tools including a cordless lawn mower, grass trimmers & also power sweepers sw22, sw20 & sw02.
All Gtech's products are cordless, yet still, offer high performance through their expert engineering. Being cordless by design, these products are naturally easier to use round the house saving you time with their portable nature. Although not expensive, such advanced functional products are not cheap either, but you can often get a reduction by using one of our Discount Codes below!
Valid Gtech Discount Codes, Deals & Sales for November 2017
13 Used - In the last 24 hours

£49 off the AirRam and the Gtech Multi

Get Discount


& open site

Details: Buy the AirRam and Multi High Performance Cordless Hand-­Held Vacuum together for just £299 and save £49.

Deal

13 Used - In the last 3 days

Deal

4 Used - In the last 3 days

Amazing Discounts with selected Package deals

Get Deal


& open site

Details: Take advantage of this great Multi-buy offer available at Gtech. Click the offer to grab the deal!
Similar Online Voucher Codes
£60 Off

Community
6 Used - In the last 24 hours
Only 2 days left!

£60 discount on the Apple Watch Series 3 when bought with Apple AirPods

£60 Off

Community
4 Used - In the last 24 hours
Only 5 days left!

Save £60 when you buy a Hisense TV and Kitchen Appliance

£25 Off

Community
16 Used - In the last 3 days
Only 2 days left!

£25 saving when you buy the Vax 36v Arrow Cordless Stick Vacuum

£200 Off

Community
10 Used - In the last 3 days
Only 5 days left!

£200 saving on the Vax Commercial Cleaner

£20 Off

Community
10 Used - In the last 3 days
Only 2 days left!

£20 discount when you buy Greenworks G2 Pressure Washer
Gtech Voucher Code Archive 2017
| Issued | Code Description | Code |
| --- | --- | --- |
| November 2017 | Free extended Warranty on the SW02 Advanced Power Sweeper now £69.95 | No code required |
| November 2017 | Leaf Blower just £285.99 with free shipping | No code required |
| November 2017 | Free extended Warranty on the SW22 Lithium Power Sweeper now only £99.95 | No code required |
| November 2017 | £20 discount when you buy the Gtech HT20 Cordless Hedge Trimmer together with the Cordless Grass Trimmer | No code required |
| November 2017 | Buy the new Gtech AirRam K9 for only £249 with free shipping | No code required |
Where do I use my Gtech Voucher Code?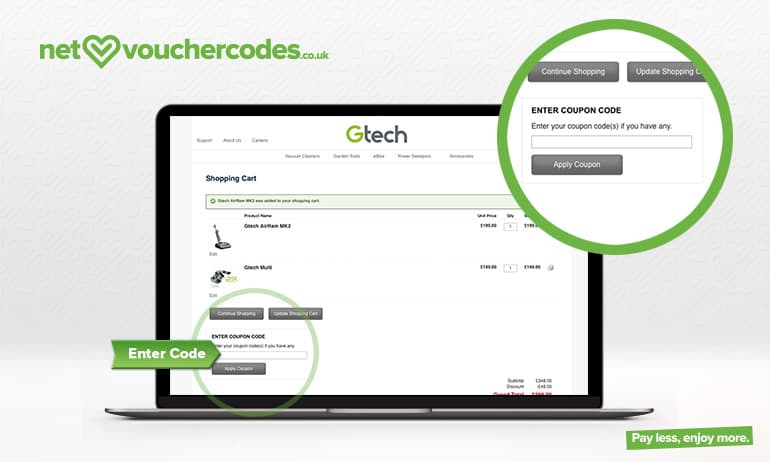 Select the code you wish to use on NetVoucherCodes.co.uk.
Follow the link to the Gtech page.
Shop for your Gtech product.
Go to the basket when you are ready, enter the coupon code in box bottom left, then click 'apply coupon'.
Press green 'checkout' button and complete your transaction.
Popular Discount Codes from Gtech
Save £20 off the Airram Cordless Vacuum Cleaner
Half price discounts on Car Accessory Kits
50% discount on Car Accessories
£25 off the RRP when you buy the Gtech Multi and Car Accessory Kit together
About gtech.co.uk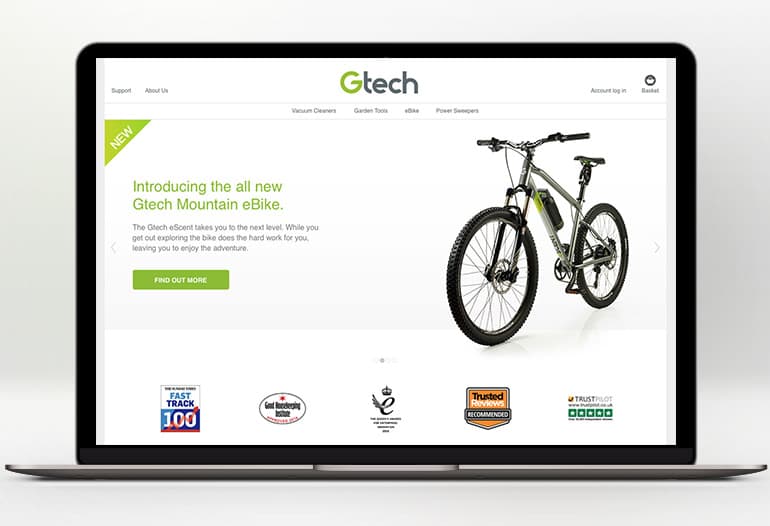 As leaders in the design and manufacturing of innovative, cordless products, Gtech aims to make your life easier whilst we aim to make it cheaper! With our offers & discount codes, you could save money whilst you shop. Gtech produces world leading products featuring the Gtech AirRam, AirRam Multi, Ebike and a wide collection of garden tools.
NetVoucherCodes top Gtech shopping tips
Gtech AirRam Cordless Vacuum
Whether cleaning carpets or hard floors, The Gtech AirRam allows you to do both with ease and without the need to change settings! Being a lightweight vacuum, the cleaner enables you to glide through your home and is easy to lift up stairs. Whilst the AirRam makes floor cleaning easier for you, here at Netvouchercodes, we could make it cheaper with one of our discounts & voucher codes.
Gtech eBike
If you want to fall in love with cycling again, then the Gtech eBike can help you do just that! Ride it like a normal bike, but as soon as you pedal, you will feel the powerful lithium-ion battery and motor pushing you forward giving you that added boost; completely different to riding a normal bike. Hate riding up hills? Wave goodbye, with the Gtech eBike, hills will feel flatter, the bike will do all the hard work for you. Bike riding is made so simple with the Gtech eBike, simply pedal to go faster and brake to go slow, nothing more and nothing less! There are no confusing gears or oily chains either, it's been replaced with a clean carbon belt drive as used on high-performance motorcycles. With the eBike, you'll be able to explore further and arrive fresher, so be sure to check it out today using one of our discount codes.
Gtech Multi
The Gtech Multi has been designed to be the perfect partner for the AirRam. It has all the cleaning performance of an upright vacuum in a lightweight hand-held vacuum. Rather than fiddle around with attachments on your vacuum that can become lost over time, the Gtech Multi includes everything you need to reach even the hardest of places in your home! The handheld nature of the Gtech Multi allows you to make short work of sofa's, stairs and car interiors, plus the extension tube and concealed flexible hose help you reach all the nooks and crannies from your floor to your ceiling. Don't forget to look for Gtech multi discount codes and offers above to save you money and get the best price.
Gtech Lawnmower
Gtech's Cordless Falcon Lawnmower is compact, easy to use and best of all, powerful! The simplicity of the mower is genius, there are no cables to untangle or avoid during cutting. Simply insert the battery, press the lever and go! The precision carbon steel blades give a wide cut and allow you to cut close to your boundaries too. The blades can also be adjusted to achieve the cutting height that you desire. The collection bin boasts a generous 40-litre capacity and is easy to see when it needs emptying. Once you have finished mowing the handle folds down for a compact and clutter free storage.
Gtech money saving tips
"Due to it's reduced power consumption the AirRam will save you £252 over five years, based on the assumption that you vacuum for three hours a week, every week."
FAQs
How can I find which model number I have?
To find the model number of your product, check the rating sticker on the products and the model number is printed in the right-hand top corner.
Do Gtech sell Car Kits for the Gtech Multi?
Yes, the Multi Car Accessory Kit, which contains a small upholstery tool, a crevice tool, and a soft dusting brush.
Disclosure: Any offer labled as "Deal, "Sale", or "Code" means that it is an affiliated link and helps us stay free to use. If you click through it, it can sometimes result in us earning a commission.