Giving back to our local community
NetVoucherCodes supports local good causes to help our community as part of our CSR objectives
Here at NetVoucherCodes, an an essential part of our company values is to give back to our local community. We are proudly committed to supporting a selection of local charities, handpicked by our staff. We have proudly collaborated with a these charities and make regular donations in support of their charitable efforts.
If you are a registered charity, or local to Fleetwood and have a cause you would like us to consider supporting, please get in touch via our Contact us page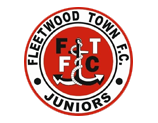 Fleetwood Town Juniors under 18's
We're passionate about investing and supporting good causes in our local community, which is why we have recently sponsored our local, youth football team - Fleetwood Town Juniors under 18's, in support of their grassroots development.