letsgo2 Voucher Codes 2021 / 2022
Valid letsgo2 Discount Codes 2021 & Early Deals on Hotels for 2022
website will open in new tab
Up to

25% off

Luxury Maldives Holiday Bookings at letsgo2

Up to

25% off

luxury 2021 & 2022 Holidays & Honeymoons at letsgo2

Up to

10% off

2021 Winter Sun Luxury Holidays to Barbados at letsgo2

Up to

25% off

Luxury Holidays to Hilton Seychelles Labriz Resort and Spa at letsgo2

Up to

20% off

selected Cancun Holidays at letsgo2

Up to

35% off

luxury All Inclusive Holidays in Antigua at letsgo2

Up to

40% off

JA Palm Tree Court Dubai Bookings at letsgo2

Special offers on 2021 & 2022 bookings with Newsletter Sign-ups at letsgo2
Where do I use my letsgo2 voucher code?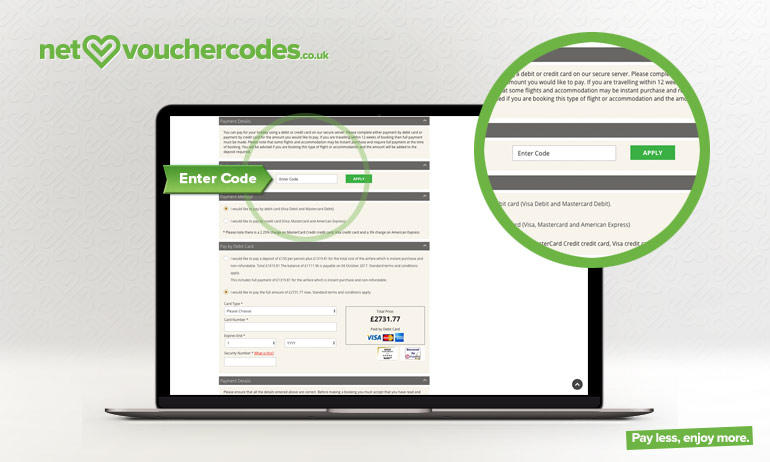 Search for a holiday by choosing a destination, departure date, length of stay and number of rooms.
Once you have found your perfect holiday select your room type and click 'Book'.
You will be shown your holiday summary and if you happy proceed by clicking 'Continue to book'.
You will be given three options to enter your voucher code online choose the book online option.
Enter your surname and email address and click 'Submit'.
You will then be asked for your contact details.
Below your contact details, you will find the Redeem Voucher section. Enter your code here and click 'Apply'.
Your total price will be automatically updated with any discounts received.
letsgo2 Money-Saving Hints & Tips
"By signing up to the Letsgo2 Newsletter, you can have all the latest and best deals delivered directly to your inbox so you never have to miss out on all the best discounts. When you subscribe, you will be sent regular emails from all the luxury travel agents including exclusive offers which will only be sent to those who subscribe to the newsletter. Each month you will receive a special deal at a featured hotel. And, if emails aren't your thing then you can choose to cancel your subscription at any time by clicking on the 'follow this link' button at the bottom of each newsletter."
More about letsgo2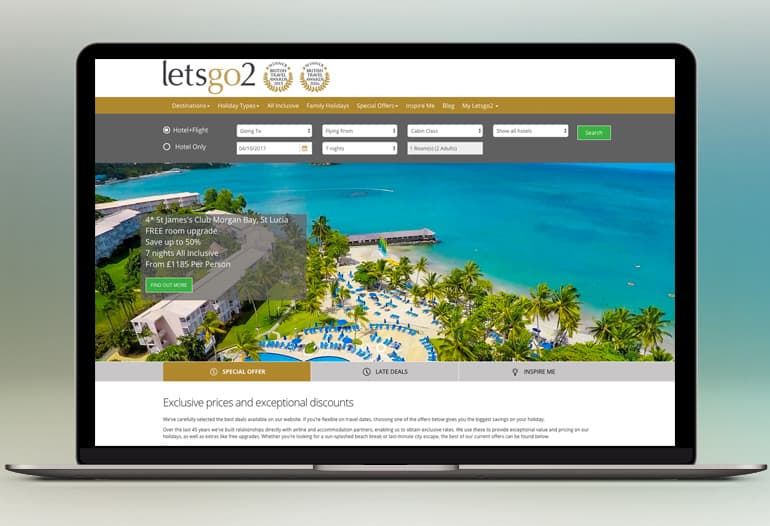 As well as luxurious destinations and great value holiday packages, Letsgo2 also offer affordable city break deals to locations all over the world, catering for every traveller and type of holiday. Take the family to a stunning all-inclusive resort in sunny Mexico, enjoy a honeymoon of a lifetime in the Maldives, adventure to unexplored territory on a safari tour in the Middle East or enjoy a weekend filled with sightseeing and culture in cities all over the USA. Whether it's a luxury holiday, an exciting city break, a beautiful beach or even a golfing holiday you're looking to enjoy, you can do so- for an affordable price- with Letsgo2.
With a string of positive reviews for its unfaultable customer service, letsgo2 is a merchant you can trust, from booking your holiday right through to the day you leave. No matter where you're headed, or the reason for your travels, whether it be a well-deserved break to an exotic location or an action-packed holiday for a special occasion you can rest assured that Letsgo2 will have your back with honest, affordable pricing, knowledgeable specialists and in resort representatives. Visit their website and discover your ideal holiday and destination, as well as handy special offers and a fantastic, Inspire Me section that offers an expert guide on each location available at Letsgo2.
letsgo2 Shopping Tips
Late Deals
If you're a keen traveller, the Late Deals section on a holiday site is the perfect place for you to find a great deal on a last minute spontaneous vacation where you could save a heap of cash. The Late deals section on the Letsgo2 website can be found beneath the Special Offers section at the top of the navigation bar. Explore the extensive selection of holidays to suit all tastes featuring huge discounted prices. Whether you want to depart next week or next month, you could snatch up a great offer, perfect for you right here. So, if you're yet to book your next holiday it's worth checking out the Late Deals section as you may just uncover something special.
Special Offers
If nothing seems to be catching your eye in the Late Deals section, why not check out the Letsgo2 Special Offers page! Here you can find another wide array of exotic holiday destinations suitable for even the fussiest traveller. Find an exciting selection of great deals with some prices reduced by as much as 50% and some offering free board upgrades or special deals for families. The Special Offers page is continuously being updated so if you can't find anything for you today, be sure to check back tomorrow.
Group Booking Discount
If you're booking your next Letsgo2 holiday as a large group, you could save a great deal of cash by not booking directly through the website like you normally would. To help save money, request a callback or send an email using the online contact form. By doing this, each person in the group could enjoy great discount oppose to booking online directly. It isn't clear how about how many people need to be in the group to be eligible for a discount however if many of you are going then is always worth inquiring.
letsgo2 FAQs
Can you get discounts on group bookings?
Yes, Letsgo2 provide discounts on group bookings, you can find out more about this when you contact the reservations department.
Can I still go on holiday if I'm pregnant?
Most airlines accept pregnant women up to 28 weeks upon return. Letsgo2 advise based upon the airline and your personal circumstances, however, they would always recommend that you seek your doctor's advice before flying.
Do I need to pay a deposit?
Yes, you will need to pay a deposit of £150 per person or 10% of the holiday value whichever is greater (excluding infants).
How to find the best letsgo2 Voucher Codes?
You can find working letsgo2 codes in a number of ways. NaN Sign up to our newsletter and follow letsgo2 to hear about new code alerts first. Or, you could also sign up to the letsgo2 newsletter as they periodically email them out.
How much can I save at letsgo2?
In the last 30 days we have saved our community an average of null at letsgo2. The latest letsgo2 offers were added on 21 Oct 2021 and give savings of up to 25%.
Disclosure: All offers on this page are affiliated links. If you click through them, it can sometimes result in us earning a small commission.
Letsgo2's great value holiday packages and top quality service do justice to their title of the destination specialists, with luxury holidays and city breaks available worldwide plus expert help from experienced travel advisors. Use one of our letsgo2 Voucher Codes for the biggest savings and hottest discounts on your hard-earned cash. Letsgo2 offer exceptional holidays to handpicked destinations and hotels across the globe to some of the most sort out, exotic locations like Dubai, Thailand, Antigua and St Lucia. With luxury holidays available in Africa, the USA, the Caribbean and the Far east you can expect to find the best value for money holidays no matter what the type, season or destination.
We are constantly on the hunt for Voucher Codes for letsgo2 to help you with your money saving. Our experts check dozens of sites for secret codes including NHS discounts, student sites & social media channels saving you time & money!
Travel Safe
Although getting cheaper travel is great, you need to travel safe & secure. When booking with letsgo2 you can be confident about your financial protection. letsgo2 is registered with:
ABTA No: W7886
ATOL No: 4950
Be sure also to check how safe your destination is & follow government advice on the Travel Aware website.
Get Social with letsgo2