Majestic Wine Discount Codes 2021
Active Majestic Wine Voucher Codes, Deals & Sales for October 2021
website will open in new tab
Up to

25% off

selected Chardonnay with Mix Six at Majestic Wine

Up to

15% off

Gin at Majestic Wine

Up to

50% off

in the Clearance at Majestic Wine

Beer & Cider Cases from £4 at Majestic Wine

Up to

33% off

Red Wines with Mix Six at Majestic Wine

Up to

33% off

White Wines with Mix Six at Majestic Wine

Sign-up to the Newsletter for the Latest Offers and Deals at Majestic Wine

Free Next Day Delivery on orders over £150 at Majestic Wine
Where do I use my Majestic Wine discount code?
Click on the offer of your choice on our Majestic Wine deals page and copy the code provided.
Follow our link to the Majestic Wine website.
Browse for products you wish to purchase and add them to your basket.
Once you have finished shopping click the shopping basket to view your order.
In the basket, click 'Proceed to Checkout'.
Fill in the appropriate forms detailing your contact information, delivery address etc and then proceed to the payment page.
Paste your code into the 'Promo code or gift voucher?' box and click 'Enter now'.
Majestic Wine Money-Saving Hints & Tips
"Buy 6 or more bottles of wine and receive free standard delivery on your order!"

"Subscribe to the Majestic newsletter and hear about the latest product news, special offers and deals."

"Check out the Majestic 'offers' section for an entire range of deals, discounts and exclusive promotions across wine and other alcohol."
More about Majestic Wine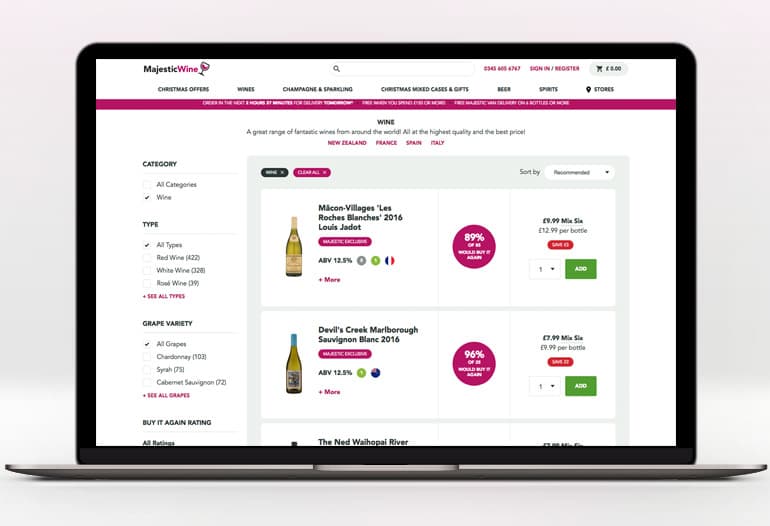 Majestic is a UK wine retailer, supplying the nation with a next-level selection of sublime wines, alongside champagne, beers and spirits too, ensuring there's something for everyone's tastes. From the Majestic Wine website to the stores numbered nearly 200 across the UK, each member of Majestic's team is accredited by the Wine and Spirit Education Trust (WSET); meaning each recommendation or piece of advice a customer receives is professionally informed and backed by experience, something you can't say whilst searching the supermarket shelves.
Between shopping online or visiting one of their many stores, Majestic wants wine searching to be a relaxed experience, away with any formalities or preconceptions. Simply put, whether you're buying, selling or importantly, drinking wine, it should be full of fun. This doesn't mean Majestic doesn't take itself seriously however, you won't catch any run-of-the-mill red here; there's plenty of stores that stock decent wines, Majestic Wine, on the other hand, offer exactly that: majesty, across every bottle, bought. Discover your new favourite wine today, and what's more, make huge savings on your next wine order with a money-saving code from Netvouchercodes.
Did you know?
Majestic Wine has a wine fitting tool, helping you discover your preferred wine flavour profiles. All you need to do is answer a series of short questions and you'll receive your very own wine fitting profile. With it you'll receive recommended wines, enabling you to explore with confidence across Majestic Wine's collection.
Instant savings at Majestic Wine
We work closely with Majestic Wine to help you enjoy fine wines at fair prices, made possible by bringing you the latest deals and discounts across wine, champagne, beers and spirits. The best place to find all the money-saving offers in one location is the Majestic 'offers' section, host to an array of promotions like top 10 offers on wine, exclusive limited-time deals and the clearance sale. Keep in the know and sign up to the Majestic Wine mailing list to hear first about the latest product news, discounts and promotions.
Majestic Wine Shopping Tips
Red wines at Majestic
If you fancy yourself as a bit of a red wine drinker, Majestic has the collection for you. From Malbecs to Merlots, Syrahs to Shiraz and everything in between; whether you like it crisp and zesty, or rich and savoury, there's a flavour profile for everyone's palette and a bouquet for each nose to match. Thanks to Majestic's helpful review and classification system, it's no work at all to find your preferred style of red, it's even easier to find a deal or discount on it too; don't forget to check out our range of Majestic Wine discount codes before purchasing for even more money off.
Majestic white wines
Fans of lighter wines will be astonished by the collection of white wines to be found at Majestic. Find your favourite regional export from countries like France, Italy, Chile and many more; or shop through variety, with an impressive collection of styles such as Chardonnay, Sauvignon Blanc or Pinot Grigio, and that's just the start. Each wine listing is embellished with its respective awards and buy again count from customer reviews, taking a gamble on a bottle of wine is now a distant memory. Likewise, paying over the mark for your favourite white wine should be a thing of the past, check here for the latest offers and make it so!
Majestic Wine FAQs
Standard delivery: free upon purchasing 6 bottles of wine (14 days)
Express courier service: £8.95 under £30 / £6.95 over £30 / free over £150
Click and collect: free (within 14 days)
For more information please refer to the Majestic delivery page
If you receive an unsatisfactory bottle, Majestic will always replace, refund, or recommend another wine they think you'll love – and there is no need to return the bottle back to Majestic. If you do not enjoy a bottle you ordered, simply get in touch with your local Majestic Wine store, let them know you did not enjoy this wine and the staff will be more than happy to replace the wine with something else they think you'll love or refund the full amount to you.
Phone: 0345 605 6767
Email: info@majestic.co.uk
For more contact information please refer to the Majestic contact page
How to find the best Majestic Wine Discount Codes?
You can find working Majestic Wine codes in a number of ways. NaN Sign up to our newsletter and follow Majestic Wine to hear about new code alerts first. Or, you could also sign up to the Majestic Wine newsletter as they periodically email them out.
How much can I save at Majestic Wine?
In the last 30 days we have saved our community an average of null at Majestic Wine. The latest Majestic Wine offers were added on 15 Oct 2021 and give savings of up to 25%.
Disclosure: All offers on this page are affiliated links. If you click through them, it can sometimes result in us earning a small commission.
Majestic Wine is an online wine purveyor, specialising in all types of wine: red, white, rosé, fine wine and many more. In addition to the impressive collection of wines, you can also shop for champagnes, beers and spirits of all varieties. Despite being home to 100s of different and delectable wines, bottle browsing is straightforward thanks to the easy categorisation system; shop via wine type, country, grape or region. Saving money on your next order is just as simple, pay a visit to the 'offers' section to get your hands on the latest deals available, access even more savings when you shop with a Majestic Wine promo code from Netvouchercodes.
Get Social with Majestic Wine