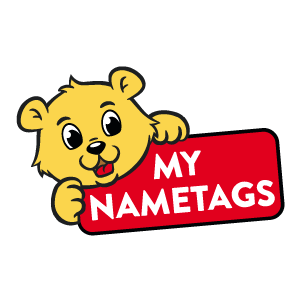 My Nametags Voucher Codes
mynametags.com
My Nametags are award-winning producers of colourful, characterful nametags for children and care homes, with colour stickers, classic labels washing-guaranteed for 10 years, and colour iron-on labels in a choice of customisable designs, fonts and more. Personalise everything you want with the help of My Nametags Colour Stickers. You can create a variety of different designs which can adhere to clothing and other surfaces. Create unique shirts or print out sticker labels for better organization; you can also make personalised gifts for the people you love.
Show All Codes


& open site

Deal
Grab youself Iron-on Name Tags Today
Get Deal
Details: Why pay more than you have to? Online only Deal!

Deal
Order a Black & White Mix Set for just £11.95
Get Deal
Details: This fabulous set is a mixed set of the black and white stickers and iron-ons - guaranteed to meet all your needs! Get 75 stickers & 75 iron-on labels for only £ 11.95

Deal
Buy 120 Black & White Iron Ons for £11.95
Get Deal
Details: Perfect for labelling clothes, iron on in seconds with a 10 year washing machine guarantee. You can get 120 iron-on labels for the low price of £ 11.95

Deal
Washable Colour Stickers for Clothes from £11.95 for 56
Get Deal
Details: My Nametags stock a fantastic selection of products

Deal
Long-lasting, easy to apply Name Tags with 1000s of uses from £11.95
Get Deal
Details: Whether you need a label for clothing, stationery, fabric or shoes, there is a nametag for you!

Deal
Get Personalised Hello Kitty Labels for only £13.85
Get Deal
Details: Choose from 12 colourful designs, perfect for clothing labels and items, 100% waterproof and washable! Order 56x Stickers or iron-ons for only £13.95
Last updated 17 Feb 2017.
Similar Online Voucher Codes
More about My Nametags

My Nametags UK
The UK store My Nametags stocks and sells long lasting, easy to apply name tags for 1000's of uses. They have colour stickers, colour iron-ons, Hello Kitty labels, Mr Men and Little Miss name tags, black and white stickers, black and white iron-ons and black and white mix sets. All these can be designed by yourself with your own name, or your children's name, and added to items to ensure there's no losses or confusion at home and at school. You can put the name tags on uniforms of all kinds, gym clothes, sports kits, school supplies and shoes. The name tags can even be used for arts and craft purposes!
Stick On Name Tags
Stick on name tags are easy to apply and cheap to buy. They're durable and waterproof, making them perfect for labelling clothes and school uniform and they're also suitable for the dishwasher, microwave or sterilisers up to 90˚c. Stick on name tags are available in 1000's of design combinations. Order the most popular designs on the My Nametags website or design your own to make them personal to you or your child. Coloured stick on name tags and black and white stickers can both be stuck onto shoes, bags, DVDs, iPods and other equipment, so no matter what you need them for, you can be sure they stick right and last.
Iron On Tags
Iron on tags are applied directly on to your fabric, so these are the perfect solution when labelling items without a care label e.g for socks, underwear and pyjamas. Iron on tags are also ideal for labelling the clothes of children that don't like having care labels in their clothes, so you and your kids can have your own way! The labels measure 30 x 13mm, so they are easy to read and identify, and can fit on most items such as coats, jumpers, and socks. Order your's today for an affordable price and get them delivered to your home in no time!
My Nametags FAQs
Do you deliver outside of the UK?
Yes, we delivery to many destinations.
Can I split the labels to have more than one name?
I'm afraid not, due to how they are produced, it can't be done.
I made a mistake on my order, can I amend it?
If you spot your mistake within 10 minutes of ordering, please contact us and we'll be able to help you.
My code doesn't seem to work?
It's possible you might have entered an expired code - please double check the expiry date. The latest codes are towards the top of the My Nametags page. If your code appears to be within the validity period then please contact us so we can contact the retailer and see what the problem is.
I'm unable to locate my voucher codes?
When you click on a code, it opens in a new tab or window - usually your browser will automatically switch to the new window for you. However, if it doesn't please look in the tab next to your current one. Some deals and special offers use bespoke links and have the discount built in and automatically applied when you go through to the retailer's site.
For more FAQs for this retailer visit: https://www.mynametags.com/faq
This website uses cookies to ensure you get the best experience on our website.
Learn More
.