National Trust Discount Codes 2021
Active National Trust Promotional Codes, Deals & Sales for November 2021
website will open in new tab
10% off

first orders at National Trust

Community

Family Memberships from £6.50pm or £78 for the year at National Trust

Free Entry for Carers or Companions when you apply for an Essential Companion Card at National Trust

Joint Memberships £10 per month or £120 for the year at National Trust

Eco-friendly Christmas Gifts in the Shop starting at £2.50 at National Trust

Pack of 10 Christmas Cards only £5 at National Trust

Calendars & Diaries from as little as £3 at National Trust

Free parking at most car parks near you (pre-booking required for a small number of car parks) with Memberships at National Trust

Free Magazine three times a year when you become a Member at National Trust

Free Membership for Children under 5 at National Trust

£5 eGift with Online Annual Memberships at National Trust

Free Delivery

on orders over £50 in our Shop at National Trust
Where do I use my National Trust Discount Code?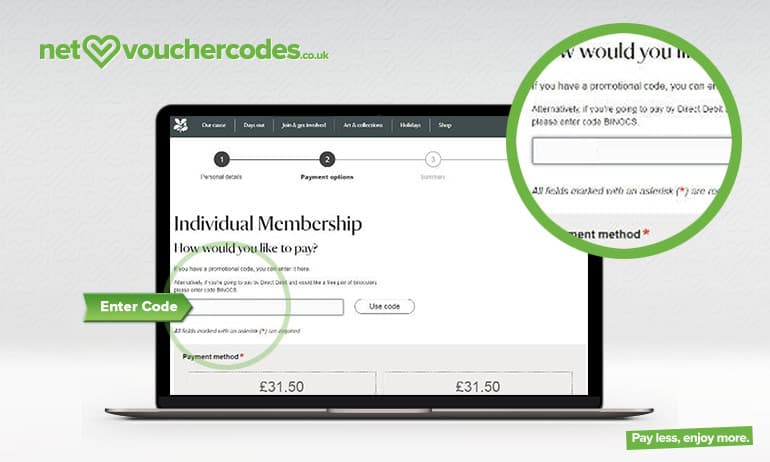 Click 'Get Code' to reveal and copy the National Trust membership discount code.
Head over to the 'Join & get involved' section.
Scroll down to the Join section and click on 'Become a member'.
Choose from Individual, Joint, Family or Lifetime memberships.
Then choose from Adult, Young Person or Child before choosing 'Buy for Myself' or 'Buy as a Gift'.
Fill in your details.
Enter your discount code before entering your payment details on the order summary screen.
National Trust Money-Saving Hints & Tips
"Sign-up to the newsletter for the latest offers and deals."

"Free delivery on orders over £50."

"Enjoy free days out and parking with a National Trust membership."

"Up to 25% off with senior memberships."
More about National Trust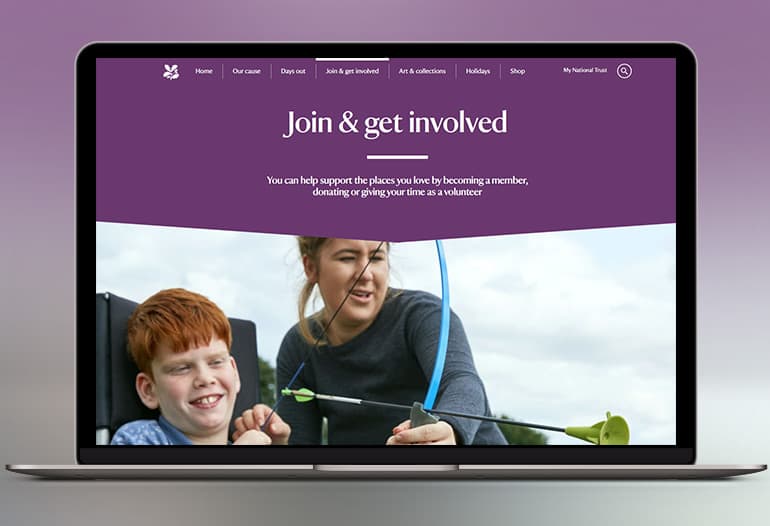 Established in 1884, the National Trust helps to protect and preserve everything from houses, forests, woods and fens to beaches, farmland, moorland, islands, nature reserves and castles as well as many other places of historical and environmental interest. Visiting a National Trust property is an ideal way to learn about history while also enjoying the beauty and splendour of popular English heritage sites and their surrounding areas.
If you love to explore the outdoors and take an interest in Great British history, then become a National Trust member. National Trust offers a range of membership options including individual, joint, family and life memberships which can be paid for monthly or annually. Included in your National Trust membership are the chance to visit over 350 historic houses, gardens and ancient monuments as often as you want with free parking, handbooks and other exclusive members information included. Browse around online and discover National Trust days out, holidays and even a shop where you can find homeware, unique gifts, Hunter wellies and other nature-inspired products.
What does The National Trust Membership offer?
When purchasing a National Trust Membership, your subscription enables you to view many stunning historic houses and gardens, industrial monuments, and social history sites. Your National Trust fees also give you access to a variety of scheduled events at many of the sites throughout the year making their prices real value for money. There are plenty of family-friendly events scheduled during the school holidays, such as wildlife watching, minibeast trails, pond dipping or craft-making activities. These are always well-loved by all and allow kids to have fun outdoors in the fresh air, while also learning about the world around them. There are also more adult based events available to enjoy including, murder mystery evenings, activity trails, walks and even the opportunity to dine in a medieval castle! These are just a few of the great events on offer. They also own over 35 characterful pubs offering, scrumptious food, a range of ales and a very warm welcome. There are great walking opportunities available near to each pub, making them a great based to enjoy an active day out. For those of you who aren't so mobile, The National Trust disabled membership scheme allows for a carer to be admitted free of charge on request.
Why become a member of The National Trust
The trust relies on membership fees, donations and legacies to be able to carry out its work and has over 61,000 volunteers in its service. By taking out a membership your fees will be contributing to the preservation of these beautiful places, whilst enjoying the great benefits that come with a National Trust subscription.
All members have access to over 500 places, so you will never be stuck for somewhere new to explore. Your membership will allow you unlimited access to all these fantastic places, meaning you can visit as many times as you want. You could visit the same gardens at different times of the year and enjoy a different experience in each season, or perhaps split a visit to a historical house over a couple of days and enjoy the history of the inside of the house one day and really explore the grounds on your second visit. There are 3 different membership options, you can join as an individual or take out a joint membership and enjoy exploring new places with a partner, friend or family member. Or there is an option for a family membership, giving you endless days out to choose from with the kids.
National Trust Prices & Membership Options
The National Trust website is jam-packed full of information about the National Trust, the work it carries out and also the places you can visit that belong to them that's all included in the cost of a membership. Clearly displayed towards the top of their homepage is a search function, enabling you to find out the National Trust sites nearby to you. Simply enter your location in the search box and a menu of nearby places to visit will pop up, you could also view this information on a map. Even if you become familiar with the National Trust sites that are close by to where you live, this function can help you plan days out further afield, or if you are planning to holiday in the UK, you could see which national trust location will be nearby to your holiday destination. Each National Trust site has its own information page, that includes everything you will need to know before your visit.
From opening times, facilities and ticket prices (should someone in your party not be a member) to everything that you can do on your day out and any planned activities and events. There is a section of the website dedicated to days out inspiration, if you are looking for something different to do with your family or friends, this section will show nearby places and events. You can easily find out information about the good work that the National Trust do and also their plans for future work on their website, with the option to sign up to the newsletter if you wish, to be kept up to date with local events at national trust location's. Signing up online is an easy process with key information clearly displayed and a minimal form to fill out. There is a range of membership options including individual, family, joint and life membership to choose from with options to pay by direct debit. Any questions can easily be asked through the 'Need Help' section during sign up. These queries will be answered straight away by National Trust staff during office hours.
Instant savings at National Trust
Save on days out and holidays by signing up for a National Trust Membership. If you love exploring historic areas and the great outdoors then becoming a member is the perfect way to enjoy these incredible sites for free. Travel around the country with membership and stop off at National Trust's listed buildings and gardens whenever you want. If you're looking to show your support by shopping in the shop section you can also enjoy free delivery on orders over £50 and save money in the sale. You can also sign-up for the newsletter for information on new National Trust sites as well as discounts on memberships and gifts.
National Trust Shopping Tips
How to save money at National Trust
Check out some of the UK's most popular historical sites including listed buildings, gardens and naturally beautiful scenery as a member of the National Trust. Enjoy free unlimited access, free parking and amazing offers with membership and explore treasured parts of the UK with your family and friends or even by yourself. Enjoy all of these places time and time again for free and take a look at our money-saving hints and tips to grab big savings on your next membership.
Up to 25% off with the right membership
Choosing the right membership is crucial as it can save you both time and money in the long haul. There are many benefits to having a family membership or joint membership as opposed to just an individual membership. For example, an individual membership costs £6 every month, whereas a joint membership is just £10 between two adults. Also, a family membership allows two adults and up to 10 children to visit for just £126 a year. This investment could save you a fortune as opposed to individual memberships. Anyone under the age of 18 can also apply for a junior membership which costs just £10 per month. This also comes with a free welcome pack. Senior members can enjoy similar benefits including 25% off adult rates when they have been a member for 5 years or more.
Shop in the sale section
Support National Trust by shopping in their online store. Here, you'll find a huge variety of unique gifts, homeware, gift cards and other nature-inspired decor and accessories. In their store, National Trust boasts a sale area where you can enjoy big savings on everything from scarves, wallets and kid's helmets to bookmarks, calendars and tents. Shop in this area for up to 50% off and invest in quality gifts and nature essentials while also supporting one of the UK's most vital nature preservation charities.
Sign-up for the newsletter
Become a part of the National Trust community by signing up for their newsletter. As a member, you'll gain access to exclusive member's information on new historical sites as well as seasonal events and discounts.
National Trust FAQs
Does National Trust do free delivery?
Yes. National Trust provides free delivery on orders over £50. Delivery for orders under this amount starts at just £2.50.
Does the National Trust do student discounts?
Currently, National Trust does not offer student discounts however you can start a junior membership for just £10.
Can National Trust members get into English Heritage sites for Free?
If you are a National Trust Member, you can visit all English Heritage sites across England, Wales, Scotland and Northern Ireland.
Do National Trust members get free parking?
Yes, members are allowed to park for free at most of the National Trust coast and country car parks.
If I pay upfront by card do I still get a free gift?
No, the free binoculars are only given to new members paying online by Direct Debit.
Why can't I purchase a life membership via Direct Debit?
Joining the National Trust as a life member is a one-off purchase, therefore National Trust can't offer payment by Direct Debit.
Do The National Trust offer a senior membership?
Yes, if you're 60 or over and you've held an individual or joint membership for at least five of the last ten years, you'll be eligible for 25% senior discount.
I have more than 10 children or grandchildren. Can I include them on my family membership?
Yes, you can. You can either join online with details of 10 children and then call later to add the details of the other children or join at one of National Trust's places, or over the phone when they'll take the details of all of the children.
How do I get a National Trust discount?
You can get a National Trust discount by visiting our website. Previously, we've provided customers with codes for up to 10% off. For future discounts and savings make sure that you check the National Trust retailer page here at NetVoucherCodes regularly for updates or sign-up to the newsletter.
Does the National Trust do NHS discounts?
National Trust does not offer NHS discounts at the moment. For updates on future NHS, discounts make sure that you sign-up for their newsletter.
Does National Trust have any working voucher codes right now?
Yes, we have 1 verified working code available for National Trust, meaning you can save up to 10% off your online purchase.
How to find the best National Trust Promotional Codes?
You can find working National Trust codes in a number of ways. We currently have 1 official or community code right here on NetVoucherCodes offering up to 10% off at the checkout. Sign up to our newsletter and follow National Trust to hear about new code alerts first. Or, you could also sign up to the National Trust newsletter as they periodically email them out.
How much can I save at National Trust?
In the last 30 days we have saved our community an average of £3.00 at National Trust. The latest National Trust offers were added on 27 Nov 2021 and give savings of up to 10%.
Disclosure: All offers on this page are affiliated links. If you click through them, it can sometimes result in us earning a small commission.
National Trust is a charity that preserves and protects over 350 historic houses, gardens and ancient monuments. National Trust sites are situated all over the UK and are open for the public to visit as many times as they want with a membership. Running solely on membership fees and donations, National Trust takes care of these stunning places so that they can be enjoyed for many years to come. Start a membership today and gain access to wildlife, history and amazing scenery and enjoy active days out to some of the UK's most sought after spots. Sign-up for a membership online and make sure that you use a National Trust discount code from us to save money.
Get Social with National Trust