Norfolk Hideaways Voucher Codes 2022 / 2023
Valid Norfolk Hideaways Discount Codes 2022 & Early Deals on Holidays for 2023
website will open in new tab
Up to

20% off

selected Bookings at Norfolk Hideaways

10% off

selected Stays at Thornham Holiday Cottages at Norfolk Hideaways

10% off

selected stays at Cheney Hollow, Heacham at Norfolk Hideaways

15% off

selected Stays at Jasmine Cottage, South Creake at Norfolk Hideaways

15% off

Stays at Riverside Cottage, Reedham at Norfolk Hideaways

20% off

Holidays at Blue Skies Apartments in Hunstanton at Norfolk Hideaways

10% off

selected Stays at The Heydon in Roughton at Norfolk Hideaways

10% off

January 2022 Stays at 3 Chapel Cottages, Docking at Norfolk Hideaways

10% off

selected Stays at Brooke Holiday Cottages, Great Walsingham at Norfolk Hideaways

10% off

selected Stays at Flint Cottage, Docking, Brancaster at Norfolk Hideaways

Dog Friendly Cottage Stays from £129 at Norfolk Hideaways

May Half Term Holiday Cottages start at just £375 at Norfolk Hideaways

Special offers for 2022 Bookings with Newsletter Sign-ups at Norfolk Hideaways

Buy a Gift Voucher to put towards your next Holiday in 2022 at Norfolk Hideaways
Norfolk Hideaways Money-Saving Hints & Tips
"Sign up to the newsletter for the latest coupon codes and deals."

"Up to 10% off in the special offers section."

"Up to 10% off with guest rewards."

"Win a luxury stay with Norfolk competitions."
More about Norfolk Hideaways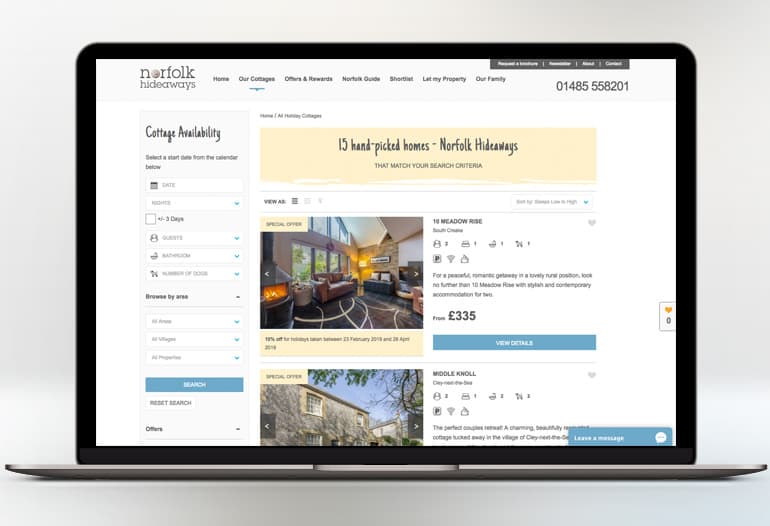 Norfolk Hideaways provide luxurious retreats in various areas of Norfolk including Wells-next-the-Sea, Sandringham, Thornham, Holme-next-the-Sea, Blakeney, Burnham Market and Rural Norfolk, as well as a selection of surrounding villages around these areas. There are over 590 cottages and holiday homes available, suitable for all sorts of requirements. Many of the holiday cottages available in Norfolk are dog-friendly, suitable for young children, or perfectly located for walking, birdwatching, cycling or sailing. Norfolk Hideaways also offer many short-let opportunities in holiday accommodation suitable for different sized groups including idyllic cottages and beach huts for romantic weekends, or larger properties for groups, family gatherings, weddings and special occasions.
There's plenty of things to do in each location where Norfolk Hideaways let their properties. Activities include walking and hiking in the country and along with the beach and afternoon tea in quaint villages. You can also check out local markets, racing, crab and lobster festivals, the Sandringham Flower Show and much more.
Earn money on your property by letting it out with Norfolk Hideaways
At Norfolk Hideaways not only can you find properties to stay in, but you can also rent your property out to other people. By joining Norfolk Hideaways' scheme you can earn a fantastic commission with each customer that stays in your cottage. There's no joining or exit fee and you can do as little or as much as you want in terms of advertising and renting out your property. If you're interested in making some extra cash with your holiday home in Norfolk then fill out the form on the Norfolk Hideaways website. You'll find all the information you need about renting your property on this page as well as helpful contact numbers that will allow you to get in contact with experienced property managers.
Discover plenty of luxury holiday homes with Norfolk Hideaways
If you're looking for holiday bookings at a luxury holiday cottage, you can find just what you're looking for at Norfolk Hideaways. Discover hundreds of hand-picked luxury cottages for Norfolk holidays located in areas like Holkham, Sheringham, Blakeney, North Creake and many more. Choose from beautiful holiday homes in some of the finest seaside locations in the UK and discover properties with hot tubs, sea views, log burners, open fires, swimming pools, ground floor bedrooms, wifi and parking. At all these holiday homes you can enjoy things like bird watching, markets, cycling, fishing, sailing, trips to the zoo and walks along the beach with your loved ones.
Instant savings at Norfolk Hideaways
To save on your next getaway, visit the offers and rewards section. Here, you can find discounts on properties, low occupancy rates and rewards as well as things like gift vouchers and brochures. To stay updated on upcoming offers and discounted holiday homes you can also sign-up for the newsletter. Failing that, you can always visit our website for the latest discounts, codes and sales all in one place.
Norfolk Hideaways Shopping Tips
How to save money at Norfolk Hideaways
If you're looking for a staycation in one of the UK's most beautiful counties then choose Norfolk Hideaways. With them, you can find a home away from home equipped with all of the essentials alongside exciting extras that are sure to make your getaway extra special and unique. Take your dog, friends or family away for the weekend and discover beaches, towns and countryside locations as well as fun-filled activities and local attractions. Book your trip online using one of our money-saving tips and enjoy an escape that's as affordable as it is entertaining.
Visit the offers and rewards section
In the offers and rewards section, you'll find special offers on holiday cottages around Norfolk as well as low occupancy discounts on selected stays. You'll also find a selection of rewards that allow you to save up to 50% on local restaurants, bars and attractions. In this area, you'll also find gift vouchers and brochure request pages that allow you to browse through the sights and attractions in Norfolk before you book your stay.
Sign-up for the newsletter
If you want to save on your next stay and keep updated on all things Norfolk then sign-up for the newsletter. As a newsletter member, you'll receive first access to discounts, deals, seasonal sales and more. If you travel to Norfolk regularly or are looking for a specific type of holiday home or cottage then the newsletter is also ideal. Discover new properties, upcoming events in the local area and blog posts on what Norfolk has to offer.
Norfolk Hideaways FAQs
How do I get a Norfolk Hideaways discount?
You can get a Norfolk Hideaways discount on our website. Previously, we've provided offers for up to 25% a range of properties and stays. We keep all of the latest discounts and deals in one place making it easier for you to save.
Do Norfolk Hideaways do NHS discounts?
Currently, Norfolk Hideaways do not offer NHS discounts however, you can save up to 50% off by shopping in their rewards section.
Do Norfolk Hideaways do student discounts?
Norfolk Hideaways do not offer student discounts at the moment however, they provide an array of deals in their offers and rewards section. For updates on future discounts for students, you can also sign-up for their newsletter.
How to find the best Norfolk Hideaways Discount Codes?
You can find working Norfolk Hideaways codes in a number of ways. Sign up to our newsletter and follow Norfolk Hideaways to hear about new code alerts first. Or, you could also sign up to the Norfolk Hideaways newsletter as they periodically email them out.
Disclosure: All offers on this page are affiliated links. If you click through them, it can sometimes result in us earning a small commission.
Norfolk Hideaways is North Norfolk's largest boutique holiday cottage agency that provides a range of properties in and around Norfolk for you to enjoy. From cosy cottages crammed full of country charm to luxury retreats oozing with coastal chic, you can enjoy fun-filled weekend breaks or a couple of weeks away in this stunning part of the UK with your friends, family, partner or even your dog. Book your stay online with one of our Norfolk Hideaways voucher codes and save money on your getaway. You can also discover how you could earn money by letting your property in Norfolk out too.
We are constantly on the hunt for Voucher Codes for Norfolk Hideaways to help you with your money saving. Our experts check dozens of sites for secret codes including NHS discounts, student sites & social media channels saving you time & money!
Get Social with Norfolk Hideaways