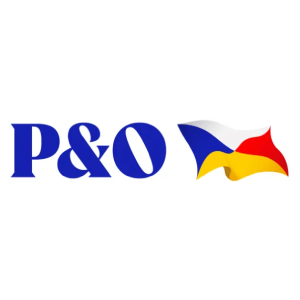 P and O Ferries Voucher Codes
poferries.com
P and O Ferries transport vehicles and passengers and their pets, from Dover to Calais, Hull to Rotterdam, Hull to Zebrugge, Troon to Larne, Cairnryan to Larne and Liverpool to Dublin. They have regular offers on all of their routes and on board retail offers. It is also possible to book hotels and tickets for Disneyland Paris from their website
Show All Codes


& open site
Book a 5 Day Break to France for as little as £80 at P&O Ferries
Dover to Calais Long Break Bookings now with 10% off at P&O Ferries
Larne-Cairnryan Route Bookings now with 15% saving when booking with P&O Ferries
Save £90 when you take your Caravan over 5 days away at P and O Ferries
Details: Save £90 when you take your caravan with you! To get this great offer, just travel on Saturdays or Sundays. With daily overnight sailings from Hull you can relax on board and let us get you to the continent.

Deal
Travel from Dover to Calais for just £39 each way
Get Deal
Details: Bargain Alert! P and O Ferries makes booking a Holiday cheaper when you book today.

Deal
Sign up for the Newsletter and recieve Exclusive Offers
Get Deal
Details: When joining this site's newsletter, you get brilliant private offers.

Deal
Mini Cruises from Dover starting from £39
Get Deal
Details: A luxury holiday is now more affordable than ever! Grab these amazing discounts now at P and O Ferries.

Deal
Hull to Rotterdam Ferry breaks now available from £119
Get Deal
Details: You'll be amazed at how much you can save with this fantastic promotion from P and O Ferries. Online only Deal!
Last updated 17 Feb 2017.
Similar Online Voucher Codes
Code
Get 2 for 1 when you book an Amsterdam Mini Cruise sailing from Newcastle now from as little as £45pp at DFDS Seaways
Code
Enjoy a 2 night Gourmet Mini Cruise to Amsterdam from just £59 per person at DFDS Seaways
Code
With 10% discount on one way and return crossings on dover-france routes at DFDS Seaways
More about P and O Ferries

Feel like seeing somewhere new, but don't want to pay for a plane ticket? Why not travel the seas aboard a P&O Ferry? Whether it's a short trip, a mini-cruise or the first leg on a European journey, routes to France, Belgium, the Netherlands and Ireland will take you across the water in comfort.
Each of P&O's world-class ferries is complete with the full array of onboard amenities and facilities, with a variety of greatly discounted shopping opportunities, restaurants, children's play areas, foreign currency exchange, entertainment and more to make your passage as pleasant as can be. P&O will help you with AA travel insurance and European breakdown cover, to give you peace of mind should something unexpected occur. They can even help you pick accommodation, should you be looking for somewhere to stay overnight.
P&O
On board every ship and ferry from P&O you can expect excellent facilities and uncompromising commitment to professionalism, for which they are renowned. P&O' fleet of ships epitomises the best of modern British cruising and offers an unrivalled boating experience. On board every ship and ferry you'll enjoy exceptional service and attention to detail, delicious cuisine and outstanding entertainment. With a large fleet of cruise ships and ferries P&O can take you practically anywhere you want to go, and they do so in style and comfort. On board they're are so many features and things to do that you'll completely forget you're on board a boat, except of course when you go outside and witness the staggering views of the sea you're cruising across. With P&O you can find all the comforts of home on board plus some added luxuries to make your travelling that extra bit special.
P&O Ferries
P&O Ferries is a household name operator of ferry services across the English Channel, North Sea and the Irish Sea. P&O have a fleet of more than 20 ships, operating more than 30,000 sailing a year, in addition to sailing on eight major routes between Britain, France, Northern Ireland, the Republic of Ireland, Holland and Belgium. Every year ferries from P&O safely and successfully carry more than 10 million passengers, 1.6 million cars and 2.2 million freight units across water, making them the 'best ferry company' as voted for by consumers in the 2016 Globe Travel Awards.
North Sea Ferries
With North Sea Ferries you can travel to Rotterdam, Zeebrugge or Amsterdam, departing from the docks at Hull. From Hull to Rotterdam you can expect extensive onboard entertainment on your overnight stay, cabin accommodation included in the price, dining and cabin packages available and no credit card free when completing your booking. Whilst onboard you can enjoy the casino, cinema and shops, the La Brasserie restaurant and the outdoor spaces, where you can enjoy the horizon between your two destinations. On ferries from Hull to Zeebrugge and Amsterdam you can also expect the same kind of onboard facilities and impeccable service from P&O North Sea Ferries.
Previous discounts from P and O Ferries
10% discount on Hull to Zeebrugge and Hull to Rotterdam Routes
£5 discount on Long Break Bookings each way at P&O Ferries
£5 saving on Bookings Each Way from Dover to Calais at P&O Ferries
P and O Ferries FAQs
Can I buy a ticket directly from the port on the day of travel?
It is possible to just turn up and buy a ticket on the day of travel, providing that we still have space on board, although yo will get the best deals on fares if you book in advance.
Can I still travel if I am pregnant?
Yes, there is a little extra admin work involved for mother's to be and if you are more than 38 weeks we require a doctors certificate to say that you are healthy enough to travel.
Can I still book online if I haven't got my vehicle registration number?
Yes, during the booking process, please enter ''TBA'' in the vehicle registration box and then advise us by emailing customer services as soon as you know.
My code doesn't seem to work?
It's possible you might have entered an expired code - please double check the expiry date. The latest codes are towards the top of the P and O Ferries page. If your code appears to be within the validity period then please contact us so we can contact the retailer and see what the problem is.
I'm unable to locate my voucher codes?
When you click on a code, it opens in a new tab or window - usually your browser will automatically switch to the new window for you. However, if it doesn't please look in the tab next to your current one. Some deals and special offers use bespoke links and have the discount built in and automatically applied when you go through to the retailer's site.
For more FAQs for this retailer visit: http://www.poferries.com/en/faqs
This website uses cookies to ensure you get the best experience on our website.
Learn More
.