Parcelforce Discount Codes 2022
Active Parcelforce Promo Codes, Deals & Sales for January 2022
website will open in new tab
14% off

UK and selected International Services at Parcelforce

Tested & working

Up to

15% off

Next Day Delivery for Members at Parcelforce

Up to

45% off

British Parcel Delivery at Parcelforce

Large Parcel Delivery Express 48 from £31.80 at Parcelforce

UK Courier Services from just £12 at Parcelforce

Free Quotes available at Parcelforce

Next Morning Delivery from £19.74 at Parcelforce

Special Offers with Newsletter Sign-Ups at Parcelforce
Where do I use my Parcelforce Discount Code?
Click on the offer of your choice and copy the code, if provided.
Follow our link to the Parcelforce website and click 'Sending a Parcel', followed by 'Quick Quote'.
Enter the details of your parcel and select your service.
At the 'options' screen, enter your discount code underneath the 'Price Summary' heading.
Click 'Next' to complete your purchase.
Any offers which don't require a discount code will be applied automatically.
Parcelforce Money-Saving Hints & Tips
"Save up to 45% off when you create a business account."

"Save 15% and receive regular offers when you join the Rewards4U scheme."

"Save up to 50% off international delivery."
More about Parcelforce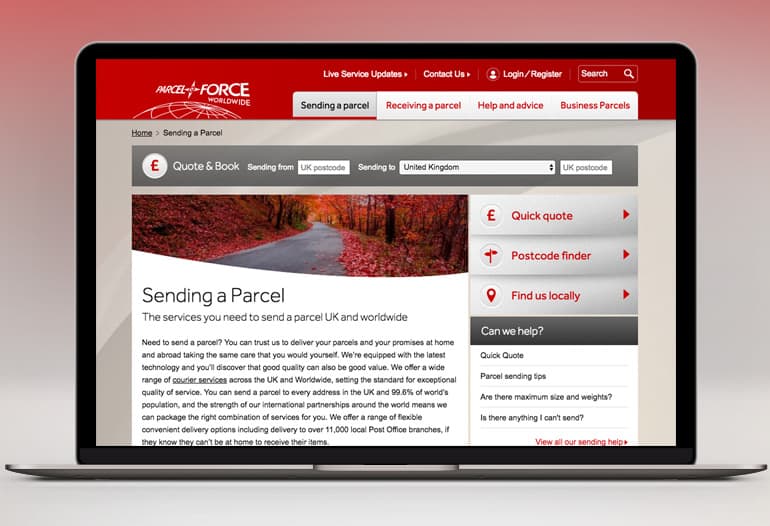 Looking to send a parcel? Get a quick quote for parcel delivery in the UK and Europe or to an international destination. Simply enter your postcode and the weight and dimensions of the package to receive a price estimate. You can also use the 'Find' tool to locate a Parcelforce Worldwide depot or post office. Simply enter your postcode and find a Parcelforce 'near me'. If you are the one receiving a parcel, you can find information on the website about customs charges and Parcelforce redelivery in case you aren't going to be in to receive your package.
If you want to collect your order, you can arrange to pick it up from your local post office or nearest Parcelforce depot for just £1. Whether you are sending or awaiting a parcel delivery you can track its whereabouts using the tracking tool at the bottom of the homepage. Enter your tracking code and keep an eye on your package. As part of the Royal Mail Group, Parcelforce also allows you to track Royal Mail deliveries using their handy tracking tool.
Arrange a courier service for just £4.80. Parcelforce provides many types of delivery services including next morning, two day and next day delivery. If you are sending a large parcel you can also choose large parcel delivery. Parcelforce delivers packages that weigh up to 30kg and even provide advice on how to wrap large items such as bikes. If you're looking to send presents for Christmas, get help from your very own Santa at Parcelforce. Trust the delivery team to transport your packages across the globe and join the membership scheme for 15% off. Save on postal services around the UK and the rest of the world and visit the Christmas page section on the Parcelforce website for updates on this year's Christmas Last Posting Dates.
Marketplace & Business Parcels
If you send weekly parcels as part of your business then you should think about opening a Parcelforce Worldwide account to make some savings. If you send an average of two parcels to addresses in the UK, per week, then join the scheme to save up to 45% off standard contract tariff rates. Manage your deliveries with ease and get help importing and exporting goods from around the world. Parcelforce also makes it easier for small business owners and marketplace sellers. Take advantage of the Parcelforce drop off flat rate of just £8 and send your eBay items to addresses all over the UK. Integrate your account with Parcelforce and enjoy affordable rates on next day and two-day delivery. Parcelforce also supports Amazon, Etsy, Shopify, CSV and many other accounts.
Instant savings at Parcelforce
Save up to 50% off international delivery when you buy online. International parcels are fully tracked and also include £100 inclusive compensation. Use the Parcelforce collection service or drop off your parcel at 1 of the 54 depots or 11,500 Post Offices that work with Parcelforce. If you send parcels for business or you are a marketplace seller who wants to attach your account to Parcelforce then you can also save up to 45% off. Make a business account or join the Rewards4U scheme for 15% off your next parcel. As a member of the rewards scheme, you'll also receive huge offers and discounts from Parcelforce's selected partners including Halfords, The Hut and Cottages.com.
Parcelforce Shopping Tips
How to save money at Parcelforce
Parcelforce prices start at just £4.80, but with help from us, you could send your packages for even less. Below, you'll find a money-saving guide that can help you deliver your parcels to local and international destinations at a discount. We've created a list of the best tips and tricks that can help you save money at Parcelforce. Take a look before you buy and secure the most affordable price on worldwide courier services.
International Delivery
Send international parcels for just £9.78 with the global value delivery service. This thrifty delivery option includes up to £100 of compensation and gets your parcel to its destination within 4 working days. Parcelforce also provides HM Forces delivery to the British Forces post office from just £9.00. Send your parcels far and wide for even cheaper prices with 50% off international delivery. Take advantage of this discount and deliver your parcels across the globe with ease. All of the parcels at Parcelforce are also protected with up to £2500 worth of compensation. With international delivery, you can receive between £100-£200 of compensation on your order for free.
Business Account
If you send weekly parcels for work, or you make a living selling on marketplace sites like eBay, Amazon or Etsy then sign-up for a Parcelforce Worldwide account for up to 45% off. Integrate your account, invest in reliable delivery service and import and export your goods around the UK, and the rest of the world, for an affordable price. Take advantage of the express48 depot drop off flat rate that costs just £8 or choose the £9 express24 depot drop off for the most affordable delivery. These services include up to £100 of compensation and are available on packages that weigh up to 30kg.
Rewards Scheme
If you send parcels regularly and want to cash in on your loyalty to Parcelforce then join the Rewards4U scheme for up to 15% off. You can take advantage of this discount when you send your parcel online, in the Post Office or via any of the Parcelforce depots. You'll also receive regular discounts that can help you save up to 15% off at partner stores such as The Hut.
Free Advice
Knowing which courier or delivery service to use can be tricky. Should you deliver online, drop your package off at a Parcelforce depot or visit your local Post Office? For advice on the most affordable and convenient service take a look at the Help & Advice section for free guidance. Browse the help centre and discover things like the parcel protection calculator and FAQs that can help you to send your parcel with the best security, at the lowest possible price.
Parcelforce Collection & Drop Off
Drop off and collect your parcels to save up to £10. Drop UK parcels at your local depot for just £2.50 or a Parcelforce Post Office branch for only £1. Drop off for international parcels costs just £10 to both depots and the post office. Find your nearest depot and Post Office using the finder tools.
Download the app
Download the Parcelforce app for free. With the app, you can track your parcels and keep an eye on their progress. This is ideal for those of you who send parcels regularly or during busy months like Christmas when you've got a lot to deliver. Download the free app on the App Store or Google Play and easily contact Parcelforce and manage your parcels no matter where you are.
Sign-up!
Sign-up for the Parcelforce newsletter and get the latest offers delivered straight to your inbox. As a member, you'll also receive updates on Rewards4U discounts and important delivery information with things like Christmas last posting dates and much more. If you have a business account or send parcels via a marketplace you can also sign-up using the hub to gain insights, business tips and advice on exports.
Parcelforce FAQs
How do I get a Parcelforce discount?
You can save up to 50% on international delivery as well as 45% when you create a business account. Join the Rewards4U scheme for up to 15% off or visit NetVoucherCodes for the latest tested & working Parcelforce discount codes.
Does Parcelforce do student discount?
In the past, Parcelforce has provided 40% off with student discount on express24 delivery. For future student discounts sign-up for the newsletter or visit NetVoucherCodes.
Does Parcelforce have any working voucher codes right now?
Yes, we have 1 verified working Voucher Code available for Parcelforce, meaning you can save up to 14% off your online purchase.
How to find the best Parcelforce Promo Codes?
You can find working Parcelforce codes in a number of ways. We currently have 1 official or community code right here on NetVoucherCodes offering up to 14% off at the checkout. Sign up to our newsletter and follow Parcelforce to hear about new code alerts first. Or, you could also sign up to the Parcelforce newsletter as they periodically email them out.
How much can I save at Parcelforce?
In the last 30 days we have saved our community an average of £2.00 at Parcelforce. The latest Parcelforce offers were added on 19 Jan 2022 and give savings of up to 14%.
Disclosure: All offers on this page are affiliated links. If you click through them, it can sometimes result in us earning a small commission.
Parcelforce specialise in Great British Parcel Delivery and Worldwide Delivery with 54 depots across the UK and an international parcel centre. Send and receive parcels within the UK and Ireland or utilise their cross-continent courier service with delivery to China, Australia and the USA. Whether you're transporting goods across the globe, sending a Christmas present to a loved one in Europe or delivering your eBay items to someone in the UK, you can do so for an affordable price with a Parcelforce Promotional Code. Get a quote, add a code and receive a discount the next time you send a package. Use the Parcelforce tracking service and watch your goods travel the country and arrive safely at their destination.
Get Social with Parcelforce