Swisse Me Discount Codes 2021
Active Swisse Me Voucher Codes, Deals & Sales for November 2021
website will open in new tab
Exclusive

20% off

orders at Swisse Me

Tested & working

Students

20% off

with Student Discount at Swisse Me

Extra

10% off

Best Value Sets at Swisse Me

30% off

Subscription Orders and

Free Delivery

at Swisse Me

50% off

the Swisse Beauty Skin Box at Swisse Me

Free Delivery

with orders over £15 at Swisse Me

10% off

First orders with Newsletter Sign-ups at Swisse Me
Where do I use my Swisse Me Discount Code?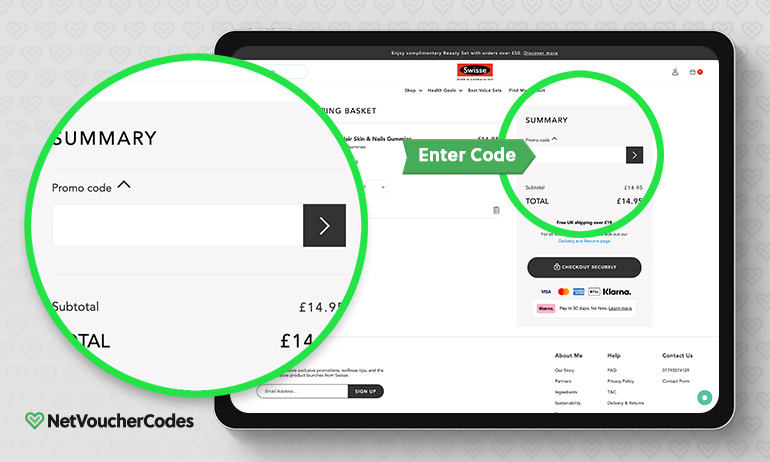 Source your promo code from us here at NetVoucherCodes, copy it and head to the Swisse Me website.
You're ready to start saving! Shop around for the products you want and add them to your basket.
Once you're finished click on the basket icon and view your basket.
Here, you can paste your code into the 'Promo Code' box and click the arrow to retrieve your discount.
Your savings will magically appear on your basket total and you can continue to checkout with the knowledge that you're getting your products at the best possible price.
Swisse Me Money-Saving Hints & Tips
"Unlock 25% off sitewide when you sign-up for the newsletter."

"Save 20% with student discounts."

"Save up to 50% with Best Value Sets."

"Subscribe and save for 30% off every order with free delivery."
More about Swisse Me
Over the years, Swisse Me has become so popular that the brand opened a store made especially for the UK. Swisse Me UK tailors their products to suit the needs of British customers and their day-to-day lives, they also provide discounts across their entire website, helping you to save on everything from smoothies to high-protein supplements. This affordable, bespoke range of products helps the people of the UK maintain a balanced lifestyle in a more accessible way. Find ingredients that support your mind, body and beauty including Swisse Me collagen smoothies, multivitamin gummies and many other supplements. All of these products come ready to eat or drink, allowing you to get in those extra nutrients during busy mornings before work or after school.
Shop by health goal and find supplements created to benefit your physical appearance, energy levels, immune system, sports performance, brainpower and general wellness. Buy gummies for your hair, skin and nails, find smoothies that will keep you powered up throughout the day and invest in vegan protein powder for recovery after heavy workouts. There's even vitamins and minerals with hemp extract that can boost your memory, focus and concentration. Use the 'Find My Product' tool to find the ideal supplement for you or check out the best value sets that include bundles of the most popular items with discounts of up to 50%.
Instant savings at Swisse Me
Vitamins and supplements may seem like unnecessary extras but in today's fast-paced world they've never been more important. Are you feeling overly exhausted during the week, tired in the morning or like your complexion is missing that healthy holiday glow? These are all signs that your body is missing out on nutrients and that's where Swisse Me comes in. With their affordable range of products and hassle-free subscription service, you can save money and time on your supplements and feel better every day without doing any extra work. Save up to 25% when you sign-up for the newsletter, use a student discount at the checkout for 20% off or shop for one of the best value sets and save up to 50%. If you're a regular buyer and want to make sure you're always stocked up then utilise the subscription service and save 30% on your order every month. Your products will be delivered for free and you won't have to worry about revisiting the site to place your next order before your supplements run out. With Swisse Me, there are so many ways to save so there's no need to put off investing in your health and beauty any longer.
Swisse Me Shopping Tips
How to save money at Swisse Me
Improve your mental and physical health and wellness with the smoothies, multivitamins and protein supplements from Swisse Me. Whether you're looking to get your essential nutrients in or you want to look and feel your best without spending a lot, you can find exactly what you're looking for. Learn how to secure savings on your supplements with our money-saving guide below. We have compiled a list of the best money-saving tips, so you don't have to. Take a look and save money on your order every time you shop at Swisse Me.
Subscribe and save
Swisse Me provide a subscribe and save service for those of you who order regularly from them, or for busy customers who want to receive repeat orders without the hassle of re-ordering each month. Subscribe and save 30% on every order and get each one delivered to your home for free. Tailor-make your subscription to suit you: there are 2,4,6 and 8-week options available which can be paused or cancelled at any time. Trial your subscription for a low-cost price and see if it suits you first. Remember, you can cancel at any time, so why not give it a go?
Best Value Sets
Try a variety of supplements or bundle up and receive a discount with the Best Value Sets. These are all discounted by up to 50% and include some of Swisse Me's most popular products. Occasionally, Swisse Me also provides additional discounts on top of the huge savings already available so make sure you check back with us to receive the biggest price reduction.
25% off newsletter sign-ups
Currently, Swisse Me is providing 25% off for customers who sign-up for their newsletter. They also provide free gifts and other deals throughout the year for newsletter subscribers. As a member of the newsletter, you'll also receive exclusives and updates straight to your inbox, before anyone else, allowing you to save money every time you shop with them.
Swisse Me FAQs
How do I get a Swisse Me discount?
You can save 25% at Swisse Me by signing up for their newsletter. You can also save up to 50% off bestselling products with the Best Value Sets. For tested and working Swisse Me promo codes and the latest offers make sure you visit their retailer on our website here at NetVoucherCodes.
Does Swisse Me do student discounts?
Yes. Swisse Me provides 20% with student and apprenticeship discounts. Unlock this discount every time you order by verifying your student status with Student Beans. If you're currently aged 18-26 and in an apprenticeship, you can also save 20% off with Youth Discounts.
Does Swisse Me do free delivery?
Yes. Swisse Me provides free delivery on orders over £19 and free delivery on all subscription orders.
Does Swisse Me have any working voucher codes right now?
Yes, we have 3 verified working codes available for Swisse Me, meaning you can save up to 25% off your online purchase.
How to find the best Swisse Me Voucher Codes?
You can find working Swisse Me codes in a number of ways. We currently have 3 official and community codes right here on NetVoucherCodes offering up to 25% off at the checkout. Sign up to our newsletter and follow Swisse Me to hear about new code alerts first. Or, you could also sign up to the Swisse Me newsletter as they periodically email them out.
How much can I save at Swisse Me?
In the last 30 days we have saved our community an average of null at Swisse Me. The latest Swisse Me offers were added on 19 Nov 2021 and give savings of up to 25%.
Disclosure: All offers on this page are affiliated links. If you click through them, it can sometimes result in us earning a small commission.
Swisse Me is an Australian born wellness brand that has always been ahead of its time. Since 1969 Swisse Me has been a pioneer of wellness and natural ingredients, dedicated to providing customers with supplements to maintain a healthy lifestyle. With a range of quality smoothies, multivitamin gummies and other nutritional products as well as a 4.9 rating from user reviews, Swisse Me should be your first port of call for trustworthy, scientifically researched wellness products. Use a Swisse Me Discount Code from us and save on your wellness journey. You can also find offers for up to 50% across the store on vegan, gluten-free and dairy-free products.
Get Social with Swisse Me