The Tight Spot Offer Codes 2021
Active The Tight Spot Voucher Codes, Deals & Sales for October 2021
website will open in new tab
10% off

orders at The Tight Spot

Community

10% off

Orders at The Tight Spot

Community

10% off

First Orders with Newsletter Sign-ups at The Tight Spot

Up to

80% off

Hosiery at The Tight Spot

Up to

80% off

in the Outlet at The Tight Spot

Free Returns on orders at The Tight Spot

Free Delivery

on orders over £40 at The Tight Spot
Where do I use my The Tight Spot offer code?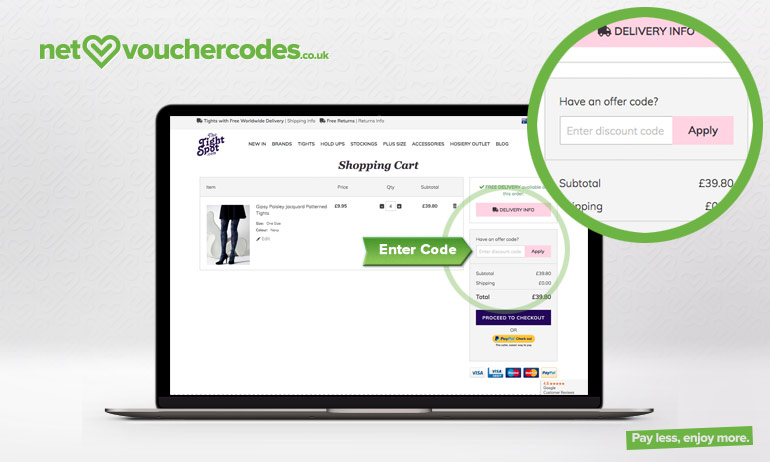 Choose an offer code you would like to use and head over to thetightspot.com by following our link.
Shop as normal and once at the checkout look for the 'Have an offer code?' box.
Enter the code into the box and press 'Apply'.
Your order total will be updated with your discount.
The Tight Spot Money-Saving Hints & Tips
"Free UK delivery when your order total reaches £20 or more!"

"Huge reductions of up to 80% off RRP in the hosiery outlet sale!"

"Sign up to The Tight Spot's newsletter service to hear all of the latest product news, special offers and promotions!"
More about The Tight Spot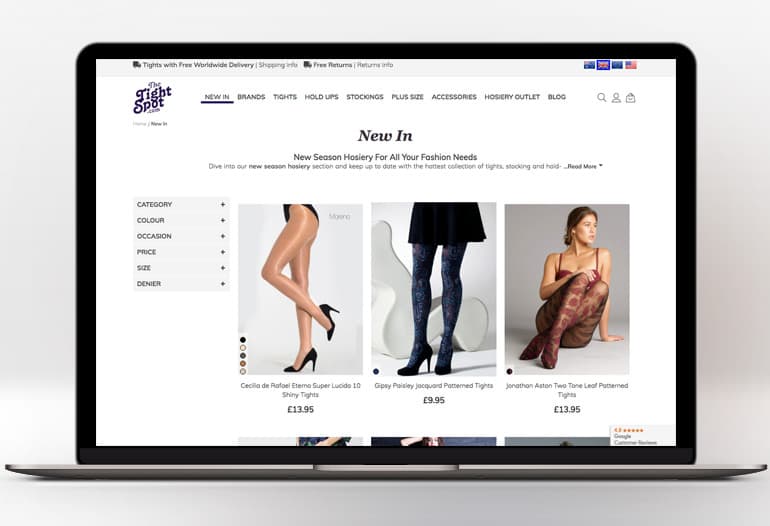 Founded over 10 years ago The Tight Spot was created through a mutual love of hosiery and e-commerce. Originally established as a boutique vending traditional hosiery, it didn't take long before the store evolved into an international distributor of hosiery, bodywear, leggings and other high fashion items from reputable brands. The team behind The Tight Spot work hard to cherry-pick the most worthwhile products and brands to stock their inventories - always ensuring first-rate quality, comfort and being in-line with the current trends and fashions.
Customer service is at the forefront of The Tight Spot experience, offering free worldwide shipping for most orders, free returns and round the clock help from staff to customers.
Recognising the high street frustrations when shopping for hosiery, The Tight Spot team developed the desired shopping experience to mitigate these problems as effectively as possible. Offering In-depth product descriptions, high-quality pictures and an abundance of comprehensive customer reviews - you can expect to get an apt understanding of the product you're going to receive. To help hosiery newcomers get themselves acquainted, The Tight Spot team have developed their own glossary detailing all the technical terms and industry lingo needed to grasp what each product is offering - it's never been easier to discover your style and taste.
The Tight Spot Shopping Tips
Huge hosiery savings in the outlet sale
Ready yourself to be blown away by the ridiculous reductions available in The Tight Spot's outlet sale! Huge discounts ranging all the way up to 80% off RRP can be found across the entire range of tights, hold-ups and stockings, in addition to products such as leggings and other accessories. If you've been looking for that excuse to revamp and renew your collection then look no further, The Tight Spot can compromise on price but never on quality - act fast as stock is limited and once it's gone, it's gone!
Mailing list perks and benefits
If you can't get enough of The Tight Spot's products then you should sign straight up to their newsletter subscription service, it's entirely free and ensures you're always the first to hear about their latest product news, special offers and promotions - plus much more! Simply visit The Tight Spot's website, travel to the bottom and input your email address in their provided form - easy work! Subscribed members are known to receive exclusive promotions and offers, as well as access to sales before anybody else, it's worthwhile keeping up to date. If you decide it's not for you, you can unsubscribe hassle-free by responding to one of their emails.
The Tight Spot FAQs
What is The Tight Spot's contact number?
What is The Tight Spot's contact email?
support@thetightspot.co.uk
Alternatively, you can use The Tight Spot's 'Contact Us' form.
UK: FREE for £20+ Orders | £1.95 for Orders under £20 > 3 - 5 working days.
For more information please refer to The Tight Spot's 'Help' page.
Does The Tight Spot have any working voucher codes right now?
Yes, we have 2 verified working codes available for The Tight Spot, meaning you can save up to 10% off your online purchase.
How to find the best The Tight Spot Offer Codes?
You can find working The Tight Spot codes in a number of ways. We currently have 2 official and community codes right here on NetVoucherCodes offering up to 10% off at the checkout. Sign up to our newsletter and follow The Tight Spot to hear about new code alerts first. Or, you could also sign up to the The Tight Spot newsletter as they periodically email them out.
How much can I save at The Tight Spot?
In the last 30 days we have saved our community an average of null at The Tight Spot. The latest The Tight Spot offers were added on 15 Oct 2021 and give savings of up to 10%.
Disclosure: All offers on this page are affiliated links. If you click through them, it can sometimes result in us earning a small commission.
Find yourself frustrated when shopping for hosiery? Scouring the high street only to be let down by brand inconsistencies, enigmatic packaging and no trying before you're buying. The Tight Spot is the online solution to all of your hosiery hiccups and hitches. Comprised of over 3000+ styles from across 22 hosiery brands, The Tight Spot's collection of tights, hold-ups and stockings is rather formidable; luckily the team behind The Tight Spot have undertaken a 'no stone left unturned' approach when handling any customer queries or questions - ensuring you're always in good hands when shopping with them. You'll have no problem finding the perfect product for you, with any and every type of hosiery imaginable at the most competitive price points; alongside other extras such as bodywear, leggings and other fashion items when shopping with The Tight Spot - make it your next destination when shopping for stockings. Always ensure you shop with a The Tight Spot offer code to get the most for your money.
Get Social with The Tight Spot