TUI Discount Codes 2021 / 2022
Valid TUI Voucher Codes 2021 & Early Deals on Holidays for 2022
website will open in new tab
£150 off

December 2021 Holidays at TUI

Community

£100 off

December Holidays at TUI

Community

Up to

£400 off

per booking on selected Itineraries on Marella Cruises at TUI

Community

Up to

£200 off

per booking on Solo Traveller Holidays at TUI

Community

10% off

per booking on selected TUI Experiences when purchased through the TUI App only at TUI

Up to

25% off

when you book now for Summer 2022 Holidays with £0 Deposit and Free Kids Place available at TUI

Up to

£550 off

Christmas Breaks at TUI

Fancy spending Christmas abroad? Why not go away this year to get away from it all. There are loads of discounts available on holidays to all the popular destinations including Gran Canaria, Lanzarote, Tenerife and many more with prices now as low as £233pp.

NHS

Up to

£100 off

NHS Discount available at TUI

Up to

£200 off

per couple on February 2022 Holidays at TUI

Up to

£300 off

per couple on Holidays to the Canary Islands this Winter at TUI

Summer 2023 Holidays with £0 Deposit & 1000s of Free Kids Places available at TUI

Up to

45% off

2021 & 2022 Holidays to Spain at TUI

Book a winter sun holiday to Spain to all your favourite places including Benidorm, Costa Del Sol, Tenerife, Gran Canaria, Fuerteventura, Majorca and many more stunning destinations or get organised and book in advance for next year to give yourselves something to look forward to.

Free Kids Places on selected Holidays at TUI

Up to

£450 off

per couple for 2021 Winter Holidays at TUI

Up to

£250 off

per couple on Spain Holidays in May & June 2022 at TUI

Up to

£300 off

couple on 2022 Breaks to Bulgaria at TUI

Up to

£500 off

Holidays to Egypt at TUI

1000s of Balearic Holidays in 2022 for under £300 at TUI

Lakes & Mountains Summer 2022 Holidays from £422pp at TUI

TUI 2022/2023 summer holidays are on sale now, here are our top 3 reasons for booking your holiday early

The earlier you book, the more time you will have to pay off your Holiday, you'll also have the best choice of holidays and dates so you can be sure of finding the perfect get-away.
You'll only need to pay a partial deposit. You can then pay the rest 12 weeks before your departure date, so you can secure your 2022/2023 holiday for a fraction of the cost. You can also book-now-pay-later by direct debit, it's a quick and easy way to spread the cost of your holiday.
Get the best Free Kids places - TUI offer thousands of Free Kids places but they can go quickly - so if you want the pick of the best dates and destinations, the earlier you book, the more chance you'll have of snagging the best Free Kids places.
Where do I use my TUI Discount Code?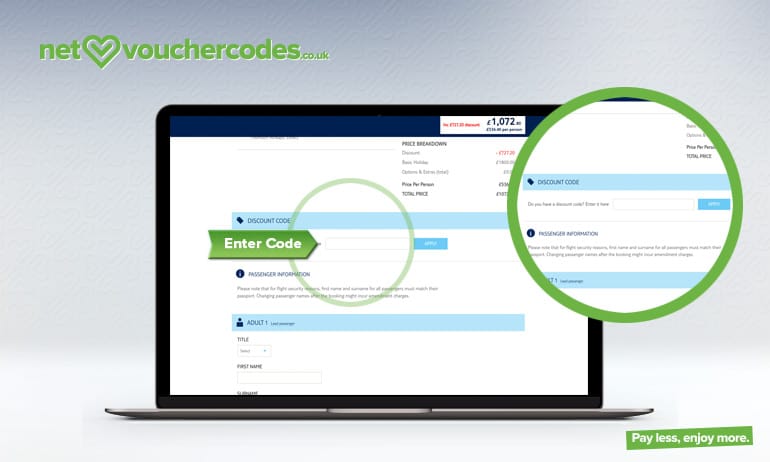 Select the discount code you wish to use from NetVoucherCodes.co.uk.
Follow the link to tui.co.uk.
Choose a TUI holiday package and click 'Continue'.
Enter your holiday details, choose your flights, and add any optional extras before clicking 'Continue Booking'.
Check the details for your booking.
On the last booking page, you can enter your code.
The total price of your holiday will update in the summary on the right-hand side of the page.
Enter all your personal details before clicking 'Continue Booking' to finalise your booking.
The TUI Holiday Promise
As Travel slowly begins to resume, TUI is taking extra precautions to protect you and your family from COVID-19, making your next holiday as safe & enjoyable as possible. From disinfecting air cabins to deep cleaning hotels & resorts, TUI promise you will have a safe, healthy and brilliant holiday - just like always.
As well as 24/7 support from TUI reps via their app, TUI pledges to exclusively offer quarantine-free destinations with no self-isolation on arrival. However, if you do plan on going abroad in 2021, everything from airport transfers to excursions has been fully checked to ensure your safety and wellbeing.
Find out more about the TUI holiday promise.
TUI Money-Saving Hints & Tips
"Save money on flights by booking in advance and flying midweek."

"Save money on your holiday, cruise or cheap flights in the last minute deals section on the TUI website."

"Use one of our TUI promo codes to save money on your booking."

"Sign up for the newsletter for the latest vouchers and deals."
More about TUI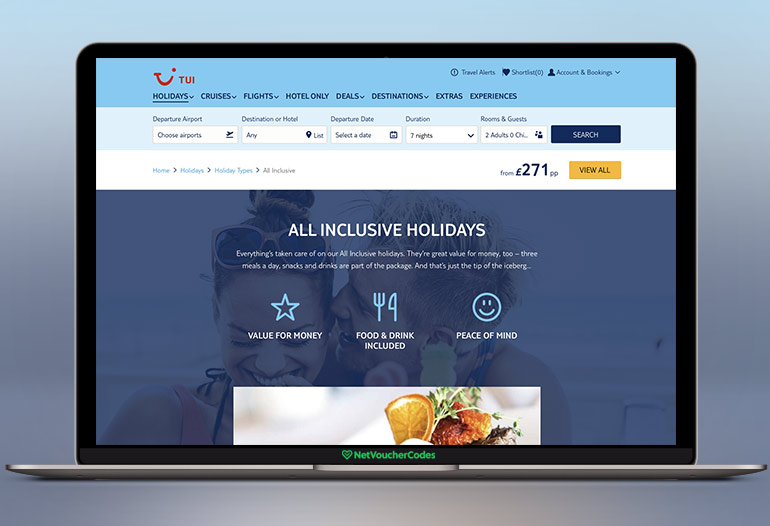 Make holiday booking effortless with TUI's easy to use website and booking system. Simply browse around online for your ideal holiday, whether that be an all-inclusive holiday with everything included, a family holiday at a kid and adult-friendly resort, a beautiful beach holiday in a stunning location, a luxury holiday in a 5* destination or a short-haul mini-break to a world-famous city. If you're not sure about where you want to go then take a look at the destination list which features locations like New York, Spain, Greece, Sri Lanka, Mexico, Maldives, Cuba, Turkey, Cape Verde, Barbados, Florida, Iceland and Las Vegas. If you have a resort preference then the collections section is the place for you. In this area, you'll find exclusive holidays in TUI Family Life, TUI Sensatori, Sensimar, Magic Life, Blue, Robinson and RIU category's, plus many more. If you're working on a budget then check out the online holiday deals section where you'll find board upgrades, last-minute holidays, summer 2021 deals and the Free Kids Place Finder, allowing you to tailor-make your holiday to your liking for a low-cost price.
With TUI, there's no need to spend hours searching around for all your holiday necessities. As everything you need is in one place you can simply head to their website, select all your requirements including your hotel, flights and extras and book in a matter of minutes. With TUI package holidays to hotels and resorts all over the world, flights to thousands of destinations and extras such as travel insurance, currency exchange, airport parking, airport hotels, excursions and car hire all available to book on the TUI website, booking a holiday has never been easier. And with so many TUI promo codes and vouchers available too, it's now cheaper than ever to book.
Did you know?
As well as all-inclusive, luxury, beach, family-friendly and city holidays, TUI also provides multi-centre holidays. These holidays let you visit more than one destination in a single trip, so you can head out on a multi-day guided tour in a country like Vietnam, before chilling out at a beachfront hotel. Or, you can combine your beach break with a stay in a city like Croatia's Dubrovnik and even hit the open road on one of TUI's driving holidays in Florida. These incredible holidays are great if you're looking for some adventure and diversity, perfect for eager travellers who want more than a beach holiday in one resort. And what's more, when you book with TUI there's no need to go searching around for the cheapest prices, connecting flights and transport to and from each location; they do all the work for you, so there's no stress or hassle- all you have to do is choose your desired multi-centre holiday and book.
TUI Shopping Tips
Enjoy a holiday of a lifetime with Marella Cruises at TUI
One of TUI's main selling points is their expansive range of cruises that come in all shapes and sizes, for all budgets and different types of travellers, to locations all over the world including the Caribbean, Asia, the Mediterranean, the Baltics, Central America, the Canary Islands and much more. TUI cruise line is so big they've recently created Marella Cruises, which now features six different types of ships in its fleet including the Marella Discovery, sailing to 120 destinations across the globe. Choose from all-inclusive cruises, cruise and stay, last minute, European, winter and adult-only cruises. Browse through a number of cruise deals, or book your cruise way in advance using a 2021 discount code to save money on your offshore getaway. Discover cruise ships with cinemas, shopping facilities, climbing walls, pools, 5* entertainment and plenty of dining options and enjoy an amazing holiday on board as well as when you dock. Book your shore excursions before you sail and enjoy amazing experiences in multiple locations on a cruise holiday of a lifetime.
Discover stunning Lakes and Mountains around the world
If you want more than your typical beach holiday then you can discover beautiful natural scenery and picturesque views of the lakes and mountains collection at TUI. Soak up local culture on a European lake holiday, stay in ancient harbour towns in historic hotels, where you can relax by the clear blue water and enjoy a cocktail on the piazza. Choose from stunning lakes around the world including Lake Garda, Lake Maggiore, Lake Como and Bled. If it's a mountain holiday you're looking for then you can look forward to some of the most spectacular scenery in the world. From the Austrian peaks to the green pastures of the Italian Dolomites, you can enjoy a landscape of pretty walking paths and views that stretch for miles. Discover mountain holidays in Austria, Italy, Slovenia and Switzerland, all with the most amazing views, and at affordable prices too.
TUI FAQs
How do I get a TUI discount?
You can find the latest discounts for TUI here at NetVoucherCodes. We display all the latest official codes and deals for TUI, making it easy for you to find the most beneficial discount. Previously we've provided discount codes that allowed customers to save 15% off online holiday bookings and, more recently, a code offering £300 off per booking on selected package holidays. So it's always worth checking our page before you book.
Does TUI offer free child places?
Yes, TUI provides thousands of free child places on summer holidays. This deal includes free standard flights, hotels, food and drink and transfers for one child per two adults. To find holidays that include free child places use the 'Free Kids' Place Finder' on the TUI website.
Does TUI give NHS discount?
Yes. If you book through TUI Holidays for Heroes you can save an extra £100 off bookings over £1000, on top of any other available savings. If your holiday doesn't meet the £1000 value you can still save an extra £50. This offer guarantees the lowest price on package holiday bookings departing after the 1st October 2020. NHS staff can also amend departure dates for free. To take advantage all you need is a valid NHS email address - you don't even need a TUI discount code NHS as the discount will be automatically applied at checkout.
Depending on the time of year TUI's holiday prices can change. TUI encourages families who are looking to travel during school holidays to book early as that is when you're most likely to find the best deal. January and February are usually the cheapest months to book summer holidays, although TUI assures customers that they provide the best prices and discounts possible, all year round, even during peak times.
Do holidays get cheaper nearer the date?
Package holidays and flights that aren't fully booked up may decrease in price the closer it comes to their departure date. Therefore, it might be worth checking the last minute deals section on the TUI website for a discount on a holiday departing in the next few weeks.
What is the baggage allowance on Tui flights?
When flying with TUI Airways, you're entitled to a 15kg luggage allowance on all package holidays, with some holidays even permitting a bigger allowance of up to 20kg. You can also take 1 piece of hand luggage, weighing up to 5kg, with both flight-only bookings and package holidays, as long as said luggage bag has dimensions no bigger than 55x40x20cm. Remember, booking your luggage allowance online with TUI Airways is cheaper than paying at the airport so it's worth thinking about before you arrive for your flight. Click here for more information on the luggage allowance for premium club members, infants, ski holidays and more.
When can I check in with TUI?
You can check in for your TUI Flights easy and quickly online up to 30 days before you're due to depart. Simply select the Account & Bookings category at the top of the TUI homepage, either log in or view your booking using your departure date, booking reference and the name of the lead passenger. From here you will be able to check in online saving you time when it comes to your holiday.
How long before my holiday will my TUI tickets arrive?
If you have provided TUI with an email address when booking your holiday, your holiday voucher will be delivered directly to your email 4 weeks before you depart. You may have chosen for your vouchers to be delivered to your postal address in which these will be delivered 3 weeks before you depart.
How early can I check in with TUI?
At airports in the UK, check-in desks open approximately 2-3 hours before departure time. Passengers taking Long Haul flights should check in 3 hours before departing.
Can I amend my TUI Booking?
Yes, simply visit the 'Manage My Booking' page to make any possible amendments to your holiday or get in touch with the TUI team. Please note that charges may incur.
Does TUI have any working voucher codes right now?
Yes, we have 4 verified working Promo Codes available for TUI, meaning you can save up to £150 off your online purchase.
How to find the best TUI Voucher Codes?
You can find working TUI codes in a number of ways. We currently have 4 official and community codes right here on NetVoucherCodes offering up to £150 off at the checkout. Sign up to our newsletter and follow TUI to hear about new code alerts first. Or, you could also sign up to the TUI newsletter as they periodically email them out.
How much can I save at TUI?
In the last 30 days we have saved our community an average of £38.00 at TUI. The latest TUI offers were added on 1 Dec 2021 and give savings of up to £150.
Disclosure: All offers on this page are affiliated links. If you click through them, it can sometimes result in us earning a small commission.
If you're looking for a top-quality 2021 holiday, city break or cruise look no further than TUI. Previously known as Thomson holidays, this holiday brand is synonymous with excellence and affordability, providing everything from all-inclusive family holidays and long haul holidays to low-cost city breaks and cheap flights. With a plethora of destinations in their repertoire and loads of holiday extras available, you can rest assured that Thomson will tailor-make the perfect holiday for you, no matter what your requirements may be. Book online with a TUI discount code from us and save yourself hundreds on your next holiday. Whether you're booking TUI last minute or in advance, there are always savings to be made, with plenty of discounts already available for 2022 holidays and cruises too.
We are constantly on the hunt for Discount Codes for TUI to help you with your money saving. Our experts check dozens of sites for secret codes including NHS discounts, student sites & social media channels saving you time & money!
Travel Safe
Although getting cheaper travel is great, you need to travel safe & secure. When booking with TUI you can be confident about your financial protection. TUI is registered with:
ABTA No: V5126
ATOL No: 2524
Be sure also to check how safe your destination is & follow government advice on the Travel Aware website.
Get Social with TUI