Vodafone Promotional Codes 2018
Valid Vodafone Voucher Codes, Deals & Sales for January 2018
7 Used - In the last 3 days
1 day left!

Get up to 24 months of Spotify Premium for free with your Vodafone contract at Vodafone

View Discount

Get £91 off the Samsung A3 from just £23pm with an £29 upfront fee in the Vodafone Sale

View Discount

5 Used - In the last 3 days

£111 discount on the Huawei P10 now just £23pm with an upfront fee of £29 in the Vodafone Sale

View Discount

View current Vodafone deals, discounts & special offers available on the Vodafone website.
View More
Vodafone Promotional Code Archive 2018
| Issued | Code Description | Promotional Code |
| --- | --- | --- |
| Jan 2018 | Pay as You Go for just £1 per day | ******** |
| Jan 2018 | Buy a Vodafone Social Pass for just £5 per month | ******** |
| Jan 2018 | Get a Vodafone Chat Pass for as little as £3 per month | ******** |
| Jan 2018 | Vodafone Music Pass only £5 pm | ******** |
| Jan 2018 | Order a Huawei Mate 10 Pro on Pay Monthly from £36pm with a £300 upfront fee | ******** |
Similar Online Promotional Codes
Where do I use my Vodafone Promotional Code?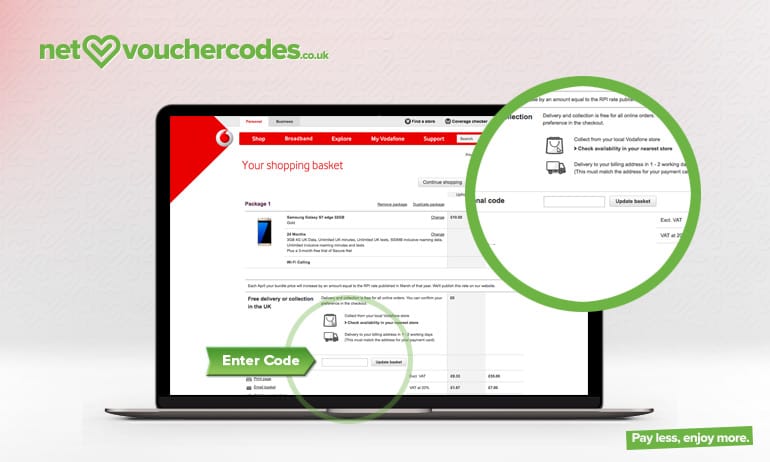 Enter the code at the basket page before you checkout.
Popular Voucher Codes from Vodafone
Codes and deals for the latest smartphones from Apple & Samsung.
Vodafone Promotional Codes for iPhone
| Issued | Code Description | Code |
| --- | --- | --- |
| January 2018 | iPhone 8 from only £54 a month at Vodafone | No code required |
| January 2018 | iPhone 8 plus from only £58 a month at Vodafone | No code required |
| January 2018 | iPhone X from only £68 a month at Vodafone | No code required |
Vodafone Promotional Codes for Samsung Galaxy
| Issued | Code Description | Code |
| --- | --- | --- |
| January 2018 | Samsung Galaxy S8 from only £42 a month at Vodafone | No code required |
| January 2018 | Samsung Galaxy S8+ from only £52 a month at Vodafone | No code required |
About vodafone.co.uk

Whether you're looking for a monthly contract or a pay as you go phone, Vodafone's excellent national coverage means you'll be able to make the calls you want when you want, and their customer care will be there to help you with any queries you may have while their reward scheme helps you rake in the bonuses. Stocking the very latest in handsets like the Apple iPhone 7 and the Samsung Galaxy S6, Vodafone are there to help you pick the phone and the SIM that's right for you - and we're here to help score you the best deals we can.
Here at NetvoucherCodes, we'll do our best to keep you posted with any promotional codes, offers, and deals we find. We'll try and get you discount line rentals, pay monthly incentives, top up bonuses, savings on accessories like protective cases and memory cards, and anything else we can bring you. So check out what we've got right now, and keep an eye on the page for new and exclusive offers as they pop up.
NetVoucherCodes top Vodafone shopping tips
Vodafone SIM Only
Get a Vodafone SIM only deal and keep the phone you love yet save on your data, calls, and texts. Choose a Pay monthly bundle and enjoy flexible upgrades, with the option to get a new phone bundle after just three months. Or, choose a Pay as you go SIM only deal for even more flexibility. You have the option to choose your bundle and the length of your agreement, with the choices varying from 30 days to 12 months. With Vodaphone you can find bundles that suit your needs, whether it's lots of data you require or just unlimited phone calls. They're not tight on the price either with SIM only deals ranging from £9 to £37 to fit whatever budget you're working on.
Vodafone Upgrade
If you're looking to upgrade with Vodafone you can do so in a few easy steps. Visit the website and register an account for information and deals on your upgrade options. Existing customers can even find themselves upgrading early when they've been dedicated to Vodafone, as well as receiving exclusive, money saving offers on contracts, SIMs, bundles, and devices.
Vodafone Rewards
With Vodafone rewards, you can find yourself receiving free gifts and rewards like the £10 Cinema pass that can be used in selected cinemas around the UK. You can also find yourself being gifted with other freebies that are offered to you for being loyal Vodafone customer.
Vodafone pay as you go
You may have thought pay as you go was a thing of the past. However, many monthly contracts have us paying for features we don't ever use. It's for this reason that pay as you go is becoming increasingly popular again, and with the pay as you go offers from Vodafone it's no surprise why. You can find some of the most popular smartphones and devices on pay as you go, all on Vodafone's dependable network. Find the best deals on credit and all the latest pay as you go packages here on our Vodafone deals page. As well as money saving promotions, you can also find a selection of fantastic voucher codes to help cut the cost of your mobile order.
Vodafone Store
Shopping for a phone online is a great convenience for us all. However, sometimes we need that extra bit of help and communication with a real person to make a well-rounded decision about what we buy! Vodafone wants to make the buying experience as easy as possible which is why they have a team of experts working hard to bring you the best deals and valuable information in the Vodafone Store. The Vodafone store holds all makes and models of mobiles and devices that they sell, as well as guidance on the best packages, contracts and deals to go for. If you need help with your current phone or information about an upgrade simply head into the Vodafone store and get all your queries and worries resolved instantly.
Vodafone money saving tips
Free SIM Cards
"If you're a new Vodafone customer and don't feel ready to commit yourself to a long term contract, then a pay-as-you-go SIM card may be the ideal solution for you. The SIM card is completely free and you pay for what you wish to use including phone calls, texts and data use."
Freebies
"To ensure you receive the best value for your money when you get your Vodafone pay-as-you-go SIM card you will need to choose the Freebie package. This allows you to make the most of your money instead of just topping up your card with cash. There are four different packages you can choose from including freebie minutes, freebie texts, freebie data and freebie international minutes. Each package will get you extra texts, minutes, data and international minutes depending on how much you top up you card with. The more you top up with, the better your freebies will be. For instance, topping up your card with £10 with the freebie text package will entitle you to £10,000 free texts and £20 can get you unlimited texts. Topping up with the maximum amount of credit will get you the best added extras. With your freebie package, you will also be rewarded with point which you can use to enjoy all sorts of extra freebies including DVD rentals, speakers, headphones, mobile phone accessories and even smartphone."
Free Smartphones
"If you decide to sign up to a long term contract with Vodafone, check out their free smartphone offers available to you. By signing up to a 24 months contract and paying upwards of £20 per month for minutes, texts and data, your handset usually comes free of charge. However, if you want to be savvy, try adding up how much your contract would cost you as it may be more cost effective buying your phone out right."
Follow Vodafone Online
"If you want to keep up to date with all the latest news and exclusive deals that Vodafone has to offer, then like their Facebook page and follow their Twitter account. This is best way to ensure you're kept in the know about all the best deals available. Every few weeks you will notice a social media post promoting a new sale that you dont' want miss out on. Check the Vodafone social channels as often as you can if you want to keep up with the latest goings on."
Trade in your old phone
"If you think it's about time to treat yourself to the latest smartphone, don't just throw your old one way! By trading your old gadget in to Vodafone, you could receive a great deal of cash for your used goods. To trade in your phone, simply visit the Vodafone Trade IN page linked in the footer of the main homepage and type in the model or IMEI number to find out just how much you will receive for it. If you like what you see, package your old phone up and send it to Vodafone and you will receive your money within 24 hours of sending it."
FAQs
Why have I been charged for a text message?
Sometimes you'll get charged for a text message even if you've got enough of your allowance left. It can happen because it was converted to a picture message (MMS) which may not be free. Some operating systems and phones will automatically convert a text into a picture message – this is something that can happen on any network and is beyond our control. So you'll get charged our Standard UK picture message rate for it. On some devices you'll notice the character count changing from numbers to a file size when: you've included a non-standard smiley or symbol such as an emoticon or emoji you're sending a group text you've exceeded the character limit (with some devices this can be 160 characters and others it can be higher).
Will my 4G phone work on other 4G networks when I go abroad?
A number of international networks are currently testing 4G. In countries where 4G is available, there is no additional cost to your standard roaming charges to use 4G – all you need is a 4G device on a 4G plan. For more information about using 4G abroad, check our going or calling abroad FAQs. You can also use your UK data allowance when roaming. To find out more, see our pages for EuroTraveller or WorldTraveller. For countries where 4G isn't available, it's better to switch your 4G device to work on 2G or 3G. This will avoid any problems if you're roaming on a network that doesn't yet offer 4G. If you need help changing the settings on your phone, you can go to our help pages. Don't forget to switch it back to 4G when you come home.
Disclosure: Any offer labled as "Deal, "Sale", or "Code" means that it is an affiliated link and helps us stay free to use. If you click through it, it can sometimes result in us earning a commission.