Vodafone Promo Codes 2022
Active Vodafone Discount Codes, Deals & Sales for January 2022
website will open in new tab
15% off

selected Plans for Existing Customers at Vodafone

Pay Monthly Phones start as low as £12pm at Vodafone

Check out Vodafone's huge selection of offers on monthly contracts including great deals on iphone 13s, iphone 12s, iphone XSs, Samsung S21s, Samsung S20s and many more.

Up to 5x Data for 3 months this Winter on Pay As You Go Big Value Bundles at Vodafone

Apple Watch from £20pm with £9 Upfront on a 36-month Watch Plan at Vodafone

Students

10% off

Pay Monthly Plans with Student Discount at Vodafone

Pick up the latest handset including the Apple iPhone 13 Pro or Samsung Galaxy S21+ for less if you're a student. Enjoy an exclusive 10% on Pay Monthly Smartphones, Tablets and SIM-only plans at selected universities. Stay connected with family whilst at uni for less!

Free Delivery

to your home at Vodafone

There are so many perks to choosing Vodafone as your network provider and free delivery is just another bonus. Shop online for the latest Handsets, SIM Only Deals and enjoy free shipping fees as standard.
Where do I use my Vodafone Promo Code?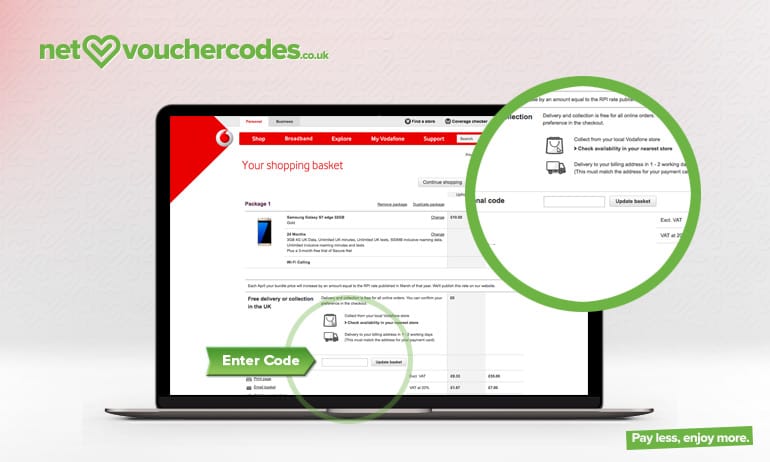 Enter your Vodafone discount code at the basket page before you checkout.
Vodafone Money-Saving Hints & Tips
"Earn VeryMe rewards."

"Up to 15% off for pay monthly mobile customers."

"Enjoys savings in the deals and offers section."

"Refer a friend for a free £25 Amazon gift card."
More about Vodafone

As well as offering a huge selection of pay monthly phones and tablets with contacts for the latest Apple and Samsung devices, Vodafone also provides pay as you go phones for those of you who don't like to be tied down. Pick up iPads, tablets, the latest iPhones and Samsung Galaxy models boasting both competitive and affordable monthly prices. If you'd prefer to keep your old device, why not opt for a SIM-only plan? Vodafone offers pay-monthly SIMs, pay-as-you-go SIMs, data-only SIMs, unlimited plans and easy ways to top up. SIM-only deals are great for customers who are looking to keep their current smartphone and aren't interested in annual upgrades.
As well as impressive contracts that include unlimited minutes, texts and huge amounts of data and affordable SIM-only deals, Vodafone also provides broadband. Check your availability today and invest in a pro-broadband plan, a mobile and broadband deal or a broadband and TV package. Enjoy invincible broadband at unbeatable prices. The broadband from Vodafone includes super reliable wifi in every room of your house, automatic 4G broadband backup, lightning-fast average speeds of up to 900Mbps and expert engineers on hand in case something goes wrong.
We know it can be daunting to take a new phone contract or broadband deal. However, you can be reassured you will get the best possible prices with Netvouchercodes.co.uk. Not only do we keep our Vodafone deals page updated with all the latest money-saving deals on phones, tablets and broadband, but you can also check out one-off voucher codes and exclusive deals. Alternatively, check out the Vodafone Deals & Offers page and don't hesitate to sign up for the newsletter to keep in the know with all money-saving opportunities.
Pay Monthly
If you love to keep connected each and every day, choose an affordable Vodafone monthly tariff to suit your lifestyle. Grab a monthly plan with a free handset or upgrade your current plan to the latest smartphone or android device. Take your pick of all the latest handsets including the Apple iPhone 12 and Samsung Galaxy S21, as well as Huawei, Google and Sony phones with unbeatable and flexible tariffs available with every plan. What's more, you will also notice a friendly 4X data logo on selected plans, with no extra cost included. Enjoy low upfront costs on must-have handsets as well as free delivery when your order today. Stay connected with a monthly plan from Vodafone.
Upgrade to a Samsung
As one of the most popular and sought after handsets across the globe, you can guarantee to pick up an unmissable saving on your next Samsung smartphone. Choose from the Samsung Galaxy collection featuring the latest S21 and S20 editions with pay monthly and pay as you go options available. Perhaps you're a Galaxy Note and Z Series fan - upgrade your old handset with fantastic deals available across the whole collection. Along with 5G, unlimited data and exclusive rewards for Vodafone customers - you can expect affordable upfront costs and monthly payments starting from as low as £29. Why not throw in some added extras like reliable Insurance or a pair of Samsung Smart Buds. Check out our Vodafone deals page to see what Samsung savings you can grab.
Instant savings at Vodafone
You can save at Vodafone by earning VeryMe rewards. Customers can earn rewards with pay monthly and pay as you go plans as well as weekly treats and the chance to enter giveaways and top prize draws. All you need to do is download the Vodafone app. For more savings make sure you refer a friend for a free £25 Amazon gift card or check the deals and offers section for the latest mobile discounts. Long-standing customers can also expect regular perks and up to 15% off selected additional plans for family members. For more ways to save make sure you also visit our website where you'll find the latest offers and deals for Vodafone.
Vodafone Shopping Tips
How to save money at Vodafone
Vodafone has been providing customers all over the UK with super-fast wifi, affordable monthly contracts and the latest smartphone devices for decades. As one of the most respected mobile providers in the UK, Vodafone is the place to go for affordable mobile devices and flexible payment options. Invest in a contact or a SIM-only deal and make sure that you use one of our money-saving tips or tricks to cut the cost of your order.
Download the app
Download the Vodafone app on your iPhone or Android and gain access to the latest news, information and discounts. When you download the app you'll also gain access to the VeryMe Rewards programme. Here, you can find out how to earn rewards and weekly treats, you can also enter regular giveaways and prize draws. Earn feel good Friday treats from brands like Candy Kittens, Chili, Joe & Seph's and thoughtful as well as rewards in partnership with big sporting events like the rugby six nations. With the app, pay monthly customers can enjoy unlimited access to the selection of offers and discounts while pay, as you go members, can enjoy selected rewards with the option to top up at least £10 every 6 weeks to unlock even more.
Visit the deals and offers section
In the deals and offers section, you can find information on refurbished phones and tablets as well as iPhone and Samsung Galaxy mobile phone offers. In this section, you can also save up to £60 on SIM-only plans and up to £300 on tablets. Discover a range of technology offers on things like smartwatches, GPS trackers and pet trackers as well as 15% off selected extra plans when you're an existing customer. The deals and offers section is updated regularly with new discounts so make sure that you check back for more ways to save each month.
Refer a friend
Get rewarded when you recommend a friend to Vodafone pay monthly mobile or Vodafone home broadband. Simply register for a unique link and share it with your friends. If they choose to join Vodafone online via the link then you and your friend will both receive a £25 Amazon gift card to spend at your leisure. This is a great way to save money and introduce your friend to the amazing perks at Vodafone.
Vodafone FAQs
Does Vodafone do NHS discount?
Yes, the Vodafone advantage scheme offers NHS staff a 15% discount on their monthly bills. There is a £10 joining fee incurred however the discount is immediately applied to pay monthly plans.
Does Vodafone do trade-ins?
Yes, Vodafone offers a trade-in service. Simply receive an online quote for your device, send it off in the supplied pack within 14 days and allow Vodafone to assess the device for any problems. Following the device's trade-in approval, a payment will be made into your bank account within 24 hours.
Does Vodafone do student discount?
Yes, Vodafone offers student discounts on pay monthly tablets, smartphones and sim-only plans. Check to see if your university is signed up to the scheme, buy an eligible plan, apply for the discount and then wait for it to be applied.
Does Vodafone broadband include line rental?
Yes, the cost of the Vodafone broadband package includes line rental.
How do I get a Vodafone discount?
You can get a Vodafone discount by visiting our website. Previously, we've helped customers save up to 15% off selected plans with our offers and deals. Our Vodafone retailer page is updated regularly with information on the latest sales events, codes and discounts so make sure to check back for incredible savings.
How to find the best Vodafone Discount Codes?
You can find working Vodafone codes in a number of ways. Sign up to our newsletter and follow Vodafone to hear about new code alerts first. Or, you could also sign up to the Vodafone newsletter as they periodically email them out.
Disclosure: All offers on this page are affiliated links. If you click through them, it can sometimes result in us earning a small commission.
As one of the UK's most reliable mobile providers offering pay monthly deals, SIM only mobiles, broadband and more, stay connected with Vodafone. As well as providing loyal customers with discounts on additional plans and extra devices, you can also add affordable insurance to your tariff or shop through the refurbished category for discounted tech! Whether you're looking for the latest smartphone with an affordable SIM, a new contract or a mobile and broadband deal, find it for an affordable price at Vodafone. Use a Vodafone promo code from us and save yourself even more money on your purchases. Or, check out the Deals & Offers section for the latest mobile phone deals. Keep in the loop with Vodafone.
We are constantly on the hunt for first order Promo Codes for Vodafone to help you with your money saving. Our experts check dozens of sites for secret codes including NHS discounts, student sites & social media channels saving you time & money!
Get Social with Vodafone