Whirli Discount Codes 2022
Active Whirli Voucher Codes, Deals & Sales for January 2022
website will open in new tab
15% off

First Month with Subscription Plan Sign-ups at Whirli

Tested & working

50% off

6 Month Toy Box Subscription at Whirli

Tested & working

15% off

Gifts when you Subscribe at Whirli

20% off

Yearly Subscriptions at Whirli

10% off

with 6 Month Subscriptions at Whirli

Subscriptions start from only £9.99pm at Whirli

Cancel Anytime with Pay Monthly Subscriptions at Whirli
Where do I use my Whirli Discount Code?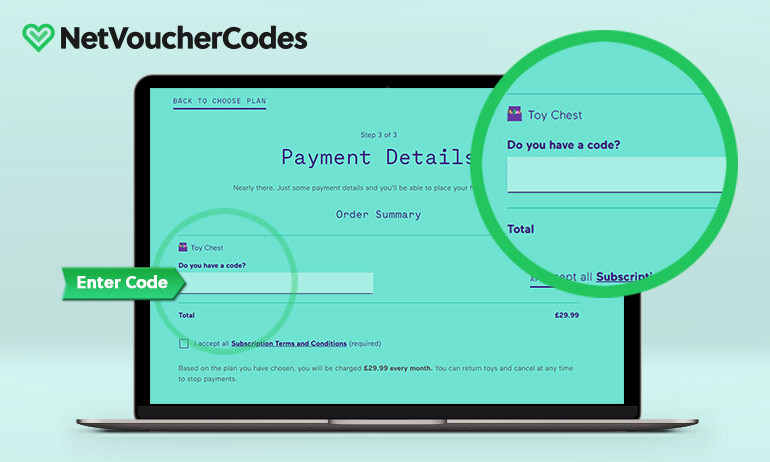 Click on the offer of your choice on our Whirlipage and copy the code provided.
Follow our link to the Whirli website.
Choose the subscription you wish to purchase and click 'Choose' then 'Get started'.
Complete your details to create your account.
At the payment stage. paste your code into the "Discount Code" box and click 'Apply'.
Click 'Checkout securely' to secure your discount.
Whirli Money-Saving Hints & Tips
"Opt to pay half-yearly or yearly in advance to reduce the monthly cost of your subscription"

"Pay a monthly delivery booster for unlimited delivery and returns"

"Refer a friend to get a £20 credit to your account"
More about Whirli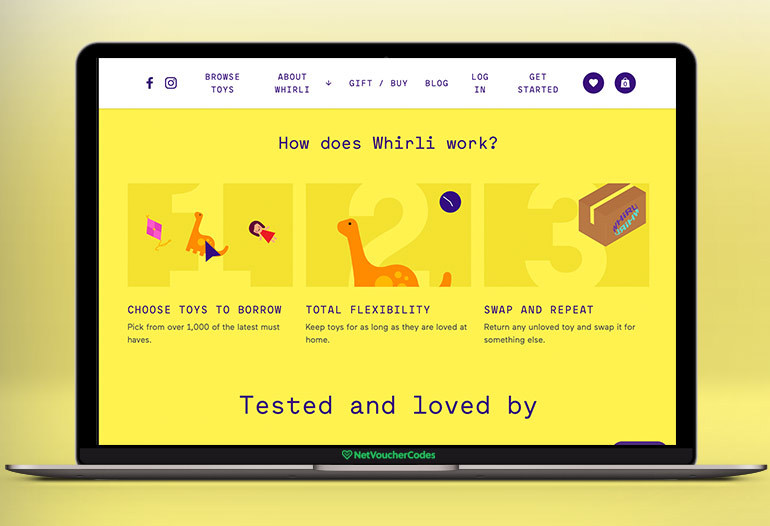 Whirli has been designed to give 8 times better value than buying your toys from the toy shop when you swap toys monthly. Another great plus is that you give your kids access to a wide range of toys without cluttering up your home. Also, by swapping instead of shopping, you reduce your environmental footprint and save toys from ending up in landfill sites meaning you save money while helping to save the planet! Whirli toys are suitable for children from newborn up to 8 years old. They only stock toys that meet UK and EU safety standards and all toys are sterilised with Milton's professional formula, so you can be sure that they are clean and hygienic.
Choose from four different subscription plans, based on the value of the toys you want to borrow. The cheapest option that starts at £9.99 per month is the 'Toy Sack' and gives you 80 tokens (worth £80) to spend. The most popular option is the 'Toy Box' which gives you 120 tokens for £14.99 per month. The 'Toy Trunk' will give you 160 tokens for £19.99 per month and the 'Toy Chest', which is great for accessing all those high-end and bigger toys will give you 240 tokens for £29.99 per month. Once you have your tokens, you can exchange them for the toys that you want, keep the toys while they are being played with and enjoyed and then swap them for new toys whenever you want. Plus, when you send the toys back, you will receive the tokens, you will gain your tokens back to spend again.
In addition to saving money on all those toys, Whirli lets you reduce the monthly cost when you choose to pay half-yearly or yearly in advance, saving you even more! What's more, you can opt to save on postage costs by paying a monthly delivery booster, which gives unlimited delivery and returns. Pick up one of our Whirli discount codes to reduce the cost, even more, when you order your subscription.
Did you know?
Give the gift of Whirli! Whirli is a great flexible gift that allows the kids to enjoy all the toys they want. You can choose to give just a subscription or you can add a physical toy as well. Whirli also enables you to create a gift list that you can share with family and friends so that your child will receive the gifts that they really want.
Instant savings at Whirli
Be sure to pick up one of our Whirli discount codes before you place your subscription order to cut the cost and save even more on all those amazing toys. Our Whirli deals page is always updated with the latest discount codes, promotions and special offers that will help you to save money while keeping your kids entertained.
Whirli Shopping Tips
How to save money at Whirli
A Whirli subscription allows your kids access to all the latest must-have toys without breaking the bank. You can save even more on your subscription when you follow our helpful money-saving tips!
Pay in advance
Instead of paying your Whirli subscription on a monthly basis, pay half-yearly in advance to save 10% or yearly in advance to save 20%, making your toy subscription even better value!
Pay a delivery booster
Your first delivery is free but each subsequent delivery or return will cost you £3.49. Pay a delivery booster for an additional £6 each month and you get unlimited delivery and returns, which could save you a fortune if your child wants to swap toys regularly.
Refer a friend
Once you have discovered all the advantages of a Whirli subscription, you will want to let all your friends and family know about it too. Refer a friend to get a £20 credit to your account when they place a subscription and they will also get a 15% discount on their first monthly payment.
Save with a discount code
Grab one of our Whirli discount codes to cut the cost of your subscription and enjoy all that toy swapping fun for less!
Whirli FAQs
How do I get a Whirli discount?
You'll find all the latest Whirli special offers and discount codes here on our Whirli deals page. The best way to make sure that you never miss out on the chance to save money at Whirli is to check our deals page regularly or to sign-up, for the NetVoucherCodes newsletter to receive all the latest money-saving deals and discount codes straight to your inbox.
Does Whirli do NHS discount?
Although Whirli does not offer a discount specifically for NHS workers, you can still make savings with the discount codes and special offers that you'll find here on our Whirli page, so check the page regularly to make sure you don't miss out.
Does Whirli do student discounts?
Currently, Whirli does not offer a discount for students. However, there are still lots of money-saving offers to be had. Check out our Whirli deals page, where you'll find all the latest discount codes and special offers.
Does Whirli do free delivery?
Your first delivery is free. After that, you pay £3.49 for every delivery or return but you can save money by paying a £6 per month delivery booster which will give you unlimited delivery and returns.
Does Whirli have any working voucher codes right now?
Yes, we have 2 verified working Promo Codes available for Whirli, meaning you can save up to 15% off your online purchase.
How to find the best Whirli Voucher Codes?
You can find working Whirli codes in a number of ways. We currently have 2 official and community codes right here on NetVoucherCodes offering up to 15% off at the checkout. Sign up to our newsletter and follow Whirli to hear about new code alerts first. Or, you could also sign up to the Whirli newsletter as they periodically email them out.
Disclosure: All offers on this page are affiliated links. If you click through them, it can sometimes result in us earning a small commission.
Find it a struggle to afford all the toys your kids want? Maybe you're tired of spending money on expensive toys only to see them sat in the toy cupboard and not played with? Whirli comes to the rescue with their toy swap subscription - a much more affordable alternative to buying toys! Simply take out a monthly subscription based on the amount you are comfortable spending and the toys you want access to. You then get tokens to spend on toys and then keep them for as long as they are loved and played with or swap them for something else! Pick up one of our Whirli discount codes to save money on your toy subscription and keep your kids happy for less!
Get Social with Whirli