Hershesons Coupon Codes 2021
Active Hershesons Voucher Codes, Deals & Sales for November 2021
website will open in new tab
20% off

first orders at Hershesons

Community

20% off

next orders with Newsletter Sign-ups at Hershesons

17% off

when you Pre-order The Everyday Kit at Hershesons

Up to

20% off

when you Pre-order The Pro Blow Dry Kit at Hershesons

21% off

when you Pre-order The Best of Both Worlds Kits at Hershesons

21% off

Zhoosh & Everyday Brush at Hershesons

23% off

Everyday Essentials Brushes at Hershesons

25% off

Ceramic Brush XL at Hershesons

18% off

Almost Everything Cream and Zhoosh in the Hershesons Black Friday Sale

Up to

30% off

Pro Blow Dry Brushes in the Hershesons Black Friday Sale

40% off

all Hair Extensions at Hershesons

30% off

all Accessories at Hershesons

50% off

Great Hair Days Book at Hershesons

30% off

Knot My Problem Brushes at Hershesons

Free Delivery

on orders over £65 at Hershesons

Buy Now Pay Later with Klarna at Hershesons

Order by 12pm for Next Day Delivery at Hershesons

14 Day Returns on orders at Hershesons
Where do I use my Hershesons Coupon Code?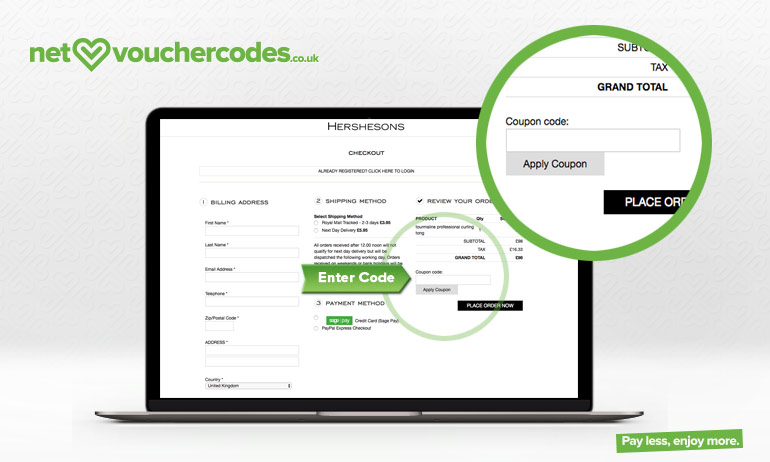 Copy a code from us and follow our link to the Hershesons website
Here, add all the products you want to your basket
Once you're finished shopping you can then head to the checkout
On the checkout page paste your code into the 'Coupon code' box and click 'Apply Coupon' to redeem your savings
You can then click 'Place order now'
Hershesons Money-Saving Hints & Tips
"Sign up to the newsletter for 20% off your first order."

"Find great offers, discounts and vouchers online at Hershesons."
More about Hershesons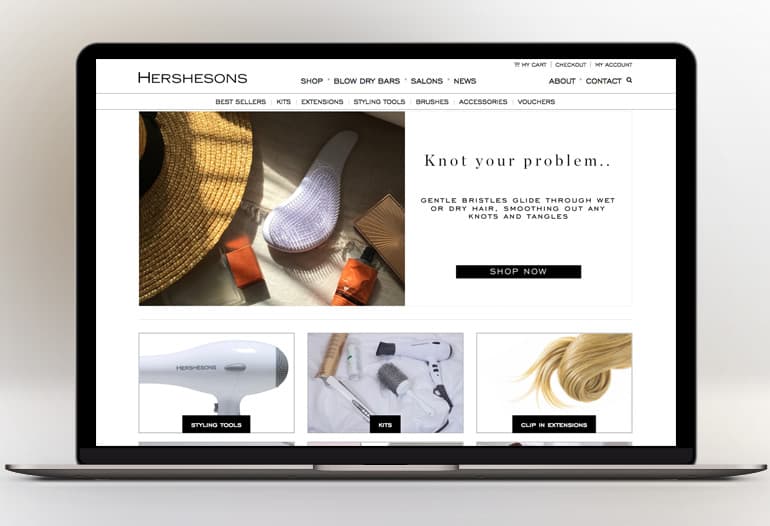 Hershesons provides a huge array of hair care products in their online shop including hair kits, extensions, styling tools, brushes and accessories. As well as this, Hershesons also provides a bestsellers section where you can find all the most popular products as well as a gift vouchers section that allows you to gift friends and loved ones with money off hair products and appointments. In the online shop section, you can also find a variety of articles on everything to do with hair including festival hair, hairstyles for short hair, stunning mid-length cuts you need to try and how to make your blow dry last longer.
Online you can also find information on all of the eight Hershesons salons available and the various blow dry bars available in London. Explore looks, read articles, search by location, type and price point and find your perfect salon in a location that suits you. You can also choose from 12 fabulous, fashion-forward blow dry looks and find a Hershesons bar near you where you can get the perfect blow dry hairstyle.
Did you know?
Hershesons includes a 'news' section on their website where you'll find tons of information on editorial hairstyles and runway looks as well as plenty of Herspiration and information on the latest products, plus much, much more. Find articles and tips on festival hair, 90s hair, how to do blonde and brunette, how to get great lengths with short hair, holy grail hair products and how perms are making a comeback. As well as all this you'll find many more posts dating back years as well as information on the press and the latest Hershesons events.
Hershesons Shopping Tips
Browse through the Hershesons lookbook and discover eight on-trend cuts that can be uniquely tailored to you
If you're browsing around the Hershesons website you're probably thinking about embracing a new hairstyle, for a new you. If you're looking for a complete change and want to incorporate all your character into your new doo you can rest assured that Hershesons can do the job with a lookbook filled with eight different show-stopping looks that you'll love. Eight cuts, eight different head-spaces, eight separate templates, each one designed to be a starting point for defining your character and a new look. Every hair idea comes from somewhere, it has to fit the times, fit your face and run hand-in-hand with fashion. Bearing this in mind Hershesons have created a stylish lookbook that includes amazing looks that not only fit all these checkpoints but that also act as a building block for your identity and act as a tool for every day self- expression.
All hair doos rely primarily on a unique cut, and a decade of non-cuts is being overturned here by a fresh Hersheson culture. The eight directional baseline shapes provided in the online lookbook are devised to be personalised because no one's the same. Some are shorter, some skew longer, there's softness, and there's structure. Each cut has a backstory blended from the sixties, seventies, eighties and nineties heroines of fashion, from street and pop-culture. And, all of them have been rebooted to be twenty-first century relevant. Browse around and take a look at the eight different cuts then get in contact with Hershesons to find out how each one can be adapted, tweaked and perfected in their salons to suit your style, taste and face shape perfectly.
Hershesons FAQs
Next day delivery: £5.95
Royal Mail tracked delivery (2-3 working days): £3.95
Please note that items purchased online cannot be refunded or exchanged in-store. Please view the returns policy for full details of how to return your goods.
Does Hershesons have any working voucher codes right now?
Yes, we have 1 verified working code available for Hershesons, meaning you can save up to 20% off your online purchase.
How to find the best Hershesons Voucher Codes?
You can find working Hershesons codes in a number of ways. We currently have 1 official or community code right here on NetVoucherCodes offering up to 20% off at the checkout. Sign up to our newsletter and follow Hershesons to hear about new code alerts first. Or, you could also sign up to the Hershesons newsletter as they periodically email them out.
How much can I save at Hershesons?
In the last 30 days we have saved our community an average of null at Hershesons. The latest Hershesons offers were added on 27 Nov 2021 and give savings of up to 20%.
Disclosure: All offers on this page are affiliated links. If you click through them, it can sometimes result in us earning a small commission.
Hershesons has salons all over the UK as well as various blow dry bars located across London. Hershesons also has its own online shop and holds custom events and parties for groups of people who love everything hair. Hershesons has earned a reputation as the go-to brand for cool girl hair, providing a great culture and heritage from years of dedication to their salons. And now with their own online shop, you can find an array of products and editorial collaborations created with this knowledge and experience from so many years in the salon industry. Shop online for Hershesons hair products and use a coupon code from us to save money on all your hair care products and hair appointments.
Get Social with Hershesons