Oak Furniture Land Voucher Codes & Discounts
oakfurnitureland.co.uk
Get the best Oak Furniture Land Voucher Codes and save instantly on Furniture. Here you will find all the latest Oak Furniture Land Discount Codes & Offers available to use online at oakfurnitureland.co.uk.
Show All Codes


& open site
6 Active Oak Furniture Land Codes & Deals for August 2016

Benefit from purchasing furniture at discounted prices and help stretch the household budget further by spreading your payments
About this Deal
When you're buying the big bulky stuff from Oak Furniture Land you'll be glad to know that you can get up to 3 years interest free credit, so you've got some time to get the cash together. There's also the choice to choose the no deposit and don't pay a thing until 2015 option, so you've got choices to make, as well as picking out the furniture!
Get the latest Oak Furniture Land codes direct to your inbox!
More about Oak Furniture Land

All Oakfurnitureland's exquisite furniture - sourced, designed and produced themselves - is sold directly on to personal and commercial hospitality customers, arriving at their destinations with the utmost care in the hands of Oak Furniture Land's own premier delivery fleet and with as few steps along the way as possible to minimise storage costs and in turn pass extra savings on to the consumer. Using an Oakfurnitureland promotional code you can obtain the perfect piece of hardwood furniture to complete your home at an even further reduced cost.
Helpful and dedicated consultants are at hand to offer impartial buying advice, so that you'll be able to find the item that's perfect for you, and various payment methods such as 3 years interest free credit and buy-now-pay-later are available should you require them. The premium 2-man delivery service is also totally free on over 95% of all their products.
In 2002 Jason Bannister founded JB Global, which was the trading name he used for Container Clearance Company, an eBay shop. After the great success of this venture it was decided that the company should be expanded, and in this process, Oakfurnitureland was formed. It opened as a showroom in Kemble within the Cotswold Airport. Although it has developed a lot since then, the in-house team still remains there. By 2009 it had over 100,000 customers and 500 employees. In June 2010 it opened up a public showroom in Cheltenham. 2010 was also the year that it won the Online Retailer award. Today, Oakfurnitureland is the leading independent hardwood furniture online company within the UK. Its employee base has more than doubled and 26 vehicles are used to drive purchases out throughout the UK. Despite all the changes, they've continued to maintain their amazing wood quality and attention to detail for every piece of furniture they produce. Oakfurnitureland is the biggest online retailer within the whole of the UK.
What do Oak Furniture Land sell?
All Oakfurnitureland's furniture is 100 percent solid hardwood, and this is a major factor that it has managed to retain throughout its existence. In terms of the products on offer, the wide selection encompasses all pieces of furniture, whether you need it for the bedroom, dining room, living room or your office. They range from beds, bookcases and dining sets to mirrors, sideboards and wine racks. There's also an Indian furniture range which is made from Indian mango hardwood. There's a wide array of wood ranges to choose from, including Tokyo, Sleigh, Alto, Pablo and Cotswold. The main wood used is oak; however, other types include mahogany and mango. There are also a few pieces which have been beautifully painted, in particular the Baku cream painted mango range. Most pieces come as sets, so if you really feel in need of a change, you can give your house a complete make over.
Why Buy from Oak Furniture Land
Oakfurnitureland has consistently made its furniture out of only the best quality wood and only 100 percent hardwood. Chipboard, MDFs and veneers are never used in any of the products. Attention to detail is of vital importance and drawers are made using dovetail joints exclusively. All the hardwood used to make the furniture is dried in a kiln and, depending on which country the wood originates from, only techniques which are most suitable are applied to the wood. As Oakfurnitureland has a massive distribution centre, stock is consistently ready for dispatch so you'll rarely have to wait long for it be delivered. What makes this company particularly special is that it doesn't behave as a wholesaler: it's able to sell large quantities of high quality hardwood furniture at low prices, both to members of the public and businesses. Special offers are constantly available plus you can apply for three years of interest-free credit. The photographs available online are of HD quality so you can gain a fantastic impression of what the products look like. However, if you'd like to see the furniture in reality, then there's a showroom based in Cheltenham. All deliveries are free and the delivery drivers have been professionally trained to ensure that your furniture is in safe hands. The time in which your purchase will arrive has been kept down to only a four-hour window. Oakfurnitureland will make sure you have a text reminder and you can keep an eye on your order online with real time tracking. Plus, if you're not satisfied with an item, then you'll get a full refund or exchange.
Oak Furniture Land Review
Oakfurnitureland's website bursts out with a vivid green background. Promotions and sale items are clearly visible at the top of the page along with the reasons why so many people use this company over any other. On the left hand side is an easy to scroll down list of the products available, and you can decide how you'd like to look for an item: either by room, product or wood range. Along the top are clearly labelled the other search options available. As you scroll down, you're met with a multitude of current offers and price slashes, all attractively accompanied by a photograph. When you decide on a product, all can be viewed with a HD image, underneath of which is a short and easy-to-read description of the item. A fantastic feature is the HD videos: on this you'll get a commentary describing the product, how it can be used and its highlights, as well as recommendations of other furniture items that would go well with it. Close-ups of the products ensure that you gain a great perspective of the best features. Phil Spencer also provides a number of helpful, short videos in which he discusses both the company and its products. Video showrooms conveniently place certain items together for particular ranges. If you register with the site, you can receive both the newsletter and the latest promotions. You'll also be able to track any purchase you make. Oakfurnitureland keeps an interesting blog which provides additional information and advice. You can feel safe making an order as the site is secured by a number of security providers, including SafeBug and SecureHosting.
Oak Furniture Land Delivery Information
Oakfurnitureland prides itself on its free delivery service. Once you have placed an order, you'll receive an email, text or call to confirm that this has gone through. You'll then be called to organise an exact date and four-hour time period slot most convenient to you. This will again be confirmed, and the night before your purchase is due to arrive, you'll be sent a reminder text. For small items, a next-day courier service is available. All large purchases are delivered by two people and can be taken into the room that you specify. Be aware that you'll be charged an extra £35 for redelivery if you're not in or if the delivery van didn't have sufficient access.If you're not satisfied with your purchase, then you have seven days to contact Oakfurnitureland, either by telephone or by email. If some form of damage has occurred, then contact customer services within 24 hours if possible. If you wish to return the item, then it will be collected for you. However, you'll be responsible for the charges surrounding this. The item must be in its original packing in order to obtain a full refund. You'll then receive your returned money within 30 days of the item getting back to the warehouse.
Sample of popular discounts from Oak Furniture Land
Up to 50% saving in the Spring Sale
Huge discounts up to 67% off in the Clearance Sale
Up to 50% off in our 2 Day Sale
Oak Furniture Land: Shopping Guide
Oak Furniture Land is the UK's largest retailer of solid hardwood furniture. With over 500 dedicated staff to handle every aspect of their business, from after sales care to design.
With over 20 years of experience in the UK furniture industry, Oak Furniture Land are specialists in the field and currently process approximately 400,000 orders a year.
Oakfurnitureland nurture a supportive culture which stems from their roots as a small, startup company. This ethos has helped them to develop a motivated workforce which in turn has greatly improved their position as the market leader for hardwood furniture.
When shopping you have the option to shop via room, product, ranges or categories.
Shop for Oak Furniture by Room
Bedroom Furniture
Dining Room Furniture
Living Room Furniture
Office Furniture
Shop for Oak Furniture by Product
Beds
Bedside Tables
Bookcases
Chest of Drawers
Coffee Tables
Computer Desks
Chairs
Dining Sets
Dining Tables
Dressing Tables
Dressers & Wall Units
Furniture Wax Polish
Indian Furniture
Lamp Tables
Mattresses
Nest/Side/Hall Tables
Sideboards
Storage/Display Cabinets
TV/DVD/Hi-Fi Cabinets
Wardrobes
Wine Racks
Mirrors
Sofas, Armchairs and Footstools
Custom Sofas
Shop for Oak Furniture by Range
A selection of the available ranges:
Rustic
Tokyo
French Farmhouse
Mantis Light
Rivermead
Quercus
Galway
Fresco
Sleigh
Dovedale
Cairo
French Shabby Chic
Chaucer
Louis Philippe Amber
Nero
Andorra
With such a fantastic range of products available at affordable prices you can get the furniture style you want for your home all in one place.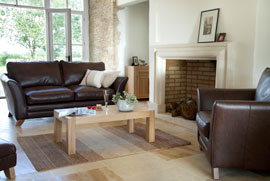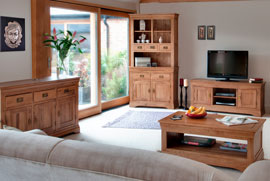 Oakfurnitureland.co.uk offer their customers superb service along with the following:
7 Day Money Back Guarantee
Special Offers
Own delivery fleet
Showrooms nationwide
Finance options are also available
Order Tracking Facility Available
Oakfurnitureland run seasonal promotions so be sure to check out our voucher codes to get the best deal on your next furniture purchase.
Frequently Asked Questions
Typical questions you might have when using codes for Oak Furniture Land
My code doesn't seem to work?
It's possible you might have entered an expired code - please double check the expiry date. The latest codes are towards the top of the Oak Furniture Land page. If your code appears to be within the validity period then please contact us so we can contact the retailer and see what the problem is.
I can't find my code?
When you click on a code, it opens in a new tab or window - usually your browser will automatically switch to the new window for you. However, if it doesn't please look in the tab next to your current one. If you have clicked through on a sale or specific discount, then this links through directly to that deal on the retailer's site.
Here's some offers that you've missed
You can save 10% off Table and Chair bundle Orders Now at Oak Furniture Land | DININGTABLE10CHAIR

Get up to 50% off in the Super Sale

Up to 50% off in our 2 Day Sale

Our 2 Day Sale is now on, so don't miss out on the chance to save up to 50% on selected products. Make sure you grab this great opportunity to save on beautifully crafted furniture. All of our exclusive designs are 100% solid hardwood - no chipboard, MDF or veneer - and each piece is made to meet our exacting standards by our master craftsmen.

Get a free Power Upgrade on the Devon Leather Recliner Sofa

Huge discounts up to 67% off in the Clearance Sale

Double Beds reduced by up to 29%

Up to 32% reduction on Computer Desks

Grab some fantastic Office Furniture bargains today

Save up to 41% on Spring Dining Sets

If you're thinking about updating your dining furniture this spring, you can make great savings when buying table and chairs together.

Up to 50% saving in the Spring Sale

Make a house a home for less, active discounts available to help you keep costs down.

Receive a Free mirror worth up to £300 with every order
This website uses cookies to ensure you get the best experience on our website.
Learn More
.