Affordable Mobiles Promo Codes 2022
Active Affordable Mobiles Discount Codes, Deals & Sales for January 2022
website will open in new tab
Samsung Galaxy A52 with no Upfront cost from just £23pm at Affordable Mobiles

Apple iPhone 13 Pro Max with £39 Upfront cost from just £56pm at Affordable Mobiles

Google Pixel 6 from just £30pm at Affordable Mobiles

Google Pixel 6 Pro from just £49pm at Affordable Mobiles

Apple iPhone 13 with no Upfront cost from just £45pm at Affordable Mobiles

Samsung Galaxy S20 FE with no Upfront cost from just £25pm at Affordable Mobiles

Apple iPhone 11 64GB from £30 per month with no upfront cost at Affordable Mobiles

SIM Only Deals from £8 per month at Affordable Mobiles

Up to

£40 off

with Refer a Friend at Affordable Mobiles

Special offers with Newsletter Sign-ups at Affordable Mobiles
Where do I use my Affordable Mobiles Promo Code?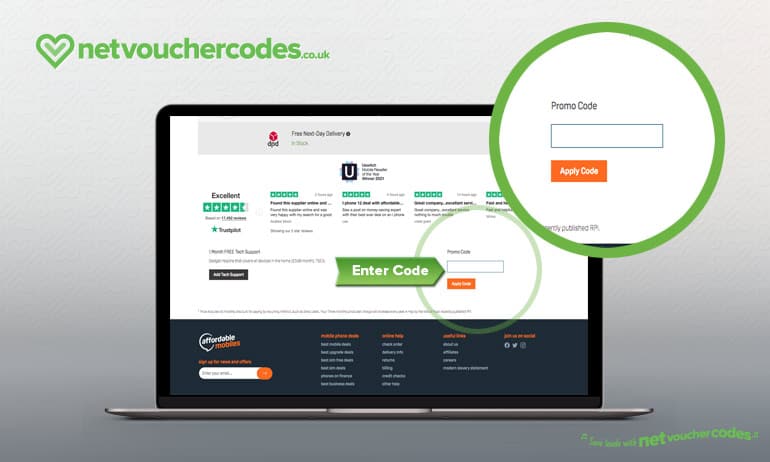 Select a voucher of your choice from NetvoucherCodes and click the link through to the Affordable Mobiles Online homepage.

Browse for a deal you wish to purchase and add it to your basket.

Once you have finished shopping, click the basket icon in the right-hand corner to view your order.

Paste your code into the Promo Code box.

Click 'Apply Code' to see your discount and 'Checkout Securely' to finalise your order.
Affordable Mobiles Money-Saving Hints & Tips
"When you're looking for a new phone, have at look at Affordable Mobiles' great value Upgrade options for the best possible price."

"Browse the trade in options on the Affordable Mobiles website to see if you can get any money for your current device."

"See if you qualify for cashback on your order."

"Sign up to the newsletter for the latest news, discount vouchers and deals."
More about Affordable Mobiles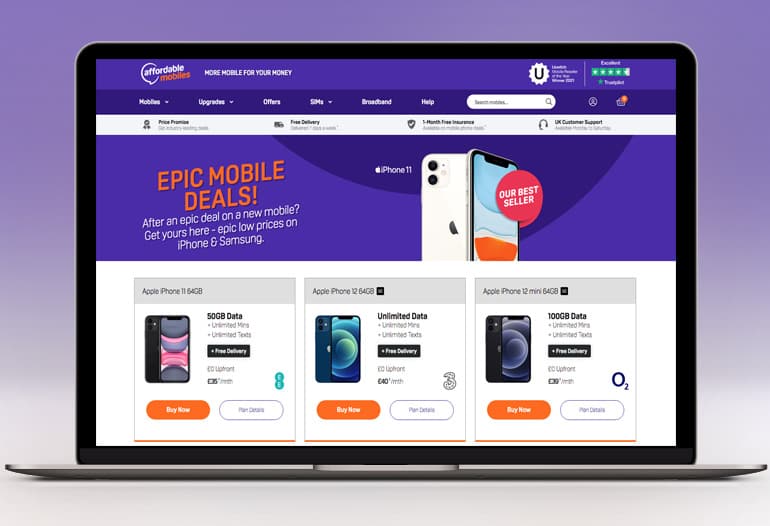 Not only do Affordable Mobiles have an astonishing range of pay monthly tariffs available for all the latest smartphones, but they also give you the opportunity to trade-in your mobile to offset the cost of your new one, allowing you to make your device or plan that little bit more economical. As well as mobiles for personal use, Affordable Mobiles offer great deals for businesses too, with a variety of value business-to-business mobile deals and unified communications solutions. So if your business is after a low-cost deal on mobiles, broadband, fixed lines or VoIP, Affordable Mobiles is the place to go.
The impressive selection of handsets at Affordable Mobiles boasts all the latest ad greatest including the Apple iPhone 12 and 12 Pro as well as the latest Samsung Galaxy S20 FE. Explore both monthly plans, SIM-only deals and fantastic discounts in the special offers section online. You can also expect exceptional UK based customer service and free next-day delivery on all contract mobiles. You may even be entitled to a free gift bundle including a games console, TV or gadget with your phone contract. Affordable Mobiles also have a useful cashback system, allowing extra savings on your order, and a handy help section on their homepage in case you have any queries or concerns.
Instant savings at Affordable Mobiles
Save money instantly with the special offers section on the Affordable Mobiles website. This page allows a discount on selected plans and devices, and even offers free handsets on a number of mobile contracts. You can also sign up to the Affordable Mobiles newsletter to be the first to hear about exciting new deals or shop with a NetVoucherCodes.co.uk promo code to enjoy bargains across the store. And that's not all, there's also useful trade-in and cashback options available on the Affordable Mobiles' website which allows you to cut costs when purchasing a mobile online.
Upgrade for less with Affordable Mobiles
Affordable Mobiles' upgrade prices usually beat those of popular networks, so make sure you talk with them first to save money on your upgrade. Compare prices online or call the help team on 0345 413 6262 and beat the cost of your current plan while enjoying a better deal on minutes, texts and data, as well as a newer model of your mobile device. Upgrading with Affordable Mobiles is not only low cost but easy too. They're open late so you can talk to their friendly upgrade experts at any time that suits you, you can also keep your number no matter what network you are on. Some of you will be also pleased to know that when you're upgrading your contract mobile phone, there's usually no new mark against your credit file, so no matter what your financial status maybe you can still find a mobile plan that suits you.
Get the latest Smartphone for an incredible price
These days, mobile's aren't just used for ringing and staying in contact, they're a pinnacle part of our day to day life serving, not just as a phone, but as a computer, encyclopedia, calendar, game console and personal assistant all in one! These brilliant pieces of technology, known as Smartphones, are constantly improving and evolving, bringing costly price tags with them each time they're released. If you're looking to stay up to date with the newest models of your favourite branded popular smartphones such as the Samsung Galaxy s9, Huawei p30 then take a look at Affordable Mobiles deals, that allow you to do so, for less! Browse through Apple, Samsung and Sony Smartphones, plus much more, all from high-end brands, to find the one that suits your mobile needs perfectly. Purchase your next smartphone with a low-cost monthly plan, or as a SIM-only deal and enjoy all the benefits of these exceptional devices for an affordable, value for money price.
Affordable Mobiles Shopping Tips
How to save money at Affordable Mobiles
Mobile Phones have become a staple in our everyday life which is why Affordable Mobile want to do exactly what it says in their name, make purchasing one super affordable! Shop all the latest handsets from sought after brands including Apple, Samsung and Huawei with both Pay Monthly and SIM Only plan's available. Ensure you pick up a fantastic deal at Affordable Mobiles with our money-saving hints!
Save when you buy Refurbished
Affordable Mobiles stock a wide selection of Refurbished Phones which are restored to their original condition and are as good as new! This is a fantastic way to save a ton of cash and they often feature some of the latest handsets including the Apple iPhone XR and Samsung Galaxy S9. Shop the range and snap up an unmissable deal.
Go SIM-Only
If you're still happy with the phone you have, why not choose to go SIM-Only and save fortunes on your monthly payment. Pay as little as £5 a month for a great tariff on 3, EE, Vodafone, VOXI, Smarty and Lebara SIMS. Browse through all the Pay As You Go deals and cut your bill significantly.
Check the Offers and Clearance Section
If you're not fussed for the latest and greatest, check out the offers or clearance pages for huge discounts on last years models! Find Apple, Samsung and Sony mobiles at excellently low prices compared with the newest models.
Save when you upgrade
Ready to upgrade? Affordable Mobile proudly source incredible upgrade deals on the latest handsets. These upgrade deals usually beat the network so get in touch and check if you're eligible today! Don't worry, you can still keep your number and there is no credit check involved.
Sign up to save
Want to be updated on the latest discounts and deals available at Affordable Mobiles? Sign up for the Affordable Mobiles newsletter to be notified on all money-saving occasions including Black Friday and seasonal sales. You will also receive inside access to pre-order new handsets including the Apple iPhone 12.
Free Delivery
It's no secret that mobile phones are an expensive purchase, but at affordable mobiles, a great perk to shopping online is that customers can enjoy Free Delivery on all orders!
Affordable Mobiles FAQs
Do Affordable Mobiles sell refurbished phones?
Yes, Affordable Mobiles stock a wide selection of second-hand mobile phones including the Apple iPhone XR and Samsung Galaxy S9. Refurbished phones are restored to factory settings and refurbished to as good as new condition.
Do Affordable Mobiles do free gifts?
Yes, customers can enjoy a gift bundle with selected mobile phone contracts at Affordable Mobiles. Choose from games consoles and gadgets including the PS4, a Smart TV, Nintendo Switch, Apple Airpods or the Galaxy Tablet.
Do Affordable Mobiles do Black Friday?
Yes, Affordable Mobiles regularly participate in the Black Friday Event where they offer customers huge discounts on both Pay Monthly and Pay As You Go handsets. Sign up for the Affordable Mobiles newsletter to be notified when the Black Friday sale starts.
Do Affordable Mobiles do early upgrades?
If you are an EE customer, you can upgrade your mobile 45 days before your contract ends, while o2 customers can upgrade 30 days prior. However, upgrading any earlier will incur a charge. Find fantastic upgrade deals online now at Affordable Mobiles.
Do Affordable Mobiles do a part exchange?
Yes, you can trade-in your old mobile at Affordable Mobiles to save money off your next mobile purchase. To apply, simply send details of your used phone then select your new mobile deal and complete your order. You will then need to post back your old device to receive your payment. This is an effective way to save money and get your hands on the latest handset.
Do Affordable Mobiles do cashback?
Yes, Affordable Mobiles automatically transfer your guaranteed cashback to your account 99 days from the day your order was shipped.
How to find the best Affordable Mobiles Discount Codes?
You can find working Affordable Mobiles codes in a number of ways. Sign up to our newsletter and follow Affordable Mobiles to hear about new code alerts first. Or, you could also sign up to the Affordable Mobiles newsletter as they periodically email them out.
Disclosure: All offers on this page are affiliated links. If you click through them, it can sometimes result in us earning a small commission.
Affordable Mobiles work hard to bring you great deals on the latest mobile phones all year round. Choose from the latest iPhone deals or grab last year's model at a great value price, Affordable Mobiles stock a number of smartphones in a variety of styles and colours with both monthly and SIM only plans available. From the iPhone 12 Pro to the Samsung Galaxy S20 FE and Samsung Galaxy A71, you'll find all the latest sought after handsets from Huawei, LG and more at incredible prices. Shop with an Affordable Mobiles discount code and keep connected on the go for less!
We are constantly on the hunt for first order Promo Codes for Affordable Mobiles to help you with your money saving. Our experts check dozens of sites for secret codes including NHS discounts, student sites & social media channels saving you time & money!
Get Social with Affordable Mobiles