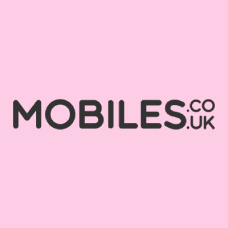 Mobiles.co.uk Discount Codes
mobiles.co.uk website
Mobiles.co.uk is an online retailer supplying mobile handsets on a Pay as You Go basis or with a contract from all the leading brands including Nokia, Apple, Samsung, HTC, Blackberry, Motorola, Sony, Doro, Huawei, LG and Microsoft and supply contract from providers EE, O2, Vodafone and ID Mobile. They also offer SIM only contacts. Free gifts such as tablets, e readers and games consoles are offered with selected contracts
Show All Codes


& open site
Community
73 used Today
4 days left!
Save £25 on the Upfront Fee for the iPhone 7 Handset with 24GB Data for £32p/m on Vodafone at Mobiles.co.uk
£10 off any upfront fee on the Vodafone range at Mobiles.co.uk
Community
49 used Today
2 days left!
£10 off the upfront fee on selected Mobile Phones with O2 at Mobiles.co.uk

Deal
Order an Apple iPhone 6s for only £25.99 pm with an upfront fee of £25
Get Deal
Details: Superb deal includes unlimited minutes and texts with 3GB of data and free shipping to your Home

Deal
Buy the Apple iPhone 7 for just £40.99 per month with an upfront fee of £25
Get Deal
Details: This great package includes unlimited minutes, 10GB Data and unlimited texts.
Similar Online Voucher Codes
Mobiles.co.uk website

Mobiles.co.uk are one of the longest-established online mobile phone retailers in the UK, and since 1995 they've steadily grown to become one of the largest web-only phone stores in the country, with plenty of awards to show for it. Coupling the buying power of the Carphone Warehouse with the expertise of over 17 years providing the best customer service and offers around, Mobiles.co.uk can help you find the perfect phone for you.
Whether you're shopping for pay-as-you-go or contract mobiles, there's all the breadth of choice you could possibly want across the latest smartphones and capable mobile models from the likes of Samsung, LG, Nokia, HTC, Apple, Sony Ericsson and Motorola. You can easily browse phones by network, including O2, T-Mobile, 3, Orange, Vodafone, Talkmobile and more, and with SIM only deals you can get a new payment plan easily. All phone purchases receive free next day delivery, with any free gifts you may be eligible for dispatched at the same time, and to help you save even more, you can trade in your old handset for a cash redemption. They'll recycle or refit it, so you can be happy in the knowledge you're getting some money back and doing your part for the environment, too.
Mobiles.co.uk Upgrades
If you are looking for a newer, more up to date mobile phone, or want a better tariff to save you some money, then check out your upgrade options at Mobiles.co.uk. It won't matter if you purchased your current phone contract from a different supplier, you can upgrade your contract on all major networks at Mobiles.co.uk They have a great selection from all the top networks, so it's simple to upgrade with them
.
Mobiles.co.uk SIM Only
SIM-only deals are ideal if you've already got a the perfect phone for you, and you just want more minutes, data or texts for less money than you'd pay with a contract. You won't be tied in for years at a time and you can still pay on a monthly basis and cancel or change your deal whenever you want to. Check out the SIM-only deals at Mobiles.co.uk to see which one is the best value for you
Mobiles.co.uk Phones with Free Gifts
At Mobiles.co.uk you'll find a great choice of phone contracts that also come with free giftsChoose from amazing gifts such as the Xbox One, iPad, LED television or a Kindle Fire HD. You just pay for the phone, and they will send the gift absolutely free! What are you waiting for? check out their awesome free gift offers now!
Previous discounts from Mobiles.co.uk
£10 discount on Phone Contracts upfront cost
£50 off Upfront Cost when you order selected Phone
Get the iPhone 7 128GB Handset now with £10 off on Vodafone for just £37p/m Tariffs
Mobiles.co.uk: Shopping Guide
Being the only web-only mobile phone store in the UK means that Mobiles.co.uk pride themselves on offering the very best of service to their customers. Because they have no stores on the high street they make sure that the customer's experience is a friendly and beneficial one, with their aim being to provide the "best value mobile deals online". So good in fact that they've won awards for their service, which keeps customers coming back to them time after time.
They provide a range of network choices; such as O2, Orange, Talkmobile, T-Mobile and Vodafone, all with an array of tariffs to choose from.
Shopping on their site is easy with lots of information available for each package/phone deal that's on offer.
To help guide you through your selection there is a handy search tool, which you can use to navigate straight to the results you're looking for. Whether you're looking for:
Pay As You Go
Contract
Upgrades
Free Gifts
Sim Only Deals
With the free gifts you can buy a bundle which includes selected phones and plans together with a free gift - TVs, Consoles, Laptops, Tablets, Cameras, etc So it's definitely worth checking to see what the latest gift offer is.
You can also sign up for their newsletters, which will give you the heads-up on new promotions and deals, so that you can keep abreast of new technology.
10 Great Reasons To Buy With mobiles.co.uk
Wide range of choice available
The latest phone technology
Online comparison tool to help you select which deal suits you best
UK based help from experts
Free next day delivery via a courier service
100% Secure site
Award Winning Service
Value - competitive pricing on plans/deals
Speed - online ordering and delivery
A choice of networks
Mobiles.co.uk FAQs
Can I change my mind if I'm not happy with my new phone?
We hope that you will be happy with your new purchase, but if for any reason you are not satisfied, you can arrange to exchange your phone for another within the first 14 days (subject to usage). Due to their unique tariffs, we are unable to exchange to or from Apple iPhones for another manufacturers model of handset.
What if something is missing?
If you are missing something when your delivery arrives, please contact Customer Services by logging into you My Account area here, who will make arrangements to resend the missing item.
Where can I get my phone repaired?
Within the first 12 months, you are entitled to a warranty repair through the Carephone Warehouse. Click here to find your nearest store. This is only available for faulty handset.
My code doesn't seem to work?
It's possible you might have entered an expired code - please double check the expiry date. The latest codes are towards the top of the Mobiles.co.uk page. If your code appears to be within the validity period then please contact us so we can contact the retailer and see what the problem is.
I'm unable to locate my voucher codes?
When you click on a code, it opens in a new tab or window - usually your browser will automatically switch to the new window for you. However, if it doesn't please look in the tab next to your current one. Some deals and special offers use bespoke links and have the discount built in and automatically applied when you go through to the retailer's site.
For more Mobiles.co.uk internet Voucher Code FAQs visit: http://www.mobiles.co.uk/faq.html
This website uses cookies to ensure you get the best experience on our website.
Learn More
.