Mobiles.co.uk Voucher Codes 2021
Active Mobiles.co.uk Discount Codes, Deals & Sales for October 2021
website will open in new tab
£10 off

all iD Mobile deals at Mobiles.co.uk

Pick up an ID Mobile Contract and grab £10 off select handsets including the latest Apple iPhone 12, Samsung S21 and many more.

Community

£15 off

Sim Free Phones when bought with a Sim Only Deal at Mobiles.co.uk

Up to £200 saving with Refurbished Phones at Mobiles.co.uk

£30 off

Samsung Galaxy A52s 5G from £24pm at Mobiles.co.uk

This superb deal includes 25gb data, unlimited minutes & unlimited texts with Vodafone. Upfront fee was £30 and is now free so order today and save yourself £30 plus you can get your new phone delivered to your home for free.

100GB SIM Only Vodafone Deals from just £9.50pm at Mobiles.co.uk

Grab a Vodafone SIM Only plan from as little as just £9.50 per month with 100GB Data and Unlimited Texts & Calls included as standard.

iPhone 13 Pro 128GB from £39pm with an Upfront Fee of £249 at Mobiles.co.uk

100GB data, unlimited minutes & texts. Valid on a 2 year plan with Vodafone. Monthly cost : £39.00. Upfront cost: £240.00. Total cost over 2 years : £1185.00. Up to £460 off when you trade in your device.

Apple iPhone 11 from £31pm with an Upfront Fee of £99 at Mobiles.co.uk

Fantastic package deal includes 25gb data, unlimited minutes & unlimited texts on a 2 year contract with Vodfaone.

Apple iPhone 12 64GB from £39pm with an Upfront Fee of £5 at Mobiles.co.uk

This great package includes 100GB data, unlimited minutes & texts all for just £39 per month with £5 Upfront.

Apple iPhone 13 from £39pm with an Upfront Fee of £95 at Mobiles.co.uk

This great deal includes 100GB data, unlimited minutes & texts and you can receive up to £460 when you trade in your old iphone.

Google Pixel 6 from £34pm at Mobiles.co.uk

This great offer includes 54GB data, unlimited minutes & unlimited texts on a 2 year contract. Total cost over 2 years is £817.00.

Free Next Day Delivery on all orders at Mobiles.co.uk

Nobody enjoys paying shipping fees and at Mobiles.co.uk, you can enjoy delivery free of charge as standard.

Earn up to £50 with our Refer a Friend promotion at Mobiles.co.uk
Where do I use my Mobiles.co.uk voucher code?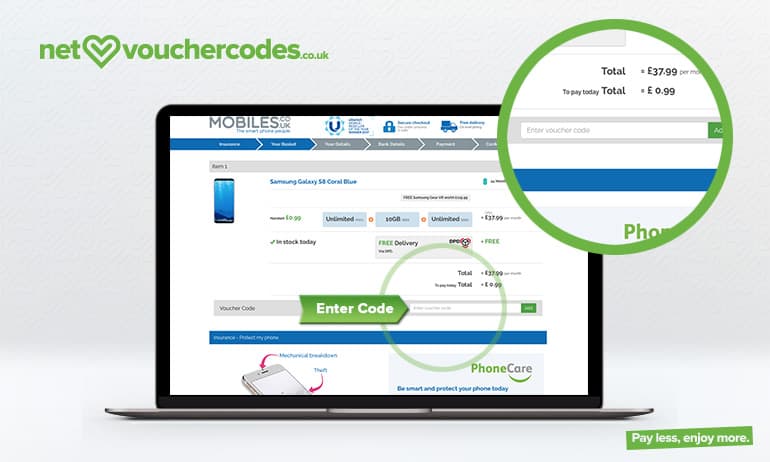 Visit the NetVoucherCodes mobiles.co.uk page and select a deal or copy the code that you want to use.
Browse mobiles.co.uk and add the package you want to your basket.
When you are done, click 'Secure Checkout' in the top right-hand corner.
Depending on the deal, your offer will either be applied automatically at the checkout or you can enter your promotional codes at the bottom of your basket details.
Click 'Proceed to your details' to finalise your order.
Mobiles.co.uk Money-Saving Hints & Tips
"Discover discounts on mobiles, TV and broadband in the special offers section."

"Earn up to £40 each time you refer a friend."

"Shop for mobile phone contracts with free gifts included."

"Earn cashback on selected purchases."

"Save up to 26% on mobile phone contracts for businesses."
More about Mobiles.co.uk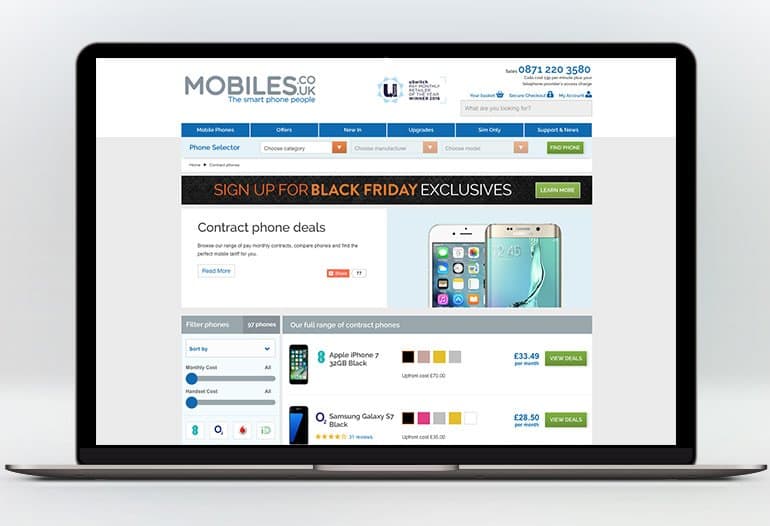 Mobiles.co.uk sells contract phones, SIM-free phones and refurbished phones for affordable prices and cheap upfront costs. They even provide 5G deals on the latest models from brands like Apple, Samsung, Huawei and Google. If you're looking to upgrade or swap to a more affordable deal then Mobiles.co.uk is the ideal place to find the latest offers from networks like Vodafone, Virgin, ID Mobile and Voxi. Or, if you're looking for a low-cost SIM-only deal that's compatible with your current device you can also shop for SIM cards with high data allowances and affordable monthly payments.
Mobiles.co.uk also stocks a huge selection of accessories for iPhones and androids including cases, chargers, screen protectors and headphones. They also offer value for money bundles and cashback options on selected mobile orders. If you're looking for a new phone but don't care about having the latest model then you can always take a look at the refurbished section for inexpensive second-hand phones.
Did you know?
If you're planning on upgrading to a newer device but your old phone's still intact, why not trade it in at Mobiles.co.uk? With their 'Sell Your Phone' service, you can recycle your phone and help the environment while also making quick cash. Simply complete the trade-in process on the website to guarantee your price and Mobiles.co.uk will send you an envelope for your device. Send your handset back to them for free in the envelope within 14 days and you'll receive your funds within 3-5 days after they receive your package. And, if it's an old Samsung you're trading in you could receive up to £350.
Instant savings at Mobiles.co.uk
You are guaranteed instant savings when you shop in the special offers section at Mobiles.co.uk. In this area, you'll find the latest deals and popular offers on everything from iPhones to Bose headphones. In this category, you'll also find offers on broadband and TV from providers like Vodafone, Virgin Media, Plusnet, Now, Talk Talk, Sky and more. You can also save up to 26% when you buy mobile phones or contracts for business at Mobiles.co.uk. And, if you compared these discounts and deals with an official code from us here at NetVoucherCodes you'll receive even more savings on your purchases.
Mobiles.co.uk Shopping Tips
How to Save Money at Mobiles.co.uk
As one of the UK's best online retailers of mobile phones, Mobiles.co.uk stocks all the latest models of iPhones and androids for tech-savvy customers. Mobiles.co.uk is your one-stop-shop for monthly contracts, SIM-only deals, mobile accessories, refurbished phones and even TV and broadband. Secure the best price on your devices with our essential money-saving tips and stay up to date with the latest tech from names like Apple, Samsung and Google.
Use discount codes when you place an order
It goes without saying that you should always check for the latest mobiles.co.uk vouchers on NetVoucherCodes before you decide to upgrade your mobile. In the past, we've had discounts of up to £15 off so it really does pay to check first.
Shop in the special offers section
Shop for the latest deals, popular offers and discounts on broadband in the special offers section at Mobiles.co.uk. Claim free gifts, save on essentials and refurbished phones and receive discounts on SIM bundles and broadband. In this section, you can also shop for cheap smartphones and discover new models and devices.
Check for Black Friday deals
During October, every year, Mobiles.co.uk releases their Black Friday page in the special offers section. This page is available to bookmark prior to Black Friday and Cyber Monday week, allowing you a head start on the best mobile phone deals for 2020. Once the Black Friday sale goes live you can save on contracts, SIM-only deals and Apple and Samsung phones, you'll also find huge price drops on upgrades.
Refer a friend
Each time you refer a friend to mobiles.co.uk you can earn up to £40 to spend online. There's no cap required and all your referrals are tracked and recorded in your personalised dashboard. Save £5 when they buy a handset, £10 for a SIM-only contract, £25 for a new handset contract and £40 for an upgrade handset contract.
Earn cash back on selected orders
If you purchase a deal for free line rental you may be eligible to claim cashback at Mobiles.co.uk. Claim this 'cashback by redemption' online by logging into your account and visiting the 'My Cashback' section.
Buy phone contracts for business
If you're a business owner who's looking to invest in company smartphones for your employees then take a look at the 'Business' section at Mobiles.co.uk. Find the best business deals and discounts for larger businesses with 10+ employees. By shopping in this section you could save yourself up to 26% on your business contracts.
Choose a contract with free gifts included
Mobiles.co.uk features a 'Free Gifts' page on their website where you can shop for specific contracts which include free gifts. These gifts include cashback, tablets, entertainment, speakers and headphones from brands like Beats, Apple and Bose.
Shop for a refurbished phone
If you have no interest in owning the latest smartphone then shop in the 'Refurbished' section and get up to £15 off. Here you'll find second-hand phones in full working order for a fraction of the price of brand new models. Many of these phones also come with double the data and contracts that allow you to spread the cost of your purchase over two years. Every refurbished phone also comes with a one year warranty so there's no need to worry about it being faulty.
Mobiles.co.uk FAQs
Does mobiles.co.uk do cashback?
Yes. If you have redeemed a deal for free line rental with your purchase, you can claim your discount as cashback online.
Does mobiles.co.uk do a credit check?
Yes. Mobiles.co.uk credit check customers before issuing them with a phone contract.
Do mobiles.co.uk sell refurbished phones?
Yes. Mobiles.co.uk sell discounted refurbished phones that are in full working order. All of their refurbished phones also come with a one year warranty.
Does Mobiles.co.uk have any working voucher codes right now?
Yes, we have 1 verified working code available for Mobiles.co.uk, meaning you can save up to £10 off your online purchase.
How to find the best Mobiles.co.uk Voucher Codes?
You can find working Mobiles.co.uk codes in a number of ways. We currently have 1 official or community code right here on NetVoucherCodes offering up to £10 off at the checkout. Sign up to our newsletter and follow Mobiles.co.uk to hear about new code alerts first. Or, you could also sign up to the Mobiles.co.uk newsletter as they periodically email them out.
How much can I save at Mobiles.co.uk?
In the last 30 days we have saved our community an average of £3.00 at Mobiles.co.uk. The latest Mobiles.co.uk offers were added on 28 Oct 2021 and give savings of up to £10.
Disclosure: All offers on this page are affiliated links. If you click through them, it can sometimes result in us earning a small commission.
If you're searching for the latest mobile phones, look no further than Mobiles.co.uk. As one of the UK's top online retailers of mobile phones, you can find a plethora of special offers and discounts on the latest iPhone and android models. Whether you're looking for a new pay monthly contract, an upgrade or a SIM-only deal, you can find it at Mobiles.co.uk. And, if you use a Mobiles.co.uk voucher code from us you can receive huge savings on your device too. You can even shop for bundles or add the latest accessories to your basket for an affordable price.
We are constantly on the hunt for first order Voucher Codes for Mobiles.co.uk to help you with your money saving. Our experts check dozens of sites for secret codes including NHS discounts, student sites & social media channels saving you time & money!
Get Social with Mobiles.co.uk