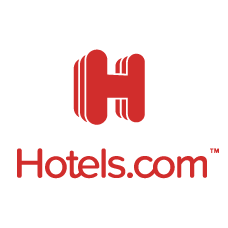 Hotels.com Voucher Codes 2017
uk.hotels.com
Founded in 1991 Hotels.com is a leading provider of hotel accommodation worldwide, giving travellers one of the widest selections of accommodation including both major chain and independent hotels as well as self catering in over hundreds of thousands of properties worldwide. Hotels.com specialises in offering booking services through its own network of telephone call centers and localised websites as well as providing a one-stop shopping source for hotel pricing, amenities and availability, also finding travellers accommodation during sold out periods. Hotels.com has 85 websites in 34 languages, and lists over 325,000 hotels in approximately 19,000 locations, so its assured that you can book your hotel in confidence. Furthermore, use one of our Hotels.com discount codes and get your hotel room even cheaper!
Show All Codes


& open site
Details: Deal of the day offers up to 10 different Hotel locations thought the world and they change each day, so it worth keep check if they don't have your preferred location. Great Hotel bargains to be had!
About this Deal
If you're looking for a good deal on a great Hotel then check this offer out and see how much you could save. There's an up to 50% Deal off everyday so check back every day and see what you can book yourself in for. Have a nosey and jet off to somewhere lovely, whilst saving yourself some money!
Details: Receive some fabulous savings on last minute hotel deals to lots of stunning destinations including Bangkok, Berlin, Dubai, Liverpool and lots more
Save up to 50% on Edinburgh Hotel Bookings via the app
Get Discount
Details: Unlock secret prices when you download the app at Hotels.com
Details: Huge savings with Paris Hotels Deals available at Hotels.com
Details: Huge savings when booking via the Last Minute Deals section at Hotels.com

Deal
Details: Hotel.com process refunds within 24 hours, so there are no long delays should your plans have to change!

Deal
Free Nights now available with the Loyalty programme
Get Deal
Details: Book your hotel stays with Hotels.com and when you've collected 10 nights they give you 1 free night to redeem on future bookings! Its a quick 2 minute sign up and you can chose from 100,000 eligible hotels around the world!
About this Deal
Hotels.com work out the average value of all the 10 nights you've booked and give it back to you as a free night. You can choose a room that costs more, you'll simply just need to pay the difference. So you could get into a really luxurious hotel at a bargain price!
Last updated 14 Feb 2017.
Similar Online Discount Codes
Code
Book an early Bird Golf Break from as little as £79pp at QHotels
Code
£50 Credit at Your Leisure Escapes Hilton Hotel
Code
6% discount on all bookings at Hotelopia
More about Hotels.com

Home is a great place to be, but sometimes, you just feel that need to get away for a while, whether you're seeking sun or snow, shopping or sanctuary. Finding somewhere affordable, though, can be stressful. It's enough to make you need a vacation.
That's why we here at NetVoucherCodes have teamed up with Hotels.com. With over 150,000 properties in its network, Hotels.com is chock-full of deals and promotions for easy, inexpensive booking in hostels, hotels and guest houses the whole world over, and we want to help you put even greater discounts on top of that. Whether you're after a quick weekend away or a long stay, a business trip or a seasonal break, here at netvouchercodes we're dedicated to giving you the Hotels.com discount codes to make your home-from-home all the cheaper.
Hotels.com is packed with user reviews to help you pick the property that's right for you, and if you're looking for handy tips on shopping or sight-seeing, the travel guides section will help point you in the right direction. Plus, thanks to Hotels.com's price match guarantee, if you can find the same booking cheaper elsewhere, they'll refund the difference to match the price.
hotels.com rewards
The Hotels.com loyalty programme is free to join and is available to any guest aged 18 or above and who has registered with a valid email address. The benefit of joining the scheme is to get a hotels.com free night stay at an eligible hotel when you have previously booked and stayed in a hotel for 10 nights. Your free night allowance is calculated by working out the average of the 10 nights you have collected and this is awarded back to you as a free night. The 10 nights add up fast, so you'll have earned your freebie night away before you know it! You can collect nights anywhere there are no restrictions, so it makes perfect sense to start collecting as soon as possible and treat yourself to a free night of your choice… If you decide you would like to stay at a different hotel that costs slightly more, then you simply pay the difference. It only takes 2 minutes to sign up, so what are you waiting for - get rewarded for your hotel stays today!
Unlock Secret Prices
Another top benefit of joining the Hotels.com reward scheme is that you can unlock secret prices… Sounds intriguing? You will be able to view and book at prices that aren't available to those who haven't joined the scheme on selected hotels that are situated in popular locations such as London, Paris, Rome, Barcelona and many, many more!
Hotels.com Price Match
The Hotels.com Price Match guarantee is a fantastic offer ensuring that you get the best price for your hotel. Hotels.com offer unbeatable value on hotel stays, however if you do manage to find your booking - same Hotel and same Dates - cheaper elsewhere, then they will refund you the difference. There are several ways in which you can accept the price difference, all information can be found on the Hotels.com website. So you can book with the peace of mind knowing that you are getting the best rates for your chosen hotel stay.
Hotels.com App
If you are looking for a fast, secure and simple way to book your next hotel stay, then check out the
Hotels.com App.
It is easy to use with a filter option so you can sort through and find the perfect hotel for your needs. If you are looking for a last minute stay at a bargain price the the 'Deals for tonight' feature will provide you with some great options. You can save your payment details securely in order to book quickly and safely next time you visit Another great benefit of downloading the app is you can unlock secret prices and save yourself up to 50% on your hotel booking.
Previous discounts from Hotels.com
12% saving on Andalucia Hotel Booking
8% discount on 3 Night Bookings in USA
12% reduction on USA Bookings for 5 nights
Hotels.com: Booking Guide
Time to make a quick getaway? Hotels.com may be just what you need. This low cost hotel provider pairs customers with bargain accommodation all year round. From city breaks to quiet country escapes, Hotels.com has one of the widest selection of available hotels on the net. One visit to their site and travellers will be able to peruse options from over 140,000 properties worldwide, including both independent and major chain hotels. More importantly however, Hotels.com specialises in providing accommodation during the most popular periods of the year, where most hotels may be sold out. It's their goal to help customers get a roof over their head no matter what time of year it may be.
Hotels.com Booking Overview
Booking a quick holiday can be stressful, that's why Hotels.com has made their search process as user friendly as possible. Head to their home page and you'll find options to view travel guides and hotel deals as well as information on current sales and promotions. However if you want to jump straight into searching for a hotel, their Hotel Search box is what you need. It's very simple to use, we've included a quick guide to help you on your way.
Enter your ideal destination or if you'd like to visit a specific hotel or landmark, type it in here.
Enter your preferred check-in and check-out dates.
Tell Hotels.com how many rooms you require and how many people you will be travelling with.
Hit 'Search'
You'll then be greeted by a list of available hotel options that match your chosen criteria. You can sort your results by Most Popular, Star Rating, Distance (from your chosen location), Guest Rating and Price. Once you've made your selection, you can enter your NetVoucherCode for an additional discount off your Hotels.com purchase.
Hotels.com FAQs
Is it possible to change or cancel a non refundable booking?
Yes, you won't be charged for this, but we can't refund your payment. We're must uphold the hotel's change and cancellation policy, so they might charge you a fee. Please check the terms and conditions of your booking and read your hotel's change and cancellation policy.
Can I have a receipt?
When you have made your booking, we will send you a confirmation email, which also acts as your receipt. The hotel will provide a receipt for any additional charges you might incur during your stay.
I booked an eligible hotel on Hotels.com without signing in to my account, can I still collect Rewards?
Yes, If you have already completed your stay, please read please contact us for help. If not, sign in to your acccount go to Find bookings, fill out the form and Submit.
My code doesn't seem to work?
It's possible you might have entered an expired code - please double check the expiry date. The latest codes are towards the top of the Hotels.com page. If your code appears to be within the validity period then please contact us so we can contact the retailer and see what the problem is.
I'm unable to locate my voucher codes?
When you click on a code, it opens in a new tab or window - usually your browser will automatically switch to the new window for you. However, if it doesn't please look in the tab next to your current one. Some deals and special offers use bespoke links and have the discount built in and automatically applied when you go through to the retailer's site.
For more FAQs for this retailer visit: http://customercare.hotels.com/app/home/locale/en_GB
This website uses cookies to ensure you get the best experience on our website.
Learn More
.