Crystal Ski Voucher Codes 2021 / 2022
Valid Crystal Ski Discount Codes 2021 & Early Deals on Travel for 2022
website will open in new tab
Up to

25% off

selected Winter 2021/22 Ski Deals at Crystal Ski

£50 off

Ski Holidays in the Crystal Ski Black Friday Sale

Community

Up to

25% off

Short Ski Breaks at Crystal Ski

Up to

25% off

Winter Ski Breaks to Italy at Crystal Ski

Winter 2022/23 Ski Deals start from only £511 at Crystal Ski

2022 February Half Term Ski Holidays from only £789 at Crystal Ski

Up to

£550 off

December 21 Ski Deals at Crystal Ski

Buy 1 Lift Pass & get 1 half price on selected Bulgaria Holidays at Crystal Ski

Deals & discounts on Group Bookings at Crystal Ski

Free Booking Amendments at Crystal Ski

Bulgaria Ski Holidays from only £359 at Crystal Ski

Austria Ski Holidays from just £388pp at Crystal Ski
Where do I use my Crystal Ski Voucher Code?
Copy a code from us and follow our link to the Crystal Ski holidays website.
Here you can find your ideal holiday.
Once you've entered your preferred dates you can begin booking your getaway.
When you get to the payment section, paste your copied code into the box provided.
You can then continue with the payment process with your savings applied.
Plan your Winter Skiing Holiday with Crystal Ski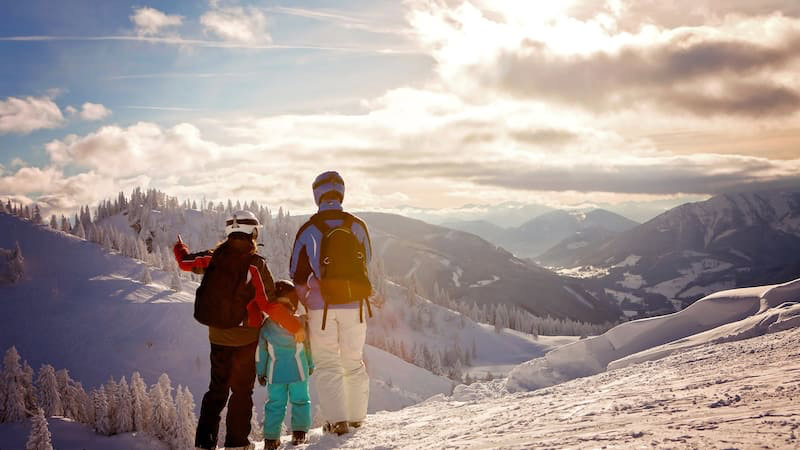 As the summer ends and the cooler autumn weather descends, it's time to start planning your next holiday and give yourself something to look forward to during those cold, dark Winter months ahead. Now is the best time to book your next ski holiday to make sure that you get the best deals in the accommodation and resort that you want. Whether you like to stay in a hotel with lots of facilities or prefer the freedom of a ski chalet or apartment, Crystal Ski will have the perfect accommodation to suit your needs and if you book using one of our easy-to-use codes or special offers, you could book it for a very affordable price too.
Whether you are planning a family holiday during the Christmas and New Year break or February half-term, skiing with a group of friends or just having a romantic break for two, you will find just the holiday to suit your needs at Crystal Ski! Browse their collection of ski accommodation that ranges from budget style self-catering accommodation to all-inclusive luxury hotels and book your ideal holiday.
If you are taking your family on a skiing holiday, then Crystal Ski makes everything easy for you. You can book everything you need through them including travel cots for the very young, car seats for private transfers and ski school for beginners. There is also a choice of childcare packages for children from 6 months to 8 years old so Mum and Dad can relax out on the slopes, safe in the knowledge that their little treasures will be enjoying fun and games with Crystal Ski's childcare professionals.
One of the most enjoyable ways to ski is to go with a group of friends and if you book as a group with Crystal ski, you will enjoy lots of benefits. Whether you are a large family, a group of friends or members of a ski club, Crystal Ski can help you choose the ideal accommodation. If you are a group of ten or more then you'll benefit from a group discount in destinations like Austria, France, Italy and Andorra. The bigger the group, the bigger the discount you'll get. The discounts are available all through the ski season too, not just at off-peak times.
If you're new to skiing the Crystal Ski's First Time Packages would be perfect for you. All the essentials are included such as ski or snowboard hire, boot hire, lift passes and group ski lessons for beginners. If you don't want to invest in new ski wear until you are sure that skiing is the thing for you, Crystal Ski has teamed up with Crevasse Clothing. You can book ski gear with them, which will be delivered to your home before you go on holiday and then when you get back, you can post it back for free!
Crystal Ski Money-Saving Hints & Tips
"Browse the Ski Deals Category for all the latest price cuts upcoming and last minute Ski Holidays."

"Sign up for Emails at Crystal Ski to have all the latest news and promo codes delivered straight to your inbox."
More about Crystal Ski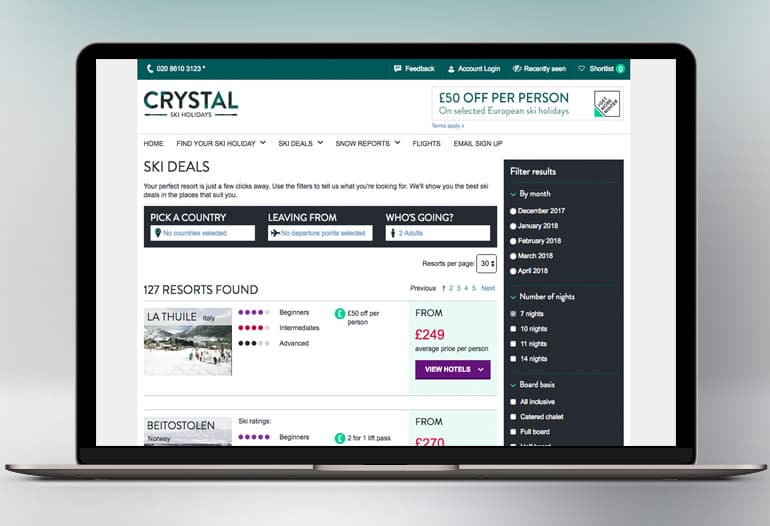 If the thrill of sliding down a snowy mountainside at breakneck speeds sounds like a fantastic idea then Crystal Ski might be your new buddy, with Skiing Holiday destinations being their main source of bookings, they hand pick the latest and best Ski Holiday resorts and locations, suited to however you need them, whether it's for the whole family or just a couple going on an icy adventure then let Crystal Ski help you out with finding the right online deal for you. Destinations all across the globe are available for bookings, so there's plenty of awesome slopes to ski down in some ace countries, so you can do some exploring and ski at the same time!
Crystal Ski Shopping Tips
Ski Deals
Search for ski deals based on departure date, board basis, country, Crystal rating and departure airport. Your perfect resort is just a few clicks away, use the filters on the Crystal Ski website to tell them what you're looking for, they'll then show you the best ski deals in the places that suit you. You can also find many special offers for different ski destinations, all of these special offers can be found in one easy place on our Crystal Ski deals page. You can also find voucher codes and other promotions here at NetVoucherCodes as well, which can help you save money no matter where you're heading. Whether you want self-catering, a chalet, a resort specialising in snowboard facilities, a hotel with a pool or a ski resort to suit your skiing ability you can find it all, for less, with ski deals and special offers available at NetVoucherCodes.
Ski Holidays Austria
Ski Holidays in Austria are a treat for all the senses. Speedy modern lift systems give easy access to the country's vast ski areas, mountain ranges and glaciers. Along with some of the best skiing in the world, you'll also be treated to arguably the best après in the Alps, plus friendly locals, tasty cuisine and luxury spas. Austria's traditional Alpine villages have been around for decades, these are real working towns and villages that just happen to have incredible mountains next door, available for you to stay in during your Austrian ski holiday. If you want a bit more modern luxury, there are lots of choices too, with the stylish design hotels on offer. Several of these are at the forefront of spa and wellness technology and techniques, so you can pamper yourself away from the piste.
Wherever you stay in Austria you can expect nothing but the best, and with our deals and voucher codes for Austrian ski holidays, you can get away for less. Ski holiday booking's average at just £239 a person, that's mega cheap when it comes to skiing, and with our last-minute deals, you can save on ski holidays. So, what are you waiting for?
Ski Resorts
There are plenty of ski resorts around the world, and Crystal Ski boasts offers and holidays for all of the best. If you want a European destination to choose from places like Andorra, Austria, Bulgaria, Lapland in Finland, France, Germany, Italy, Norway, Slovenia and Switzerland. If it's worldwide destinations you're after choose renowned ski resorts in Canada and the USA. Many of these resorts offer great incentives when you book such as 2 for 1 on equipment, £50 off per person and hotel credit in your required currency. If you choose a Canadian Resort you can also enjoy a 2 for 1 lift pass and a free ski carriage. Wherever you're headed you can find great deals and special offers on all ski resorts when you book with Crystal Ski. So whether it's the snowy slopes of Banff, the festive winter wonderland of Finland, or the most famous ski slopes in France you can enjoy them all for less.
Crystal Ski FAQs
Does Crystal Ski do NHS discount?
Currently, Crystal Ski are not offering any official NHS discounts. However, customers can now save a huge £100 off 100 resorts online at Crystal Ski as well as great deals on December and January breaks. Stay updated with all the latest Crystal Ski official discounts by following our Crystal Ski deals page here at NetVoucherCodes.
Does Crystal Ski take American Express?
Yes. Crystal Ski accepts American Express as a means of payment as well as all other major credit and debit card companies. Customers can manage their bookings online and make payments as often they wish, simply visit the Manage Booking page.
When does Crystal Ski reduce prices?
Crystal Ski offers reduced prices all year round in their Deals and Offers section. Currently, Crystal Ski are offering £100 off selected stays as well as great offers like 2 for 1 on lift passes and group discounts. Follow our Crystal Ski page at NetVoucherCodes to stay updated with all the latest reduced prices.
Does Crystal Ski have any working voucher codes right now?
Yes, we have 1 verified working code available for Crystal Ski, meaning you can save up to 25% off your online purchase.
How to find the best Crystal Ski Discount Codes?
You can find working Crystal Ski codes in a number of ways. We currently have 1 official or community code right here on NetVoucherCodes offering up to 25% off at the checkout. Sign up to our newsletter and follow Crystal Ski to hear about new code alerts first. Or, you could also sign up to the Crystal Ski newsletter as they periodically email them out.
How much can I save at Crystal Ski?
In the last 30 days we have saved our community an average of null at Crystal Ski. The latest Crystal Ski offers were added on 27 Nov 2021 and give savings of up to 25%.
Disclosure: All offers on this page are affiliated links. If you click through them, it can sometimes result in us earning a small commission.
Crystal Ski specialises in ski holidays. Pick from over 130 resorts around the world and add on any extras you might need – it's that simple to create exactly the family ski holidays you're looking for. Use a Crystal Ski voucher code to save money the next time you hit the slopes. Find ski destinations and holiday locations in places like Austria, France, Canada and Bulgaria. You can also discover a wide range of ski deals which will help you save money on your ski getaways as well as plenty of voucher codes and offers at NetVoucherCodes to save you money on your holiday.
We are constantly on the hunt for Voucher Codes for Crystal Ski to help you with your money saving. Our experts check dozens of sites for secret codes including NHS discounts, student sites & social media channels saving you time & money!
Travel Safe
Although getting cheaper travel is great, you need to travel safe & secure. When booking with Crystal Ski you can be confident about your financial protection. Crystal Ski is registered with:
ABTA No: V5126
ATOL No: 2524
Be sure also to check how safe your destination is & follow government advice on the Travel Aware website.
Get Social with Crystal Ski