easyJet Holidays Discount Codes 2021 / 2022
Valid easyJet Holidays Voucher Codes 2021 & Early Deals on Holidays for 2022
website will open in new tab
Extra savings up to

23% off

Last Minute Holidays at easyJet Holidays

Book a last minute deal today and grab some great savings on holidays to Italy, Portugal, Tenerife, Lanzarote, Spain, Gran Canaria and many more amazing places but you will need to be quick as these holidays are sure to get booked up fast with these fantastic discounts.

£50 off

Child prices on all Beach Family Holidays for Summer 2022 at easyJet Holidays

Up to

16% off

Summer 2022 at easyJet Holidays

Up to

11% off

selected Winter Sun 2021/2022 Holiday Bookings at easyJet Holidays

Up to

15% off

Winter 2022/23 Holidays now from as low as £204pp at easyJet Holidays

Get organised and book a break away for next Winter and see how much you could save. There are some great discounts available to all your favourite places like Spain, Egypt, Portugal, Cyprus, Turkey and many more stunning destinations. Book today and pay just £60 per person low deposit and give yourselves something to look forward to.

Up to

25% off

Cheap Holidays to Spain at easyJet Holidays

Up to

14% off

Christmas Holidays at easyJet Holidays

Up to

17% off

Adults Only Holidays at easyJet Holidays

Whether you are looking for a solo break or a romantic getaway for two, there are some amazing deals available at all the top hotels for strictly adults only breaks. You can book with just a £60 deposit and you are able to change your booking up to 28 days before your travel date with the Easyjet Holidays Protection Promise.

Up to

15% off

2022 School Holidays at easyJet Holidays

Great savings on beach holidays for next year's summer school holidays with prices as low as £157 per person when you book and reserve your break today.

Up to

15% off

selected All Inclusive Holidays at easyJet Holidays

Book a 2021 all inclusive break from as little as £262 to all the top destinations including Turkey, Tunisia, Majorca, Egypt, Corfu, Zante, Menorca and loads more amazing places when you reserve your holiday today.

Up to

25% off

selected Holidays to Turkey at easyJet Holidays

Up to

17% off

selected Holidays to Greece at easyJet Holidays

Up to

15% off

selected November Holidays at easyJet Holidays

Up to

25% off

Winter Sun Holidays 2021 & 2022 to the Canary Islands now from only £209 at easyJet Holidays

Up to

5% off

Christmas Market Breaks at easyJet Holidays

Up to

20% off

2022 Fuerteventura Holidays now from only £250pp at easyJet Holidays

Up to

15% off

July & August 2022 Holidays at easyJet Holidays

Book next year's school summer break away with prices starting as low as £151 to all your favourite places including Turkey, Greece, Gran Canaria, Spain, Tenerife and many more at superb low prices and a deposit of just £60 per person.

Up to

15% off

December Holidays at easyJet Holidays

Great discounts available this December to all your favourite destinations like Copenhagen, Iceland, Benidorm, Lanzarote, Tenerife and many more amazing destinations with prices as low as £147 per person.

Up to

16% off

Croatia Holidays at easyJet Holidays

Up to

12% off

2021 & 2022 Portugal Holidays at easyJet Holidays

Book a break away to Portugal and reserve your place with just a £60 deposit.

Up to

5% off

selected Malta Holidays at easyJet Holidays

Up to

14% off

Short Beach Breaks at easyJet Holidays

Great savings on amazing beach holidays to all the popular destinations including Portugal, Benidorm, Costa Del Sol, Cyprus and more when you book today

Up to

16% off

Balearic Islands Holiday deals at easyJet Holidays

Book your break today with just a £60 deposit and grab some winter sunshine at one of Spains Balearic Islands with holidays starting as low as £209 per person.

Up to

£175 off

selected Tenerife Holidays at easyJet Holidays

Iceland Holidays from only £183 per person at easyJet Holidays

Winter City Breaks from £208 per person at easyJet Holidays

Book a winter break away to your favourite city with as little as £60.00 deposit. We have some amazing offers available to all the popular destinations including krawkow City Breaks, Prague, Portugal, Budapest, Amsterdam, Rome and many more stunning cities so don't delay and reserve your break today.

Pay just £60pp Deposit when you book your 2021 or 2022 Holiday at easyJet Holidays

Pay £60 deposit and the remainder 60 days before your departure date.

Fee Free Changes up to 24 Hours before Travel on Amber List Destinations at easyJet Holidays

UK Holidays from as little as £157pp at easyJet Holidays

Book a Holiday to the Algarve from only £166pp at easyJet Holidays
Where do I use my easyJet Holidays discount code?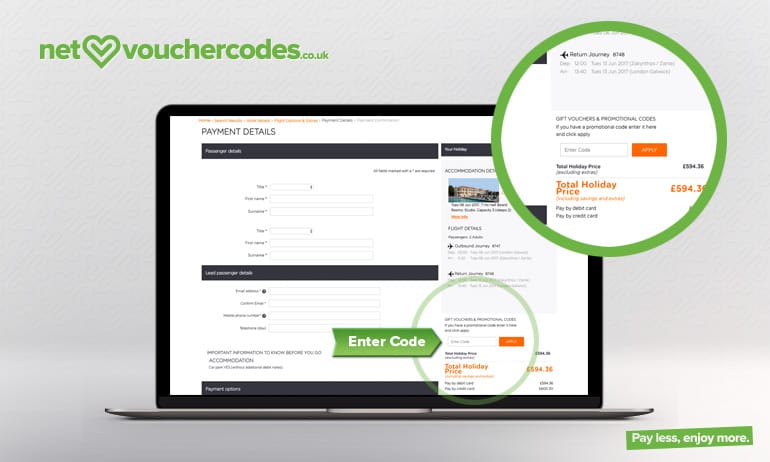 Once you have selected your holiday you will be asked for any flight options or extra. Adjust your holiday to suit your needs and click "Continue"
You will be taken to the payment details section where you can enter your Voucher.
On the right of the screen, you will see a box with "Enter Promotion Code". Enter it here and click apply.
Your holiday price will automatically be updated.
easyJet Holidays Money-Saving Hints & Tips
"Sign up to the newsletter for promotions, offers and voucher codes."

"Browse the special offers section for late deals and grab bargain holiday."

"Pay just £60 deposit per person and pay the remainder of your trip price 45 days before your departure."
More about easyJet Holidays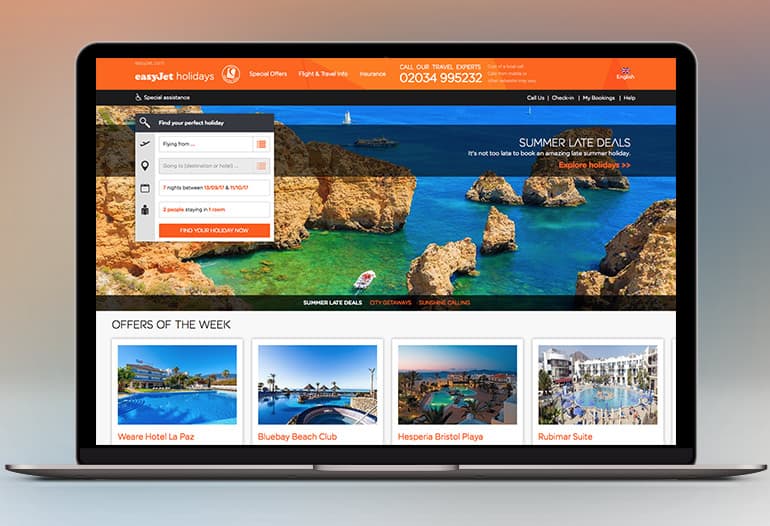 An estimated 70 million passengers fly with easyJet Holidays each year, making them one of Europe's leading airlines. An estimated 300 million people live within a one-hour drive of an easyJet airport, making it not only an affordable airline and holiday provider but an accessible one too. When it comes to low-cost flights, cheap package holidays and the very best destination choices easyJet Holidays is the perfect option. From cosmopolitan city-breakers looking for flight and hotel to sun-worshipping holidaymakers looking for luxury beach holiday escapes; everyone can find an adventure with easyjet Holidays.
EasyJet holidays gives you all the freedom to plan and create the holiday you really want, with the straightforward, all-in-one booking to make your holiday run smoothly. No frantic searching through your email inbox to find hotel and transfer reservations, just one, all-inclusive booking. Select your flights, before selecting the hotel, transfer, car rental or insurance you require. Unlike other package holiday travel operators, none of these are compulsory additions to an easyJet Holiday package - so you can create and pay less for the holiday you really want.
Did you know?
Easyjet Holidays knows it is very important to feel protected when booking your holidays. Feel completely secure on your easyJet Holiday with the ATOL protection scheme that they offer on their online bookings. All the holidays sold in the UK on the easyjet Holidays website are financially protected by the ATOL scheme, so you can book with confidence and reassurance.
easyJet Holidays Shopping Tips
Book confidently with the EasyJet Protection Promise!
More than ever before, it is essential that we are protected when booking our travels. It is a priority that we can book confidently in the knowledge that whatever the circumstances, we are protected. Luckily, the easyJet Protection Promise not only offers a 'Best Price Guarantee', but great flexibility plus many more benefits. In the unfortunate circumstances that your holiday is cancelled or you need to change your dates, location or you need to cancel your holiday, easyJet has you covered. As well as Covid secure destinations including quarantine free holidays, with the EasyJet Protection Promise, you can guarantee full refunds, instalments without added fees, the freedom to make changes to your booking and so much more. Book with confidence and enjoy your next holiday at ease with EasyJet.
Save money on your holiday with the special offers section on the easyjet Holidays website
In the special offers section, you can find the perfect holiday to destinations all over the world including Majorca, Benidorm, Malta, Paphos, Tenerife, Amsterdam, Paris, Rome, Reykjavik and many more. Fly from a number of UK airports such as London Gatwick, London Stansted, Glasgow, Manchester, Belfast and much more and enjoy a low-cost holiday or city break of your choice. In the special offers section, you can also find limited availability last minute holidays, city break deals, winter sun deals, school holiday breaks, all inclusive deals, beach holidays, luxury holidays, family holidays, summer holiday, cheap flights and even cycling holidays as well as 4* and 3* offers.
easyJet Holidays FAQs
Does easyJet Holidays offer free child places?
Yes. easyJet Holidays has their own free child places section on their website where you can search for package holidays that allow your little one to holiday for free. To find a holiday with free child places simply enter your chosen dates and room requirements in the search tool on the easyJet Holidays website.
How do I get an easyJet Holidays discount?
You can find the latest official codes for easyJet Holidays here at NetVoucherCodes. Our website keeps track of the latest discounts and displays them on a simple retailer page, allowing you to find the best offer for your booking. Previously we've saved customers £200 on summer holidays with easyJet while also providing deals for low deposits and free child places.
Does EasyJet do Student Discount?
EasyJet Holidays is not currently running any official Student Discounts although they have previously offered up to 15% off savings with Student Beans accounts. However, customers can now save up to £300 off selected bookings. See Netvouchercodes.co.uk for all the latest EasyJet Holidays deals and voucher codes.
Do easyJet Holidays include transfers?
Yes. At easyJet Holidays transfers are automatically included with every beach holiday as well as a flight and hotel and 23kg of hold luggage per person. Transfers are not included on city break bookings, however, you can still add them for a small fee.
Is easyJet Holidays ABTA and ATOL protected?
Yes, all easyJet holidays are ATOL protected. If you book a flight and car at the same time you will also be protected. easyJet Holidays is also a member of ABTA.
What is the baggage allowance on easyJet flights?
With all Easyjet flights you're allowed one small cabin bag that's a maximum of 56x45x25cm. You can also bring an additional under seat bag like a laptop bag or a handbag with a maximum size of 45x36x20cm. If you require hold luggage for a longer haul holiday you can choose from 15kg, 23kg and 32kg of luggage, depending on how much you think you'll need. Each customer including children and infants can buy allowance for up to three hold bags (a standard hold bag is 23kg). And, if you're travelling with family or friends on the same flight and booking, you can combine your total weight allowance to ensure nothing gets left behind.
How to find the best easyJet Holidays Discount Codes?
You can find working easyJet Holidays codes in a number of ways. NaN Sign up to our newsletter and follow easyJet Holidays to hear about new code alerts first. Or, you could also sign up to the easyJet Holidays newsletter as they periodically email them out.
How much can I save at easyJet Holidays?
In the last 30 days we have saved our community an average of £61.00 at easyJet Holidays. The latest easyJet Holidays offers were added on 28 Oct 2021 and give savings of up to 23%.
Disclosure: All offers on this page are affiliated links. If you click through them, it can sometimes result in us earning a small commission.
EasyJet Holidays is well known for providing low-cost flights and accommodation to and around destinations across Europe, North Africa and the Middle East so that everyone on every budget can enjoy. Whether you're looking for a romantic city break or a family holiday in the sun you can find flights and hotels that are affordable, without compromising on quality. Cut the cost of your booking down even further with an easyJet Holidays promotional code, and save your money for your spends once you arrive at your destination.
We are constantly on the hunt for Discount Codes for easyJet Holidays to help you with your money saving. Our experts check dozens of sites for secret codes including NHS discounts, student sites & social media channels saving you time & money!
Get Social with easyJet Holidays